Headhunted Accenture director plans UK health drive
I recently met up with Ruth Ormsby. She is now a senior executive in Accenture's Public Sector operation.
She has moved around a bit in recent years. She ran the NHS's Shared Business Service (NHS SBS) until 2010 before moving to Capgemini as Public sector BPO head. She has since been headhunted by Accenture.

Download this free guide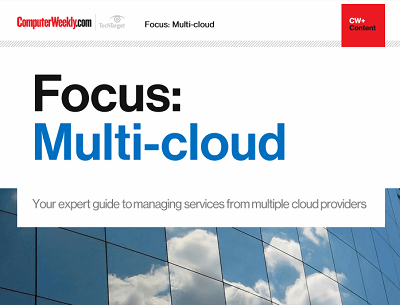 The maturity of the enterprise public cloud
Many IT leaders are increasingly coming round to the idea that sourcing services from one or more providers might be the best way to go. Join us as Computer Weekly takes a closer look at the multi-cloud approach and what providers are doing to capitalise on the trend.
By submitting your personal information, you agree that TechTarget and its partners may contact you regarding relevant content, products and special offers.
You also agree that your personal information may be transferred and processed in the United States, and that you have read and agree to the Terms of Use and the Privacy Policy.
Her focus at the moment at Accenture is around opportunities in the healthcare sector.
A major part of this is helping shape Accenture's contribution to a department of health campaign known as 3 million lives. The campaign is an attempt to improve the lives of three million people through the use of telehealth and telecare. This will keep people in the comfort of their own home rather than for example having to travel to hospital and possibly stay overnight for tests.
This offers the NHS major savings. A government report said the use of telehealth can deliver; a 15% reduction in Accident and emergency visits, a 20% reduction in emergency admissions, a 14% reduction in elective admissions, as well as a 14% reduction in bed days.
It will also deploy remote medical devices – such as home-based equipment that can send details of the vital statistics of at-risk patients to doctors.
And there are other areas where Accenture sees an opportunity. The company recently published research that revealed that secondary care organisations are way behind those in primary care when it comes to using technology. Ormsby says the better use of things like CRM and business analytics could really improve care.
Service providers will have a part to play.
Here are some of Ruth Ormsby's ideas on areas that could transform the health system and integrate primary and secondary care:
"1 – Developing integrated systems that blend electronic medical records with new methods of communication, remote care and process management to build seamless systems and workflows. There are, for example, new clinician and patient interfaces under development that will make healthcare data and analytical tools easier to access, navigate and put to good use, and natural language processing and voice recognition technologies are being developed that can instantly digitize healthcare consultations and integrate them into EMR systems.

2 – Redirecting healthcare interventions away from expensive hospital settings and into people's homes through telemedicine, remote care and mobile health. A whole new range of applications–from handheld devices to facilitate remote diagnosis to touchscreen technologies and "smart" devices (such as "intelligent shirts" that use electrodes and sensors to monitor patients' vital signs, activity sensors and webcams)–will enable remote monitoring and communication.

3 – Transforming the role of patients in managing their own wellbeing through shared decision-making, condition monitoring and chronic disease management. New, independently developed, mobile healthcare apps are giving people the tools to educate themselves on how to eat well and live well, while personal health records (PHRs) and patient portals help them to manage their own care needs.

4 – Exploring the potential of genomics to personalise treatment and wellness plans, present clinicians with a powerful range of analytical and diagnostic tools, and enable managers to coordinate care, target resources and improve public health outcomes. Among other benefits, this will help identify early–even preventative–interventions where patients have a genetic predisposition to certain medical conditions."