News
Stay informed about the latest enterprise technology news and product updates.
General Motors insourcing: One off or trend?
One of the big stories recently concerning outsourcing IT is one about doing the opposite. GM is in the process of insourcing its currently heavily outsourced IT.

Download this free guide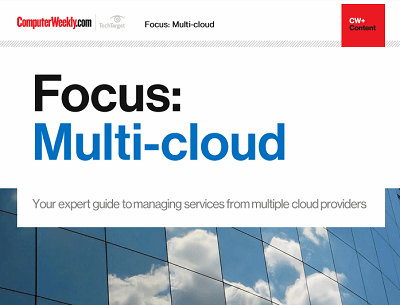 The maturity of the enterprise public cloud
Many IT leaders are increasingly coming round to the idea that sourcing services from one or more providers might be the best way to go. Join us as Computer Weekly takes a closer look at the multi-cloud approach and what providers are doing to capitalise on the trend.
By submitting your personal information, you agree that TechTarget and its partners may contact you regarding relevant content, products and special offers.
You also agree that your personal information may be transferred and processed in the United States, and that you have read and agree to the Terms of Use and the Privacy Policy.
The plot gets even thicker when you look at GM's outsourcing CV. It is the company that basically created EDS. GM originally bought EDS as its internal IT department before spinning it out as a separate company. It continued to buy services from EDS. Then EDS was acquired by HP and now, a few years down the line, GM is bringing almost everything in-house.
GM has already recruited 3000 workers from HP to help the transition.
So GM is a bit of a pioneer when it comes to IT outsourcing. But is GM's pioneering insourcing going to be copied by others?
I am working on an article about this so thought I would ask people whether they thought insourcing would become a trend. Below is a sample of some of the responses so far. Please tell me what you think.
Mark Lewis, head of outsourcing at law firm Berwin Leighton Paisner, says GM's decision will not be repeated across the industry.
He said there are broadly three drivers for a move to insource: Suppliers messing up, short tern tactical needs, and strategic goals.
He said if suppliers mess up or things like offshoring models aren't working businesses can pull back work out of necessity. They could also pull work in-house for tactical reasons, for example in the interim if they wanted to change suppliers and there may be a more strategic reasons such as it wants to focus its IT attention on developing systems specific for its business.
He said he would be surprised if any company in-sourced things like back office work.
Douglas Hayward, analyst at IDC, says the pendulum is swinging towards insourcing but only marginally
"GM insourcing is not a one off but won't be a trend. Only some large organisations can do it."
He says big businesses can create opportunities for themselves through IT, which they would not get from suppliers. This is because suppliers rarely go beyond what they are contracted to do. "We have not reached the stage where supplier services are fully trusted to be on time, to budget with creativity and proactivity.
He said insourcing might become more common if suppliers change their attitudes and become more proactive and business orientated.
Give me your views.