Are small IT suppliers ready to serve public sector?
The government is determined to give SME suppliers better access to government contracts. It hopes to have 25% of suppliers to government to be from SMEs and this week introduced measures to help SME's win government business.

Download this free guide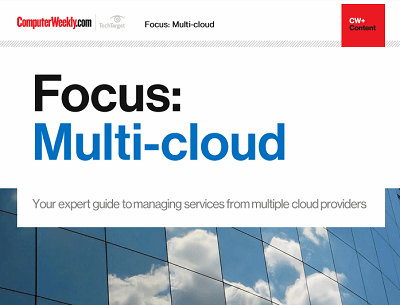 The maturity of the enterprise public cloud
Many IT leaders are increasingly coming round to the idea that sourcing services from one or more providers might be the best way to go. Join us as Computer Weekly takes a closer look at the multi-cloud approach and what providers are doing to capitalise on the trend.
By submitting your personal information, you agree that TechTarget and its partners may contact you regarding relevant content, products and special offers.
You also agree that your personal information may be transferred and processed in the United States, and that you have read and agree to the Terms of Use and the Privacy Policy.
The nature of IT, particularly software development, means a company need not have lots of staff to have a technology public sector organisations can benefit from.
I must admit the term SME can be confusing in itself. A midsized company can have thousands of workers according to some, while others might say this is companies with between 50 and 250 staff.
But Federation of Small Businesses (FSB) head of public affairs Stephen Alambritis says in this case the government is talking about companies with up to 250 staff.
One interesting point is that from next month the government will introduce a standardised pre-qualification questionnaire for SME suppliers. In the past every time an SME wanted to sell to a government department. But the new rule means they only have to do it once and if successful they do not have to do it again.
Alambritis told me that the announcement "is good as far as it goes" but all the good intentions will be undone if the SMEs cannot access money.
Last month I wrote a blog post about a company called CSA Waverley. This is a company with only 26 staff. It's a small supplier that has successfully implemented and supported a national computer system for 28 years for the NHS, which is one of the biggest employers in the world. It also works with hundreds of local authorities.
It was recently put on the government's Buying Solutions and is now a preferred supplier, so it is approved to sell to thousands of public sector organisations.This will enable it to sell to thousands of extra customers. This will inevitable create jobs within the company and increase choice for public sector organisations.
Director Steve Nicholls says about 75% of UK IT suppliers are SMEs. "Having more SMEs in any marketplace has got to be good because they tend to be very niche with more vertical knowledge."
The Policy Challenge Report published by City University London's Centre for Information Leadership offers seven practical proposals that government could adopt to achieve the policy objective of increasing SME take-up while being compliant with EU legislative requirements.
Read a preview and download it free here.