Download this free guide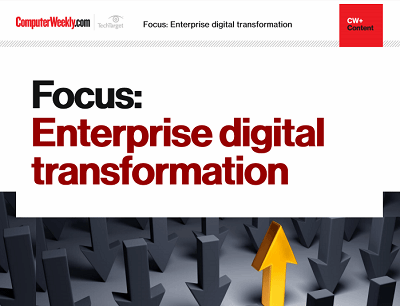 Are you digital to the transformation?
Digital transformation - the buzzword that we can't get away from. Enterprises need to accelerate their digital transformation journeys to avoid being left behind in an increasingly digital world. It's not an easy feat, but one that can be costly to get wrong. Join us as Computer Weekly takes a look at how businesses can stay on track through collaboration, innovation, and listening to user needs.
By submitting your personal information, you agree that TechTarget and its partners may contact you regarding relevant content, products and special offers.
You also agree that your personal information may be transferred and processed in the United States, and that you have read and agree to the Terms of Use and the Privacy Policy.
Rabbi Jonathan Sacks, Britian's Chief Rabbi, may have backtracked a little too far on comments he made a few days ago.
Rabbi Sacks was giving a speech on consumerism when he reportedly said, 'The consumer society was laid down by the late Steve Jobs coming down the mountain with two tablets, iPad one and iPad two, and the result is that we now have a culture of iPod, iPhone, iTunes, i, i, i.'
Despite his suggestion that the late Steve Jobs was like Moses, I am pretty sure Jobs never did, or was capable of, splitting the Red Sea. Anyway, this is besides the point.
Rabbi Sacks was basically trying to express that he feels consumer ethics make us want what we don't have, rather than enjoying what we do have.
In an email to TheRegister, the office of the Chief Rabbi clarified his comments and added that he meant no criticism of either Steve Jobs personally or the contribution Apple has made to the development of technology in the 21st century.
It went on to reveal that he also admires both and indeed uses an iPhone and an iPad on a daily basis.
Oh, so it's okay because the Rabbi already had an iPhone and iPad, meaning he could enjoy them and not covet them.
So, in summary, the Chief Rabbi was just pointing out the potential dangers of consumerism when taken too far. Although, it would appear that he has bowed to the tempation of Apple's apparent 'i,i,i' culture himself.