News
Stay informed about the latest enterprise technology news and product updates.
UK gives Belgium €300m for cloud, and other indicators of change
Anyone who has read this blog over the past few months will have seen there are several recurring themes I've been banging on about lately. It's been interesting to see a few things happening recently that, to me, reinforce some of the points I've been discussing, so here's a bit of a random round-up:

Download this free guide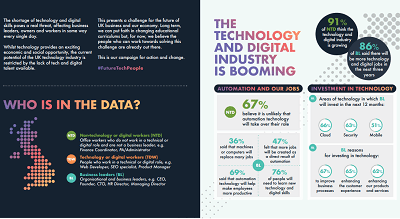 Infographic: Future-proofing UK technology
The shortage of technology and digital skills poses a real threat, affecting business leaders, owners and workers in some way every single day. Whilst technology provides an exciting economic and social opportunity, the current potential of the UK technology industry is restricted by the lack of tech and digital talent available. This presents a challenge for the future of UK business and our economy. Long term, we can put faith in changing educational curriculum but, for now, we believe the people who can work towards solving this challenge are already out there.
By submitting your personal information, you agree that TechTarget and its partners may contact you regarding relevant content, products and special offers.
You also agree that your personal information may be transferred and processed in the United States, and that you have read and agree to the Terms of Use and the Privacy Policy.
UK gives Belgium €300m to develop the cloud
Google has announced a €300m investment in its cloud datacentre in Belgium – that's in addition to the initial €250m spent building the site, which opened in 2010.
When was the last time you read about a similar investment in cloud in the UK by one of the internet giants? Erm, never?
According to Datacenter Dynamics, one of the reasons Google chose the site was its welcoming government: "The local authorities have a strong vision for how the internet can bring economic benefits and jobs to the area," Google said.
That's money the UK is giving away. It would not be difficult to put in place a forward-looking strategy to support the internet and technology industry in the UK. All those big US internet firms like us – we speak a version of the same language, after all. The UK is such an obvious base for developing cloud datacentres, bridging the US and Europe in much the same way as we do in our role as one of America's aircraft carriers.
And when the inevitable rise of Asian cloud firms happens in the future, they would look to the European location with the most proven infrastructure, and that would be here.
Except it won't be, because there is no incentive or support for bringing such business to the UK. The government here gets excited instead when Google spends £1m on a new office.
When Google tells us we have a problem with our education system, it seems to make the government jump. But despite the close links between 10 Downing Street and Google, we have failed to gain any meaningful inward investment in the UK as a digital country. We are missing such a huge opportunity and the government should be embarrassed to see that money going elsewhere.
Falling off a cliff
Both Gartner and IDC have reported the biggest decline in PC sales they have ever seen. Gartner said global PC shipments went below 80 million units in the first quarter of 2013 for the first time since mid-2009.
Many firms in different sectors continue to view the changing environment brought about by the digital revolution as a gradual and manageable decline in their established markets. But the disruption and fragmentation caused by the internet and new technologies will not work like that – many markets will fall suddenly off a cliff, and companies constrained by inertia and management sclerosis will go with it.
Look at retail – HMV, Blockbuster, Jessops. The IT industry itself is seeing the same thing happening – Dell, HP, BlackBerry, Nokia. You can argue about the definition of a cliff, but year-on-year declines of 11% (Gartner) or 14% (IDC) in PC sales are at the very least a sign that the lemmings have started to jump.
Business leaders that fail to change, and ignore the inevitability of the digital revolution in their market, will have no excuses when their revenues reach the cliff edge too.
Microsoft is not going away
Gartner produced some separate research recently that looked at the overall market for end-user devices as a whole – PCs, smartphones and tablets. The headline news was the rise of Android devices, which Gartner predicts will be more than double the number of Windows (desktop plus smartphone/tablet) devices by 2017.
Much of the reporting around this research highlighted the demise of Microsoft – The Guardian labelled it "a slide into irrelevance".
But even the Gartner graphic used to illustrate that argument in The Guardian told a different story.


To me, this shows that for sure Microsoft is no longer going to enjoy the dominance it has been accustomed to for the last 25 years. But irrelevance? I don't think so.
Look at that green line, which shows Windows device shipments growing from a little over 300 million in 2012 to just below 600 million in 2017. That's still not a bad growth rate, even if it masks the fact that the product mix will change from profitable desktop Windows to the likely lower income of smartphone or tablet Windows.
Android's predicted growth is remarkable but predictable – it's open source software; Google created it as such for the very reason that it would disrupt the market and fragment the ecosystems built around Microsoft and Apple.
But while device manufacturers and app developers may gain sales as part of the Android ecosystem, Microsoft and Apple are the firms for which that upwards chart represents the biggest actual revenue growth.
It may be a different Microsoft in 2017, one that no longer dominates the consumer nor corporate IT sectors in the way it used to, but it's still going to be a force to be reckoned with.