News
Stay informed about the latest enterprise technology news and product updates.
Want cloud success? Eat your greens!
Cloud computing is becoming a default option of delivering IT services but to reap all the benefits of the cloud, enterprises must do the boring stuff first.

Download this free guide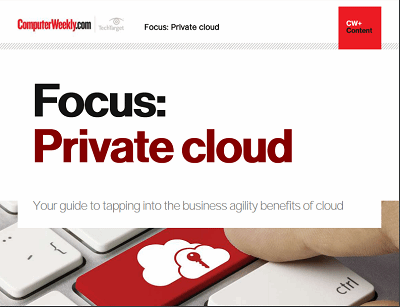 Is private cloud a test bed for public cloud?
Making a cloud sacrifice by doing private? If the business information is sensitive, private cloud could be a good fit, but may require making some compromises (compared with using public cloud) with regard to pricing, scalability and functionality. Join Computer Weekly as they take a look at what enterprises need to consider before moving to the private cloud, from a technical and business agility perspective.
By submitting your personal information, you agree that TechTarget and its partners may contact you regarding relevant content, products and special offers.
You also agree that your personal information may be transferred and processed in the United States, and that you have read and agree to the Terms of Use and the Privacy Policy.
On Thursday, I attended a Westminster eForum seminar on the future of cloud computing where I witnessed very interesting conversations around cloud adoption, risks, and its future from speakers ranging from analysts, legal experts and industry association heads to cloud vendors and public sector professionals.
Boring but necessary! (Photo credit: Wikipedia)
When experts said cloud can be secure and cost-effective and can lead to innovation – it did not raise any eyebrows from the delegates. This suggests to me that users are fully convinced of cloud's benefits.
But even then, some cloud projects backfire. Why?
The excitement of cloud is leading enterprises to overlook the boring work they need to do beforehand to yield the full benefits of the cloud. Ovum analyst Gary Barnett illustrated this best in his (PowerPoint-free!) session. Here is an article where Gary shares the user instances where cloud has failed.
"My mum made sure I ate my broccoli before I got my pudding," Gary said. But in the cloud world, no one's eating the broccoli, he said.
"If you don't clean up your data before putting it on the cloud platform, you will have cloudy rubbish." He also pointed that some users are finding cloud expensive because they are not building proper policies and guidelines around its use.
Experts at the seminar insisted cloud is a secure way of doing IT and cloud breaches are usually because of users' "silly and predictable passwords" and their lack of awareness. Gary urged enterprises to educate users on the loopholes of predictable passwords.
"No one loves the boring stuff. But just like you have to eat your greens, you have to do all the boring stuff before adopting the cloud. Otherwise you're just transferring onsite mess offsite," Gary said.
The "Eat your greens" theme continued throughout the seminar and the floor roared out laughing when Microsoft's cloud director Maurice Martin said: "In my case, the greens were the cabbages, broccoli was too posh."