VMware vSphere 5 storage features: Part two
VMware vSphere 5 storage features include Storage DRS, VSA and data store clusters. IT pros can learn what these features bring to their infrastructure and how best to use them.
VMware Inc. made significant storage enhancements to vSphere 5 including Storage DRS, VSA, data store clusters and newer versions of VMFS and Storage Profiles.
While part one of this two-part tip on VMware vSphere 5 storage features shed light on VMFS-5 (Virtual Machine File System), VASA (vStorage APIs for Storage Awareness) and VM Storage Profiles, this part explains how vSphere 5 storage capabilities such as data store clusters and Storage DRS help IT professionals manage storage requirements in their virtualised infrastructure.
Data store clusters
In vSphere 5, VMware has introduced the concept of a data store cluster which is simply a group of data stores.
Data store clusters do for storage what VMware Distributed Resource Scheduler (DRS) clusters do for memory and network resources. Namely, they allow admins to take an array of data stores that potentially reside on different storage arrays and create a single data store cluster object.
When virtualisation admins create a new virtual machine (VM) on vSphere 5, they no longer have to worry about which data store it should reside on, just as they don't worry about which ESX host a VM executes on in a HA/DRS cluster.
Users often create data store clusters based on class (gold, silver, bronze) or on different performance attributes (FC/SSD, FC/SAS, iSCSI/SAS, NFS/SATA); or with other attributes, for example clusters that support storage vendor snapshots or replication.
It mirrors cloud computing where the underlying plumbing (storage, network and servers) is abstracted to create a commodity-based model of data centre resources.
VMware vSphere 5 data store clusters are a radical departure from individual data stores, but data store clusters align nicely to the trend of storage tiering -- where storage arrays are no longer managed as stand-alone units but as an array of arrays, as it were.
Problems can occur when the storage array as well as the Storage DRS can move data volumes around, so it makes more sense to use either data store clusters or Storage DRS, but not both. Another alternative is to use Storage DRS for initial placement but not for moving VMs.
Here are some considerations to keep in mind when working with data store clusters:
• Data stores that make up a data store cluster can reside on different storage arrays.
• Data stores work with different storage protocols (FC, iSCSI, NFS), and users are advised not to mix these together in a single data store cluster.
• It is possible to mix VMFS-3 and VMFS-5 data stores together, although it isn't recommended.
• Data stores in a data store cluster:
- have the same performance characteristics such as the same number of spindles, disk types and RAID levels;
- have the same attributes. Consistency is the key here. For example, all the data stores in the cluster should be enabled for replication based on the type and on frequency;
- are only accessible by ESXi5.
VSphere 5 Storage DRS
Another vSphere 5 storage highlight is Storage DRS, or SDRS. SDRS is complementary to data store clusters in that users must create data store clusters in order to use SDRS.
The job of vSphere 5 Storage DRS is to place a VM's virtual disks on the right data stores within the right cluster -- just like its sister technology DRS puts the VM on the correct ESX hosts within its cluster to balance CPU and memory resources.
SDRS can also move VMs from one data store to another within a data store cluster to improve overall use.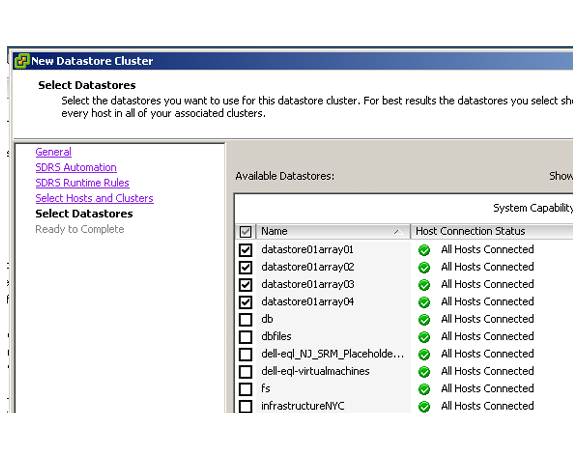 Figure 1: Admins can select the data stores they want to use within a particular data store cluster.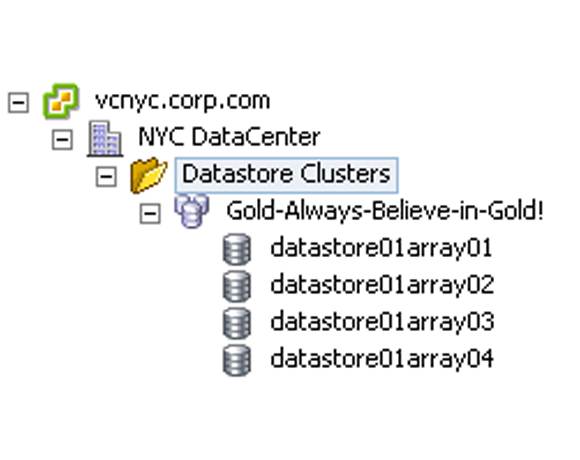 Figure 2: In this example, four data stores on four different storage arrays were added to the data store cluster.
DRS, like SDRS, has affinity and anti-affinity rules to ensure that VMs or virtual disks with similar storage I/O requirements don't compete for disk time.
By default, all the virtual disks that make up a VM with multiple Virtual Machine Disks (VMDKs) are placed in the same data store, but with anti-affinity rules, admins can reorganise and distribute them across many data stores for optimal performance.
They can also indicate that two virtual disks must never reside on the same data store to avoid friction in the infrastructure. Additionally, there is a "maintenance mode" feature that allows admins to fully empty a data store for maintenance purposes.
SDRS is compatible with all the main VMware vSphere features (VMware snapshots, RDMs, NFS and VMFS), but it is only compatible with ESX5i.
SDRS manifests itself when users create, clone or build a new VM from a template.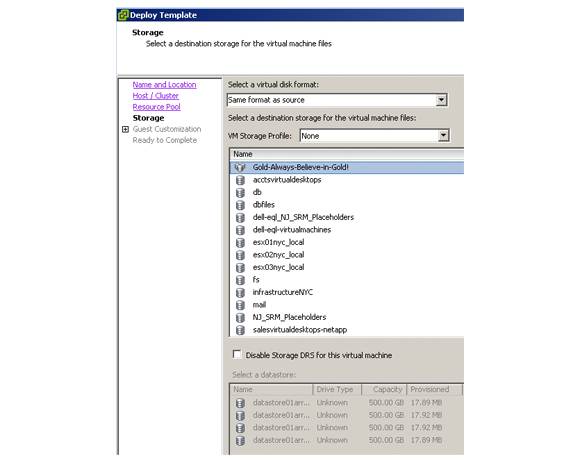 Figure 3: SDRS is visible when building a new virtual machine from a template. There's also an option to disable SDRS for a particular VM.
SDRS controls disk activity according to these metrics:
• SDRS uses a combination of free space and the latency to the storage to calculate the best data store within a data store cluster.
• It uses only the latency to decide if a virtual machine's files should be moved to improve performance.
• It checks space on a data store every five minutes using vCenter.
• SDRS checks latency only every eight hours, so don't expect VMs to whiz about from one data store to another within a cluster every millisecond.
Data store clusters are created in the "Data stores and data store clusters" view in vCenter and then assigned to an existing HA/DRS cluster. Users must ensure that all ESX hosts in the target cluster can see all the data stores in the cluster. Theoretically, if you don't do that, problems would occur. Let's say one data store cluster is constructed of ten data stores, but one of your ESX hosts can only see nine of the data stores. You'd be in trouble with features like HA, DRS and VMotion.
Finally, disk-intensive backup windows can really mess up SDRS. Users can schedule SDRS to ignore backup windows so its calculations are based on true operational disk activity.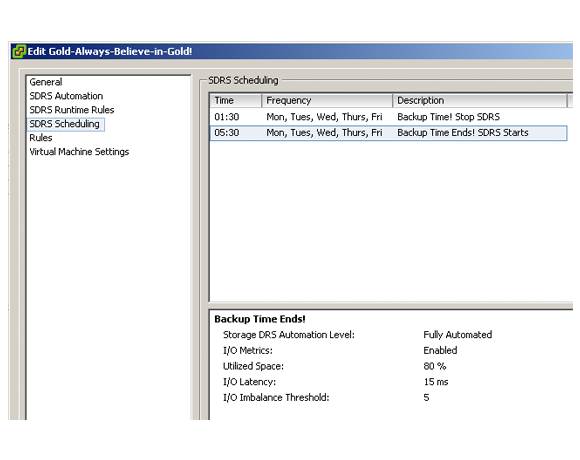 Figure 4: SDRS Scheduling is fully automated, but admins can configure SDRS to schedule it so that it ignores backup windows.
VSphere 5 virtual storage appliance
The final vSphere 5 storage enhancement -- virtual storage appliance -- isn't actually part of the core platform, but it's useful nevertheless.
With VSA, storage intelligence, which is usually based on some type of Linux/FreeBSD distribution, is ported out of hardware (or "storage controllers") into a virtual machine.
The VMware vSphere 5 VSA can use the local server's storage and share it across the network, turning direct-attached storage (DAS) into an NFS appliance.
VSA is deployed in two ways:
1. With two ESX hosts and a separate vCenter server. Here, the vCenter server must run a clustering and management service so it can act as witness to the two ESX hosts and determine if a error has occurred.
2. With three or more ESX host without a vCenter host to act as witness. In case of a physical failure of an ESX host, the data is protected by creating replicas to other ESX hosts in the cluster that are also running the VSA.
The idea of the VSA is to create a distributed array of shared storage without a single point of failure and without using an expensive centralised SAN system. It is aimed at companies in the SMB/SME market that don't have the budget for a SAN.
But, in its first release, some industry insiders say VSA's purchase price combined with the disk space it uses for the replicas make it a poor choice. With that said, recent updates to the different RAID types available have significantly improved VSA's actual disk use ratios. The same system with the same level of protections can now deliver more disk space capacity in real terms.
Here are some best practice tips for vSphere 5 VSA:
• The VSA has two virtual NICs -- one for the front-end and one for the back-end ports. The front-end NIC advertises an IP address for inbound connections and for ESX hosts to mount the NFS data stores. The back-end virtual NIC is used for management and for the cluster network.
• The VSA's default memory usage is 24 GB, up to 8 disks and one SCSI controller. VMware recommends a one gigabit network interface as minimum.
• VMware recommends that local direct-attached storage be configured with RAID, either RAID1+0, RAID5 or RAID6.
VMware has made huge improvements to vSphere 5, especially from a storage perspective. VMware vSphere 5's storage capabilities along with these best practice recommendations will help IT maximise the use of the product.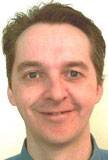 Mike Laverick is a former VMware instructor with 17 years of experience in technologies such as Novell, Windows, Citrix and VMware. Since 2003, he has been involved with the VMware community. Laverick is a VMware forum moderator and member of the London VMware User Group. He is also the man behind the virtualisation website and blog RTFM Education, where he publishes free guides and utilities for VMware customers. Laverick received the VMware vExpert award in 2009, 2010 and 2011.
Since joining TechTarget as a contributor, Laverick has also found the time to run a weekly podcast called the Chinwag and the Vendorwag. He helped found the Irish and Scottish VMware user groups and now speaks regularly at larger regional events organised by the global VMware user group in North America, EMEA and APAC. Laverick published books on VMware Virtual Infrastructure 3, vSphere4, Site Recovery Manager and View.
Read more on Server virtualisation platforms and management