CSRF attack: How hackers use trusted users for their exploits
A CSRF attack is a serious Web security threat that, combined with XSS, can be lethal. Learn about the CSRF attack's anatomy, along with mitigation methods.
Cross site request forgery — also known as CSRF or XSRF — is one of the Web-related security threats on the OWASP top-ten list. The main principle behind a CSRF attack is exploitation of a site's trust for a particular user, clandestinely utilizing the user's authentication data. A simple hidden http request is enough to complete a CSRF attack, although the attack has evolved into various forms today.
Content Continues Below

Download this free guide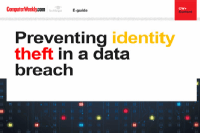 Preventing identity theft in a data breach
In this e-guide, we will explore the links between ransomware attacks, data breaches and identity theft. First, Nicholas Fearn investigates the phenomenon of the double extortion attack, and shares some insider advice on how to stop them, while we'll explore the top five ways data backups can protect against ransomware in the first place.