VMware vSphere 5: Storage software galore
With features such as VMFS-F, VASA and VM storage profiles, vSphere 5 is VMware's "storage release". Learn how these capabilities help virtualisation admins add value.
As virtualisation administrators look to upgrade to VMware vSphere 5, they can look forward to a wealth of storage software included in the virtualisation platform, including newer versions of VMFS, VASA and VM Storage Profiles.
VSphere 5 differs from vSphere 4 in that v4 represented a "network release," with features such as Distributed vSwitches and support for the Cisco Nexus 1000V. In contrast, vSphere 5 represents a "storage release" from VMware, as the majority of the changes and improvements made to the platform are in this area.
In part one of this two-part tip on VMware vSphere 5 storage software, admins can learn about the capabilities that are unique to v5 and learn how it will help their IT infrastructure.
VMFS-5
VSphere 5 includes a new and a more scalable version of the Virtual Machine File System (VMFS). The natively formatted VMFS-5 volume supports sizes greater than the previous version of VMFS that was limited to a single extent 2 TB for both itself and any pass-through raw device mapping (RDM).
VMware vSphere 5 storage features: Part two
Part two of the vSphere 5 storage report, users can learn about Storage DRS, VSA and data store clusters and what these capabilities mean to their infrastructure
In vSphere 5, virtualisation administrators can no longer adjust block sizes, which are set to a standard to 1MB. Additionally, VMFS supports sub-blocks of 8 KB. This allows for files smaller than 1 KB to be held in the file descriptor header.
VMFS-5 benefits from increased scalability thanks to the fact that VMware no longer uses its legacy system of Master Boot Record (MBR) to express volume size, adopting a GUID/GPT (globally unique identifier/GUID partition table) system instead. The GPT system is more in tune with modern operating systems such as Red Hat Enterprise Linux (RHEL) and Windows 2008 R2 and allows a single VMFS-5 volume to be as large as 64 TB.
VMFS-3 is still available on an ESX5 host, making it possible for both ESX4 and ESX5 hosts to reside within the same vCenter and interact with each other.
Users can upgrade an existing VMFS-3 volume to VMFS-5 without shutting down virtual machines (VMs) or embarking on a hefty Storage vMotion process as ESX5 supports an in-place upgrade.
But there are caveats around that upgrade process because vSphere 5 maintains the original VMFS-3 block-size selected during its creation.
In addition, it is important to remember that virtual disks are still limited to 2 TB in size even if they reside on 64 TB VMFS-5 volume. This is the case despite the fact that many operating systems support GPT volumes greater than 2 TB.
Users can learn more about VMFS-5 in VMware storage expert Cormac Hogan's piece and on VMware's vSphere blog.
More resources on vSphere 5 storage
VMware entices users with new features such as VMFS, SRM in vSphere 5.
How vSphere 5's storage softwares and features add value.
Five features that differentiate VMware vSphere 5 platform.
VASA
Another vSphere 5 storage feature is the vStorage APIs for Storage Awareness (VASA), which builds on the VMware Storage APIs for Array Integration (VAAI) found in earlier versions.
While VAAI added support to ESX for a whole series of SCSI primitive commands that improved storage performance, VASA's role is to return useful information about a storage array to the vCenter environment.
Typically storage vendors provide the VASA software which populates the "Storage Providers" in vCenter. The idea is to give users more information on their data stores. That way, when administrators create a new VM or vApp they will know more about their storage than simply how much free space is available.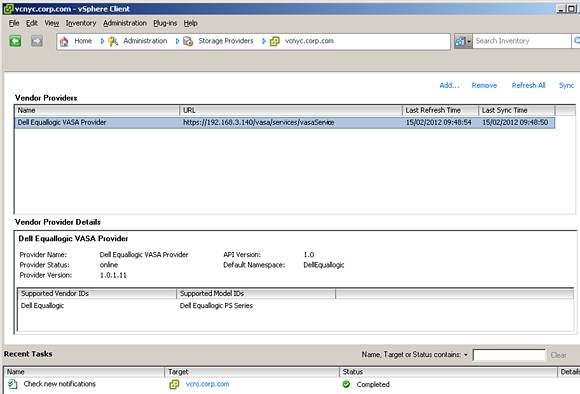 Caption: This screen grab shows the Dell VASA for the EqualLogic array.
Besides free space, VASA reports on such attributes as RAID type, disk type (SAS, SATA, SSD), snapshot space reservations and replication status. Armed with that information, administrators can classify the storage by its attributes to help optimise VM placement.

Caption: The properties of a data store's "Storage Capabilities" get updated with information about the data store's features such as its RAID type, snapshot settings and replication parameters. Admittedly this is quite basic information.
When combined with vSphere 5's Storage Profiles, VASA allows admins to create their own "storage capability" definitions and assign these definitions to data stores. User-defined capabilities can be configured in the "Manage Storage Capabilities" with storage profiles alongside any system-generated attributes populated by users' VASA software.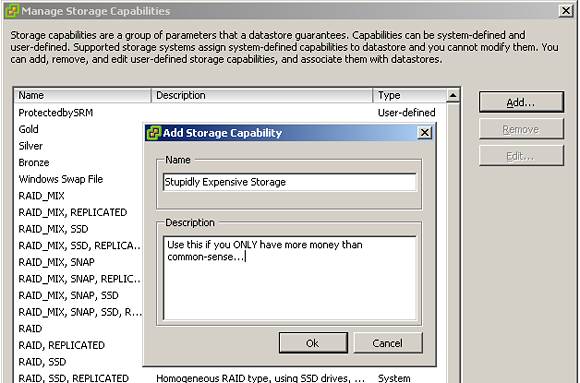 Caption: You can define your own storage capabilities and assign fun names and descriptions.
After users define the storage capabilities of their arrays, they can attach the capabilities to VMs. These attribute definitions can be very useful when coupled with Storage Profiles.

VM Storage Profiles
That brings us to another vSphere 5 storage capability -- VM Storage Profiles.
A common question when creating a VM is where to store it. Some administrators choose to store VMs in the data store with the maximum free space. While that's not a bad strategy, free space is only one attribute.

More sophisticated administrators consider free space and the profile of IOPS generated by each of the virtual disks that make up the VM, and then place the right disks on the right data stores. In addition to free space, they pay attention to array attributes such as disk type (SSD, SAS, SATA), protocol type (FC, iSCSI, NFS), RAID levels and RPOs for replication and disaster recovery.
Thus, the idea behind Storage Profiles is to take out the guesswork when creating new VMs and intelligently categorise storage assets to help administrators sort and store VMs more intelligently.
Storage Profiles also give similar functionality to the VMware Host Profiles feature introduced in vSphere 4. Host Profiles define a host configuration and perform compliance checks that confirm the configuration has not changed. Likewise, Storage Profiles assign a storage profile to a VM and ensure that the VM does not stray from that setting.
Storage Profiles can be defined in vCenter with a name first and then by selecting the combinations of attributes users need. As a result, compliance checks can be used to confirm that the correct VMs are on the right type of storage.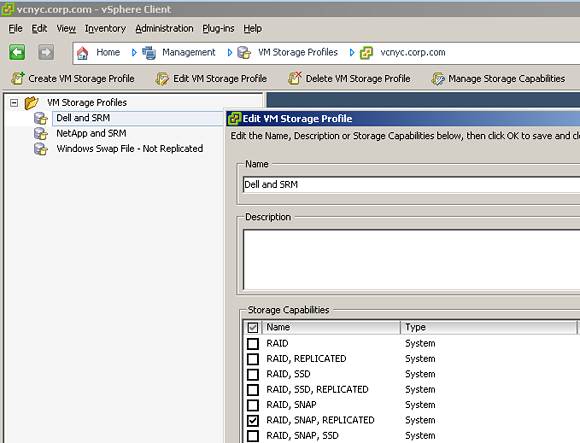 Caption: A profile is created to identify storage from Dell that supports snapshots and is replicated. Similar profile is used to identify NetApp storage; and an unreplicated data store not used to store the Windows Swap File. This profile is then "attached" to chosen VMs.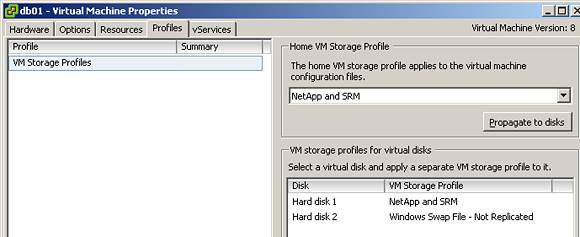 Caption: VM Storage Profiles are so called because the profile is attached to the VM. You can have different profiles attached to different virtual disks.


Caption: Of course the most important thing in enterprise products is that you get nice green ticks everywhere. No one wants to see nasty, worrisome red exclamation marks.
Storage Profiles expose themselves to the vSphere client each time a user creates, clones or migrates a VM. They provide a structure and offer users recommendations or a filter to show the right data store based on its attributes.
As seen in the image below, when an admin selects the right profile s/he can see which data stores are compatible or incompatible with the Storage Profile.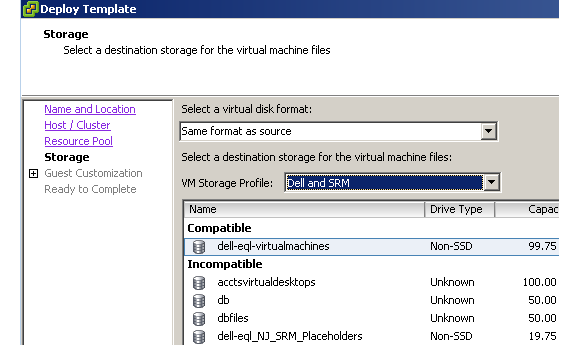 Caption: Selecting the "Dell and SRM" profile lists the data stores as either compatible or incompatible with the profile.
VMware has made huge improvements to the vSphere 5 storage software layer which, when taken together, make a big difference in the manageability of a virtualised environment.
In part two of the VMware vSphere 5 storage series, virtualisation admins can learn about other vSphere 5 storage software features including data store clusters, the Virtual SAN Appliance (VSA) and Storage Distributed Resource Scheduler (DRS).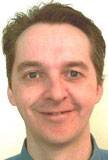 Mike Laverick is a former VMware instructor with 17 years of experience in technologies such as Novell, Windows, Citrix and VMware. Since 2003, he has been involved with the VMware community. Laverick is a VMware forum moderator and member of the London VMware User Group. He is also the man behind the virtualisation website and blog RTFM Education, where he publishes free guides and utilities for VMware customers. Laverick received the VMware vExpert award in 2009, 2010 and 2011.
Since joining TechTarget as a contributor, Laverick has also found the time to run a weekly podcast called the Chinwag and the Vendorwag. He helped found the Irish and Scottish VMware user groups and now speaks regularly at larger regional events organised by the global VMware user group in North America, EMEA and APAC. Laverick published books on VMware Virtual Infrastructure 3, vSphere4, Site Recovery Manager and View.
Read more on Managing servers and operating systems