Using virtualisation to consolidate IT infrastructure, lower costs
As IT budgets are squeezed, consolidating data centre infrastructure with virtualisation can yield hardware and energy savings in the short and long term.
The current economic environment is driving organisations to review their IT spending. IT budgets are flat or declining, which means that companies must do more with less. The service that needs to be delivered must support the users and the business as well as meet demanding competitive standards.

Virtualisation is one of those technologies coming at the right time. Applied to servers, storage and desktops, virtualisation can release assets, saving in capital and operational expenditure. It can also reduce the number of software licences that need to be deployed, thus saving more money.

The capability of new processors and the implementation of 10G networks are delivering performance such that IT managers can now concentrate on managing and controlling the system infrastructure, rather than simply monitoring activities. IT infrastructure consolidation can release capital expenditure (CAPEX), reduce physical footprint, lower energy costs and cut overspending on multiple software licences.

The rationale to virtualise system resources falls into the following areas.
Improving utilisation rates of resources such as x86 servers, storage and networks. Factors of 5% to 25% are wasteful; thus, to meet the workload mix, the policy is to over provision resources so the system utilisation can rise to 50% to 80% -- levels that are regularly reached and exceeded in mainframe environments, where virtualisation has been a feature for many years.
Grouping a range of disparate resources together for a better operating environment. This can be to deliver options for business continuity or to enable a better balance of resources to cope with peak workloads. Virtualisation now simplifies the management of provisioning resources and offers additional benefits.
Replacing resources when a process or system element fails. This could be within a disaster recovery environment, for example, where the failover process is automatically managed.
Clustering resources to enable automated failover in high-availability environments or to share workloads. Resources can now be consolidated with products such as VMware, resulting in significant savings in servers. A reduction in the number of servers can lead to an offsetting of CAPEX in new hardware resources. If new servers are installed, the number of physical units is drastically reduced. This contributes to other savings that are significant when addressing the need to reduce operating expense. This is measured in the form of a reduction in floor space and energy requirements.
New servers are significantly less demanding on power. When this is associated with the reduction in physical units, the energy cost savings can fund the migration to a virtualised environment. In addition, the demand for associated services, which consume around 40% of the energy needs of a data centre, can be reduced. This includes the cooling, ventilation and standby power supplies.
Embarking on the virtualisation journey will lead to other benefits. Recognising that resources can be better utilised, that the provisioning of resources can be effected within minutes and hours -- not days and weeks -- means that new services can be added in a shorter timeframe, allowing greater responsiveness to the users and the business.
One clear lesson is that virtualisation does not resolve all issues. It is a journey, and the implementation and expectations need to be managed. But by embarking on this journey, there are real gains to be realised in the short and long term. Virtualisation has started to change the basic infrastructure, saving money and meeting the demands to reduce operational expenditure across the organisation.
Hamish Macarthur is a contributor to SearchVirtualDataCentre.co.uk and chief executive and founder of Macarthur Stroud International.

Content Continues Below

Download this free guide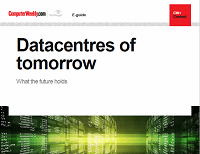 Datacentres of tomorrow: What the future holds
New technologies are widely-tipping to become a mainstay of datacentres in the future. Learn about new and emerging technologies that look set to shake-up the way datacentres are managed, monitored, powered and cooled as well.
Read more on Virtualisation management strategy