Trends in data centre storage solutions
A storage specialist pinpoints popular trends in data storage solutions and explains how the recession shaped the way IT departments use data centre solutions to support company agendas.
In the last few years, the global economic meltdown has had a severe impact on business in general and on data centre solutions in particular.
Entering the recession, companies were completely computer-dependent and were typically balancing the requirement to manage and protect increasing amounts of data while supporting the organisation's business agenda and implementing efficiencies. A tough task, when you consider that IT headcount budgets had been relatively flat or decreasing for years.
Draconian cost-cutting was the order of the day, and anything on the table was worth slashing.

David Dale, chairman of SNIA,
The smart strategy was to leverage existing investments, make incremental changes and take advantage of new data centre solutions where it made sense. But the recession changed all that. It was such a fast and dramatic change that most organisations realised that business as usual wouldn't work – they had to change in order to survive.
Draconian cost-cutting was the order of the day, and anything on the table was worth slashing – or at least considering the idea. Questions were being asked: Which new suppliers and technologies should we investigate? Do we have the right IT architecture for the next 10 years? Can we consolidate all these data centres? Is IT a core competency for our business? What can we outsource?
As we pull out of the recession, these burning questions continue. The good news is that recent technology advances can help, which is just as well since it's unlikely that IT will ever revert to its post-recession modus operandi.
Data centre solutions and computing advances
The computing environment has a direct effect on the type of storage capabilities required. Storage CPUs have become dramatically faster as multicore chips have become common, and commodity servers now deliver huge amounts of processing power, memory and I/O capability.
This, combined with virtual server software, can redefine your server environment. Instead of having one operating system (OS) and a relatively small number of applications, each physical server can run multiple OS images, each with its related applications. The result is a big reduction in the number of storage servers, which generates huge cost savings.
In a virtual server environment, operating systems and applications are just data on a disk: Provisioning can be as fast as a boot-from-SAN and copy-from-disk. And both operating systems and applications can be easily moved to physical machines and between data centres -– a revolution in application provisioning. The conversation is no longer about the number of CPUs and OS instances required, but about large numbers of cores and virtual machines.
On a larger scale, we are seeing redesigned data centres with many hundreds of rack-mounted or blade servers installed in hot/cold aisle configurations with "warm air" cooling for reduced power consumption. Affordable 10 Gigabit Ethernet (GbE) is the enabling network infrastructure here.
These scalable data centres, combined with virtual server environments, provide the platform for cloud computing -- the ability to deliver and compute applications or data storage as a service locally or across geographies. It's potentially the most fundamental IT change we have seen for a few decades.
Advances in data storage solutions
Today, according to IDC, the vast majority of enterprise storage (80%) is networked storage. Cloud computing seems likely to drive this percentage even higher, despite the predilection of a couple of large service providers for direct-attached- storage data centres.
Fibre Channel amounts to 61% of networked storage sold today, and 39% is connected by Ethernet. Both technologies have strong roadmaps: 8 Gb FC is shipping, as is 10 Gb Ethernet; 2010 saw the finalisation of the standard for 16 Gb FC and for 40 GbE/100 GbE; and, in fact, 16 Gb FC and 100 GB Ethernet prototypes were demonstrated at the Super Computing 2010 (SC10)show in October 2010.
From a storage protocol perspective, 54% of the market is FC SAN, 15% iSCSI SAN and 29% NAS (source: IDC worldwide networked storage systems by revenue, Q2 '10). Many organisations deploy all three.
A recent advance in the protocol is from Fibre Channel over Ethernet (FCoE) -- multiple vendors are already shipping solutions. FCoE enables Fibre Channel storage traffic to be carried over 10 GbE. In other words, your existing Fibre Channel arrays can be connected to their host computers using Ethernet. This finally enables an evolutionary path to network consolidation in the data centre. Since it primarily targets existing (production) data centres, IT managers are taking a conservative approach to data centre storage solutions and allowing significant pre-deployment testing, but analyst house IDC is starting to see FCoE gaining traction in its surveys.
The biggest changes for disk drives are motivated by the emergence and rapid uptake of Serial ATA (SATA) and Serial-Attached SCSI (SAS) drives.
SATA drives have made it economically viable to use a disk array as a backup device. When you combine them with array-based capabilities, such as Virtual Tape Library (VTL), data deduplication, snapshots and remote copy, they have pushed disk-to-disk backup into the mainstream, delivering faster backup/restore with significantly less downtime. Tape is also rapidly becoming an archive solution rather than an incremental backup/restore solution.
SAS now delivers reliability to FC drives, but with higher performance, similar capacity, higher density and lower power consumption together with a more resilient interface. Most storage vendors have been quietly re-architecting their back-end disk connect architecture to be based on SAS rather than FC.
This change in data centre solutions has been rapid. IDC estimates that Serial-Attached SCSI drives account for 50% of the hard disk drives in enterprise storage systems today, with SATA at 30% and FC drives at 20%.
Another recent development is the integration of solid state technologies into enterprise storage systems – both as another "tier" of disk replacement and as a huge controller-based cache. Benefits are high performance and lower power consumption, not to mention capacities are approaching disk drive capacities with ever improving price/performance. The technology is still relatively expensive and typically deployed to improve performance for particular applications and/or reduce the number of disk spindles required by a particular workload.
We are also seeing the combination of solid state caches and SATA drives displacing faster FC and SAS drives for Enterprise workloads. It seems inevitable that solid state technologies will become pervasive in data storage solutions.
David Dale is the chairman of the Storage Networking Industry Association (SNIA) Ethernet Storage Forum and a contributor to SearchVirtualDataCentre.co.UK.
Content Continues Below

Download this free guide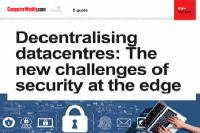 Decentralising datacentres: The new challenges of security at the edge
In September 2020, the Computer Weekly Security Think Tank, our panel of information and cyber security experts, considered the challenges inherent in decentralising the datacentre, and set out to answer the question, how can security professionals ensure such setups are just as secure as the traditional centralised model? Read more in this e-guide.
Read more on Managing servers and operating systems