Leveraging bulk software licensing deals
A bulk software licensing deal can be a good option, given the tight budgets. Here are some tips on how to leverage bulk software licensing deals.
A CIO needs to be cautious while drafting his software licensing plan, since one can achieve cost savings and avail of different services in the process. This can prove to be a strategic business move when you have a tight IT budget in hand. Let us have a look at few tips:


Download this free guide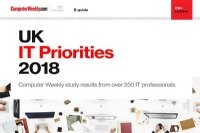 The future of UK tech: Cloudy with a chance of Artificial Intelligence
The forecast for the future is in and, in typical British fashion, it looks like it's going to be cloudy. Our IT Priorities survey has revealed that organisations are planning on making the most of the cloud in the future. Download our IT Priorities results for more insights into where the IT industry is going.
Price discounts: A bulk licensing deal depends on your software implementation plan and on the kind of software suite you wish to deploy. For example, if I am using lot of Microsoft products, so instead of buying them separately, I could get a bulk licensing arrangement done with Microsoft. In such an arrangement, I can purchase a complete enterprise license where the vendor bundles different software, and I get bulk discounts as I am dealing in bulk copies.

Client Access License (CAL): In a bulk purchase, one has to buy two elements – server license as well as client license. A CIO should ensure that bundling of CAL is part of the software deal. For example, if I buy software from Microsoft, the client license should be bundled and I need not have to buy it separately. If I have an element like the SQL Server Database, I need not buy the license for the desktop again.

Review: In any enterprise deal, software review happens on half-year or annual basis. In this arrangement, for example, if I buy 800 licenses and keep adding machines, I need not legally worry because the arrangement says that every six months or a year, the vendor would review and add the extra number subsequently. This kind of arrangement seems convenient.

Bundling services: Easier installation and management should be part of the bundling deal. Installations become easy when you don't have to manage separate serial numbers for every desktop that you install. In an enterprise licensing arrangement, only a single key has to be managed, which becomes convenient. Apart from this, you are also entitled to better training and education as you can bundle such services in your licensing agreement.

Negotiate payment: Having a right payment model is crucial. If your payment arrangement is for specific years, then your payment gets covered in those many years, rather than at one time which includes cost of license as well as the support. Therefore, the budgeting becomes certain.

Some software companies give numbers or points for desktop and server versions used in an organization. Large enterprises can evaluate and avail for various components from the same vendor which includes training and services.

Group companies: In the case of a group company, it is advisable to mention in the contract that the licenses would be used across the group companies. On the other hand, MNCs should have global licensing arrangements with the vendor.

About the author: S R Balasubramanian is the executive vice president of IT and corporate development for Godfrey Phillips. He joined Godfrey Phillips India in July 2007. Prior to this, Balasubramanian was with companies like ISG Novasoft Technologies Ltd, Hero Honda and GKN Invel Transmissions. He has 30 years of experience in IT, and is a qualified Chartered Accountant and Chartered Secretary.

(As told to Yuga Chaudhari.)

Read more on IT suppliers