India Inc.'s field guide to disaster recovery for VMware infrastructure
With companies relying on VMware-based infrastructure, disaster recovery for virtual servers should be woven into existing DR/BC. Here's how you can achieve that.
Virtualization technology is pretty much ubiquitous today in India, with organizations large and small adopting it due to the attractive cost-saving features. VMware is a popular solution choice for implementing virtualization, and the technology has matured to a level at which mission critical applications are now processed and stored on VMware infrastructure. Furthermore, critical data volumes have been growing exponentially, making recovery processes more complex than before. Robust disaster recovery planning is thus of paramount importance in the virtualization sphere.
Disaster recovery for VMware should be woven into the existing business continuity and disaster recovery plan of the organization. Here is a guide to planning for more efficient disaster recovery on your VMware infrastructure:
Identifying assets and mapping applications
Today, applications are configured on VMware coupled with traditional physical systems. It is important to take stock of all the required applications on all platforms. Identify RTO and RPO for all important applications along with their dependencies. For example, a banking application may reside on a physical box; however, that application's database may reside on the VMware machine. In such cases, both the assets along with their networking components should be captured in the DR documents.
Backup of machines
In VMware, applications have direct dependency on the base VM; therefore it is important to backup this base VM. Technologies such as cloning or mirroring can be utilized for the backup. Depending on the desired RTO for applications, the backup solutions should be woven into the fabric of the disaster recovery plan for VMware.
Replication service should be utilized for applications with lower RTO/RPO. Quiescing, an important element in backup on VMware, is a process in which the virtual machine is paused temporarily so that any outstanding writes and data held in memory can be written to disk before the backup begins. Quiescing is extremely important for transactional process especially for databases.
Consolidated backup for VMware infrastructure
VMware Consolidated Backup enables hassle-free, seamless recovery of applications. It is an inbuilt component of ESX server, facilitating full image and incremental file backup of running virtual machines for recovery of individual files and directories. It utilizes a single backup agent, thus improving manageability. Backup traffic on the LAN is eliminated by utilizing tape devices attached to the storage network. Applications are identified and prioritized for recovery, thus facilitating efficient disaster recovery for VMware.
Site-wise replications
Most business continuity plans provide for a recovery site. A site-wise replication mechanism should be installed to continuously replicate data to the recovery site. VMware offerings such as Recovery Manager and Zerto Virtual Replication support a broad set of high-performance storage-replication products to replicate virtual machines to a secondary site.
In addition, disaster recovery for VMware vSphere offers recovery of applications and systems on VMware in case of physical system failure, with provisions for greater redundancy as the nodes can communicate with each other via clustering. For VMware disaster recovery, zero RPO is achieved affordably, as incremental replication is used, making the process faster and more efficient. Although VMware supports site-wise replication, the ESX servers deployed at both the locations should have identical processors and system components.
Data migration
Encapsulation is a process in which an entire server — operating system image, application, data, configurations and state — is simply stored as a file on disk. VMware has this encapsulation property, enabling dramatic transformation and simplification of tasks such as server migration, recovery, replication and server provisioning. These tasks can now be treated as a simple data migration, file copy or file export activity. There is no need to build an image from scratch or use multiple complex tools for recovery of the system, thus making disaster recovery for VMware a breeze.
Vstorage API
Vstorage APIs were introduced to allow third-party backup software to integrate seamlessly with vSphere. These APIs have a feature called change block tracking, which identifies and tracks changes made to the virtual disk, obviating the need for third-party applications to identify changes.
Existing backup to include VMware
Most Indian organizations have a backup strategy for their physical systems, which are different from backup for VMware. The virtualization aware backup solution provides an option to backup only the VM and not the guest operating system, saving time and backup space.
Third-party products
VMware has tied up with several backup solution providers to deliver faster backup and facilitate easier disaster recovery for VMware, reducing overall costs. For instance, Symantec has a suite of products to support backup of VMware infrastructure. Symantec Backup Exec is one such product that creates backup images of virtual machines as part of its routine backup of physical systems. Another product from QuorumLabs, onQ, has the ability make multiple copies of VM machines along with the physical machines, replicating them to an alternative site.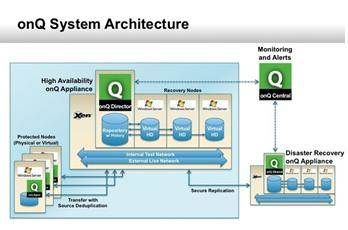 Courtesy:www. quorumlabs.com
Testing
Testing plays an important role in the overall disaster recovery strategy for VMware. The backup should be tested periodically for its integrity and reliability, envisaging a variety of scenarios, and covering clustering and replication when applicable.
Go beyond mere data verification on your backup media that only confirms that disk blocks are properly written to the target device. With VMware you can perform a recovery test, using an isolated virtual environment without impacting the production environment. Also remember that if data is not quiesced before backup, errors could occur during restoration.