Four CRM implementation best practices
Ready to invest in CRM? Follow these best practices to ensure your implementation delivers results.
There is no doubt that organizations must implement customer relationship management (CRM) to improve their customer...
Continue Reading This Article
Enjoy this article as well as all of our content, including E-Guides, news, tips and more.
interactions and thus up their sales. But a thumb rule to follow during implementation is that good tools are expensive and one should not compromise on the quality of the product or the capability of the implementer in favor of cost. Pointed out below are some best practices that will help companies avoid the issues they might run into during the CRM implementation process.
Have data governance in place before implementing the tool, any tool
More on CRM
Absence of data governance can have disastrous consequences. An automobile manufacturer ships some thousands of product-SKUs across multiple dealer-locations in the country based on customer requirements. When several distantly located dealers place orders for the same vehicle-model bearing different colors, how does it ensure that the right product is delivered to the right customer?
Ninety percent of your data quality issues will be out of the window if you can ensure that your master data is clean and be reconciled with multiple source systems such as ERP. The trick is to concentrate on ERP first as ERP is the mother-source of all enterprise data for most companies. Start your data reconciliation effort with the ERP data and do not let dirty data to enter your data warehouse or master data hub.
Rope in a CRM architect
Your CRM product cannot reside in some isolated corner. For its effective use, its needs to be an integral part of your enterprise architecture. It needs to work along with other apps like ERP. The best way to ensure this is to appoint a CRM architect who can oversee the entire implementation. At Tata Motors, when we implemented Oracle's Siebel Automotive, a CRM solution for automotive industry, we created the profile of a 'Siebel architect' in the project team. His role was to ensure that the new tool was well integrated with the dealer management system (DMS) as well as with SAP ERP. A CRM architect can provide you with the ability to exploit your project's potential to the fullest.
Keep his position alive at least for six months as he would know exactly what is going wrong, where, and why.
Do not neglect privacy issues
Due care needs to be taken to prevent any leakage of customer-data during and after the implementation, unless you want to invite some legal trouble. Negligence by your staff member could result in data privacy breach. A campaign management employee, for instance, may unwittingly download some sensitive customer-data from the CRM system and post it in his campaign, share it internally, or worse, with channel partners.
Assigning rule-based authorization, right at the time of implementation, will ensure that CRM data is not leaked or misused. Another best practice is to prohibit sharing of the CRM data over email; the data transfer should be allowed to happen only by server to server.
Show long-term value for change management
User-resistance is the major hindrance that companies face while implementing CRM. When our Siebel Automotive's deployment was underway, one of our spare parts dealers expressed dissatisfaction, criticizing the new process as lengthy; we had a change management challenge at hand.
In the automobile sector, it's common for product pricing to change as new parts get frequently added to existing models. We showed the dealer that although the transaction process was longer, he now had access to the most recent and correct pricing data as the CRM was integrated with dealer management system and SAP ERP at the back-end. With CRM in place, the dealer could be 100% confident about the latest prices while interacting with customers.
Each person who is going to be impacted by the implementation should be made aware of the direct benefits it would bring to his work. That's the best way to ensure your CRM system is accepted by users without much ado.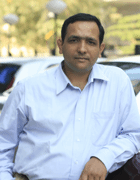 About the author:
Jagdish C Belwal is the CIO of Tata Motors since March 2009, after serving in multiple managerial positions in Tata Motors ranging from field service, service HQ, and the Head of CRM. His responsibilities include shaping of the company's business aligned IT (BITA) strategy, ERP performance optimization, creation of business relationship management processes and the outsourcing governance processes, and building the future ready IT organization. Read his full profile here.