Continuous data protection: Do you need it?
Continuous data protection solutions are gaining credence, especially for mission-critical subsets of enterprise data. Learn whether CDP is right for you.
As data continues to grow exponentially, traditional backup and recovery solutions are hard-pressed to keep pace. Challenges faced include downtime, diminishing backup windows, and inability to recover mission-critical applications and databases, resulting in low productivity and revenue loss. Against this backdrop, newer technologies such as continuous data protection could fit the bill and ensure enhanced backup efficiency.
Simply stated, continuous data protection (CDP), also called continuous backup, is a storage system that backs up data whenever any change is made in it. In effect, CDP creates an electronic journal of complete storage snapshots, one for every instant in time that data modification occurs.
Why continuous data protection?
To ascertain whether your organization requires a continuous data protection solution and will benefit from it, consider the following factors and scenarios in which continuous data protection makes perfect sense:
IT complexity: Technological advances have led to a huge change in the way organizations are approaching IT. Virtualization and cloud technologies are being adopted increasingly by Indian companies, and come with their own set of challenges. Continuous data protection helps ensure continuous availability of the varied, cross-platform environments.
Administrative capability: Proper administration is imperative for data center efficiency. System and network administrators must be capable of understanding the new technologies in data protection today. Bearing in mind the advances in virtualization and cloud computing, a good data protection solution needs to create a unified monitoring system, to enable the administrators to handle data backup easily and efficiently.
Cost factor: Continuous data protection may prove to be a cheaper solution than traditional backup and recovery solutions. Software-based continuous data protection solutions today are easy to deploy and manage, reducing the implementation and managerial costs incurred. Today most software-based continuous data protection solutions can be downloaded and validated within hours, and be up and running within a day.
Data growth: Data volume is exploding, with growth rates reaching 50% in many cases. While data was held at the main office earlier, it now often resides at the remote location itself, given the increased bandwidth availability and faster WAN connections. Remote users in geographically dispersed locations have access to email, core systems and other mission-critical applications. In such cases, continuous data protection makes perfect sense for enterprises with locations in multiple geographies.
Criticality of data: Criticality of data has increased tremendously in recent times. Users expect certain applications and the data related to those applications to be available at all times. In case of an incident, data recovery cannot exceed minutes and certainly not hours. Service-level expectations are extremely high. Continuous data protection technologies enable seamless backup and restore at the backend without affecting end users. Many continuous data protection solutions can recover data from any point in time within less than a minute.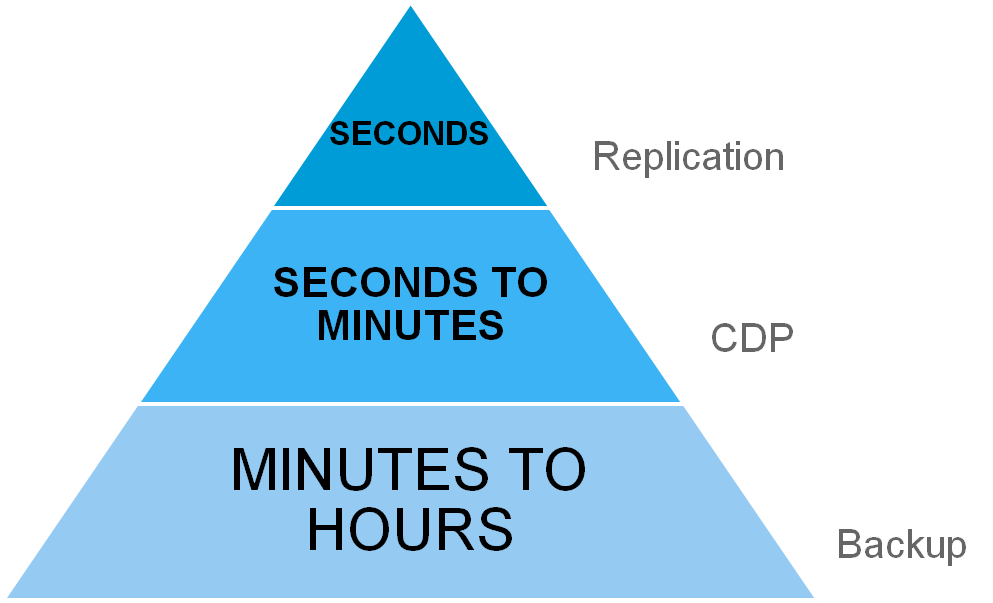 Figure 1. Response time of applications
Shortcomings to consider
While continuous data protection can offer distinct advantages for RTO (recovery time objective) & RPO (recovery point objective) of data sets, it sometimes might not be applicable to all the data. One needs to study the data landscape and assess the differences in data recovery requirements for the business. A strict SLA for a critical subset of data could be used as a target, for continuous data protection to deliver desirable RTO and RPO.
Most of the challenges with continuous data protection emanate from the environment being targeted. A true continuous data protection solution will support real-time protection rather than scheduled snapshots. The change rate of the data sets that are being protected could pose challenges to the continuous data protection solution.
Avoid these common mistakes when implementing a continuous data protection solution:
Not understanding the data to be targeted: You need to understand and assess the dynamics of the change in the data, as it will give you a wider perspective on the level of implementation required to make the continuous data protection solution successful.
Not understanding the bandwidth requirements: You need to identify the size, change rates and available resources to move the data from end to end. If the change rate exceeds the available bandwidth to the target then the performance of the continuous data protection solution would be hampered.
Not understanding the resource requirements: You need to take into consideration the latency in network connections and the disk space on the continuous data protection target; any shortfalls here could leave you without the desired protection that was being sought.
About the author: Richard Moseley is Quest Software's vice-president for data protection, EMEA and APAC. In the software industry for 23 years, Moseley was earlier MD at FastLane, and prior to that, MD for international operations at True Software. Moseley has a BSc. (Hons.) double degree in Law and Accounting from Oxford Brookes University, England.
(As told to Mitchelle R Jansen)