Pavel Ignatov - Fotolia
BT launches free London Wi-Fi and phone calls
Londoners and tourists to get free Wi-Fi and calls from BT as the company replaces phone boxes with digital services units
London residents and visitors can now get free Wi-Fi and telephone calls after BT turned on its InLink street units which are replacing BT payphones in the UK capital.
There are plans to install 750 InLinks in central London and elsewhere in the UK over the next few years.
Through InLinkUK services, BT will provide Wi-Fi speeds of up to 1Gbps with free UK landline and mobile phone calls, mobile device charging, access to maps, directions and local services, and a BT Phone Book app.
All services are free of charge to users, funded by advertising revenue generated by the digital displays.
The InLink units – billed by BT as the spiritual successor to its iconic red telephone box – are being deployed across the capital through a partnership with outdoor advertising specialist Primesight and Intersection. The latter has already implemented a similar service in New York, for which 1.8 million users have registered since January 2016.
The first of the new units are on Camden High Street, with other London high streets to follow. BT will also place them in other major cities in the UK.
"This is the phone box of the future. InLinkUK from BT brings the payphone up to date and gives people the services they need and use every day in the 21st century," said Gerry McQuade, CEO of BT Wholesale & Ventures.
He said this was only the beginning, with more potential uses in the future: "Just as the phone box has evolved, the new InLinks could evolve to use the internet of things, with connected sensors to monitor and help us understand and improve our environment."
Matt Bird, general manager at InLinkUK, said: "InLinks in the future will feature sensors to capture real-time environmental data, such as pollution and traffic conditions, never seen before in the UK at such a micro level."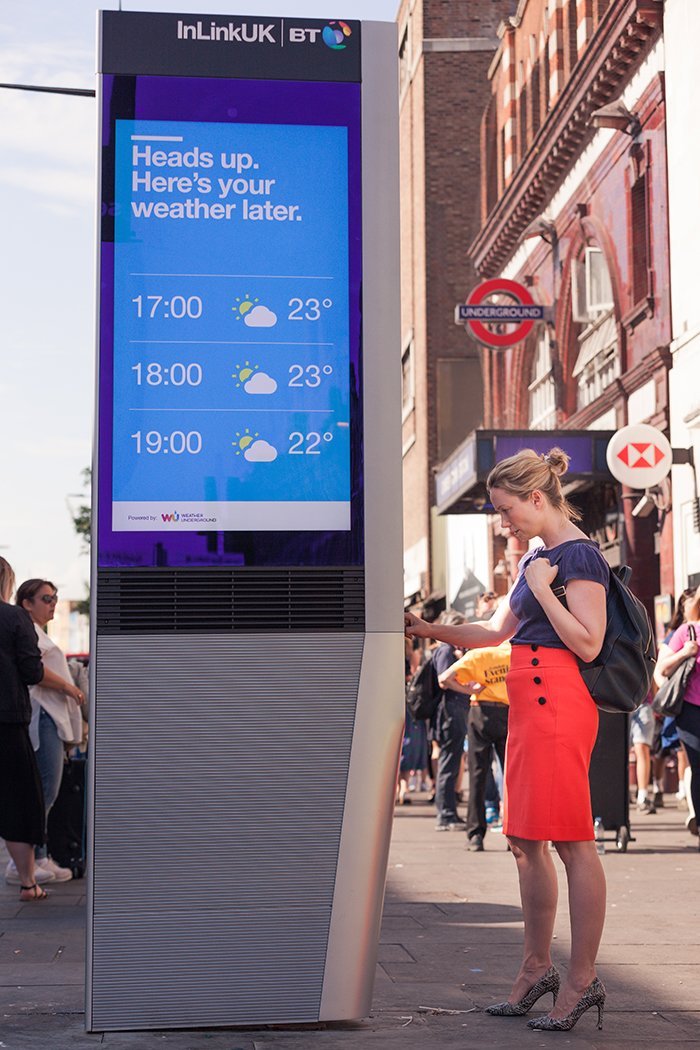 BT InLink unit
Read more on IT suppliers