Phil Mingo/Pinnacle
Accenture adds voice and VR to data analytics for RBS Six Nations
Accenture, in the sixth year of its tech partnership with the RBS Six Nations rugby championship, adds voice interface and more virtual reality to data analytics effort
Accenture's annual data analytics effort for the RBS Six Nations rugby championship, which starts on 4 February 2017, has added voice interfaces and machine learning to its playbook.
On the human side, former Irish rugby player Gordon D'Arcy has joined former England second row forward Ben Kay and former head coach of the Italy and South Africa national rugby union teams Nick Mallett this time around.
This is the sixth year Accenture has been the official technology partner of the Six Nations Rugby Union tournament. This year's data analytics dashboard will deliver improved player, match and Championship insight, according to the company. The system, put together in-house by Accenture data analysts on the sides of their day jobs, comprises technology from data preparation and blending supplier Alteryx, data discovery provider Qlik and data visualisation specialist Tableau.
The firm has also developed a "mixed reality" application for the Championship, using virtual reality (VR).
The one-person immersive VR experience is sharable, and broadcast as live action for others to watch.
The rugby stalwarts who make up the analysis team for the project will work off information from the dashboard. Accenture said its data scientists have added a "Stochastic layer" this year, a so-called "randomness engine" that uses machine learning to improve the accuracy and depth of insights derived from players who are humans – not robots.
A Softbank humanoid robot, Pepper, and Amazon's Alexa device have also been connected to the system. "Alexa's been integrated into the back end, so you can ask it questions about the statistics," said Nick Millman, managing director of Accenture Analytics.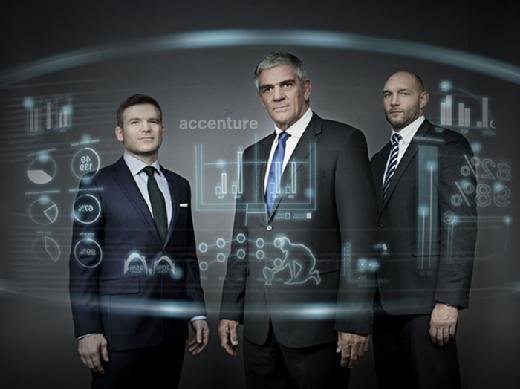 The firm uses its Six Nations sponsorship "to showcase things we are already doing with clients or demonstrating the art of the possible, as with the virtual consumption of analytics.
"We can come up with a 'team of the week' based on what the data says, and that makes an interesting discussion in itself," said Millman. "But that also crosses over into business decisions – are you making those based on data or a gut feeling? It all brings that topic to life for our clients.
"As more people have connected homes and cars where the interface is the voice, business users will expect or want to use that with their business applications. Voice is a way of getting around the complexity of [business intelligence and analytics] user interfaces as with more recent generations of visualisation technology."
Read more about sports data analytics
The firm's Innovation Programme team in London has used technologies from its green screen studio to blend physical and digital worlds so that one individual's VR experience can broadcast to anybody watching. The VR user will interact with players on a virtual pitch, seeing team and player-level analytics from the dashboard. Onlookers will then see the VR user in the context of the scene they are immersed in on the big screen.
"The RBS Six Nations is the world's greatest championship and a landmark in the European sporting calendar," said Millman. "The innovations we're making are also applicable for businesses. Just as players are unpredictable, so are customers."
During the last five Six Nations championships, the Accenture app has received 3.9m downloads across 200 nations. It's available for download to Android, Kindle and iOS devices – including Apple Watch – in English, French and Italian. It integrates analytics insights from the Championship dashboard.
"The innovations we're making are also applicable for businesses. Just as players are unpredictable, so are customers"

Nick Millman, Accenture Analytics
Fans will be able to access the team's analysis through the Twitter handle @AccentureRugby and website www.accenture-rugby.com. They can follow a graphical "momentum tracker" that enables them to see the moments in a game where one team gains or loses the upper hand.
Nick Mallett, in a recent Accenture study called See beyond: exploring digital innovations through the RBS Six Nations, said: "As a sport, rugby's getting faster all the time. But so is the development of digital technology, and the advances we're seeing are revolutionising how we watch – and take part in – the game."
Read more on Business applications