viperagp - Fotolia
CIOs struggle as digital IT strategies are hampered by corporate inertia
Companies are struggling to keep pace with the digital innovation of their IT departments, a major study reveals
The inability of companies to keep pace with their IT departments is holding back the take-up of digital technology.
Two-thirds of senior business leaders claimed that if companies don't become more digital by 2020 they will have lost competitiveness, a study has revealed.
But companies are struggling to keep pace with rapid advances in digital technology, according to the study by CEB, the membership group for business executives.
"Even if IT is performing really well and has everything in place, digital won't work unless companies address bigger issues," said Andrew Horne, IT practice leader at CEB.
Larger companies find it particularly difficult to keep up to speed with digital technology, including the development of mobile apps, data analytics and new digital channels to reach their customers.
"The average company is bigger than it used to be, more regulated, more complex. It has more product lines, and a pervasive risk-adverse culture," Horne told Computer Weekly. "Large companies are getting slower. It takes longer to hire people and longer to finish a project."
This puts large companies at a competitive disadvantage when they are competing with smaller disruptive companies and high-tech startups.
The IT department of a large bank, for example, took only a week to build an innovative mobile app for its retail customers. But it took the bank nine months to get the app through the legal and compliance processes before it could be made available to the public.
The shift from products to services
One of the effects of digitisation is that businesses are making a shift away from being pure product suppliers to become data services suppliers.
One IT leader, who works for a company that makes analysers, for example, is trying to convince the business to supply analytical services, rather than devices.
"We have experts who can interpret the measurement, so we have experts who can sell an added-value service," he told a gathering of IT leaders.
Another CIO is battling with the challenge of making digital services available to customers only at the time they need them, rather than risk bombarding them with advertising.
"Large companies are getting slower. It takes longer to hire people and longer to finish a project"
Andrew Horne, CEB



Aircraft and tractor makers are other examples of companies that are moving away from simply supplying products, to gathering live data from vehicles and using them to develop new services to customers.
But they often hit barriers because their sales teams are not trained how to sell digital services and, on a practical level, their bonuses still depend on sales of the physical products.
In one case, a company solved this problem by giving its CIO responsibility for the sales team selling digital products.
"In the short term that worked. The problem was that CIO was a full-time job, and managing the sales team was a full-time job," said Horne.
Digital strategy a shared responsibility
CIOs can't take responsibility for every problem in the organisation, but they can make it clear to other executives where the bottlenecks are.
"One reason these problems exists is because there is no natural owner. They have crept up between the cracks," said Horne.
CIOs cannot take responsibility for corporate compliance, sales bonuses, or fixing corporate bottlenecks.
"IT can't take all that on," said Horne. "CIOs can prioritise where IT can make a difference, but as for the rest, make sure it's communicated to the rest of the organisation."
Changing role of IT department
As digital technology begins to permeate all areas of business, IT departments will increasingly play a supporting and training role for non-technical employees.
The IT department in one global retailer, for example, ran a business intelligence (BI) team to provide and support BI technology for sales, marketing and other departments.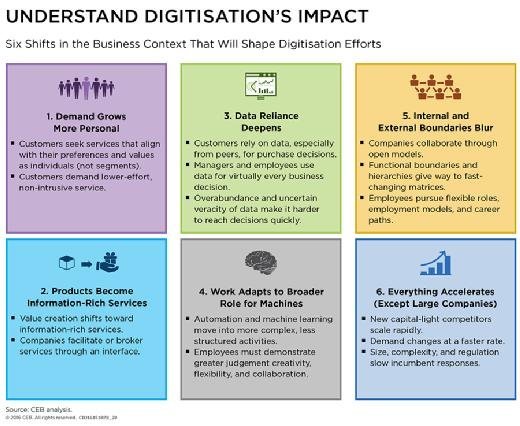 But the team shifted focus from support to training when it became clear that the people who needed to use business intelligence data for sales forecasts and other predictions didn't have the technical skills to do so.
"It identified a skills gap across the business and realised there was no point investing in data if employees didn't know how to use it," said Horne. The IT team chose to shift the technology to a self-service model and instead teach people how to use the data.
Download exclusive guides for CIOs
---
IT leaders need courage in the new digital world
IT leaders need to change their mindset if they are to benefit from digital technology, according to Tarun Kohli, acting chief technology officer of Prudential Global Data Services.
"They need to talk to business as a business partner. They have to believe in themselves, they have to believe there is disruption out there, and they have to talk in business language," he said.
And the most important quality they need is courage.
The old barriers that prevented companies taking up digital technology are fast disappearing, Kohli told Computer Weekly.
Digital businesses no longer require a well-known brand, finance or capital assets to raise money to compete with established businesses. Even knowledge of your customers is no longer a pre-requisite to starting a successful digital company, he said.
"In the past, companies needed decades of experience to gain insights into their customers, but now data analytics platforms can mine data and take business insights to a different level."
"Data analytics platforms can mine data and take business insights to a different level"
Tarun Kohli, Prudential Global Data Services



The relationship between IT and other parts of the business will change dramatically, he argued. In some cases, traditional companies will buy technology companies, just to get on the "digital bandwagon".
Kohli was previously head of investment programmes, global operations and infrastructure at BP. As part of BP's digital programme, IT professionals spent a day tracking engineers, geologists and other professions, to try to understand how they worked.
"In BP we were quite forceful, that more data needs to be processed to get oil out of the ground, to help traders make better decisions," he said.
That meant demonstrating quickly what the potential of data was, developing quick prototypes, and killing projects quickly if they failed. At one point, Kohli rang a technology supplier, asking it to install a Hadoop multi-cluster platform urgently.
"They said, 'It's not in production'. We said, 'We need this fast, is there a posssiblity of getting it in the factory over the weekend?'. They delivered in days, rather than weeks," he said.
Read more about digitisation