MPs campaign for Lauri Love to be tried in UK
Backbench MPs are campaigning against Lauri Love's extradition to the US so he can face trial in the UK
Prime minister Theresa May is under pressure to reform the UK's extradition laws following a court's decision to extradite engineering student Lauri Love to the US to face hacking charges.
The 31-year-old who has been diagnosed with Asperger's and depression faces a 99-year prison sentence in the US, for allegedly hacking US computer systems, following a decision by Westminster Magistrates' Court in September 2016 to allow his extradition.
Backbench MPs, including Labour's Barry Sheerman and Conservative Cheryl Gillan, are campaigning for the US to drop the extradition request so that Love can face trial in the UK.
Speaking at Prime Minister's Questions today (12 October 2016), David Burrowes, MP for Enfield and Southgate, told May that Love would be at high risk of suicide if the extradition went ahead.
As home secretary, May dropped extradition proceedings against former hacker Gary McKinnon, and introduced the forum bar to give UK courts the discretion to try defendants in the UK, rather than extradite them – a power previously reserved for the home secretary.
Burrowes told May: "A young man with Asperger syndrome awaits extradition to the United States facing charges of computer hacking, and is then likely to kill himself. It sounds familiar. He is not, of course, Gary McKinnon, who was saved by the prime pinister, but Lauri Love, who faces, in effect, a death sentence."
More about Lauri Love's story
The MP for Enfield and Southgate, who was an active campaigner for Gary McKinnon, went on to question whether the forum bar had proved fit for purpose.
"When the prime minister introduced the forum bar to, in her words, provide greater safeguards for individuals, surely she expected it to protect the vulnerable, like Gary McKinnon, like Lauri Love?"
The intervention followed a meeting between backbench MPs, Lauri Love, his legal team, autism campaigners and former hackers, at Portcullis House, Westminster last night (11 October).

Speaking after the meeting, Cheryl Gillan, Conservative MP for Chesham and Amersham, and chair of the All Party Parliamentary Group on Autism, told Computer Weekly that the legal systems in the UK and the US had not yet caught up with the reality of people with mental disabilities.
"We don't want a British citizen to be extradited to a system whereby they would be treated in far less a way than they would be in our own system," she said.
Sheerman said he would be seeking support from other MPs to write letter to president Barack Obama asking him to drop the extradition request before he leaves office next year.
Lauri Love's father, Alexander Love, a Baptist minister, appealed to May to reconsider the UK's extradition treaty with the US to make sure it was being interpreted by the courts in the way Parliament intended.
He told Computer Weekly: "My son may very well have done something wrong. I am his dad, I don't know about that, but he genuinely has mental health issues. I genuinely believe that justice would be served if he was allowed to stand trial here, and I believe that he would be more than willing in some way to make amends by making a safer world for all of us through cyber security.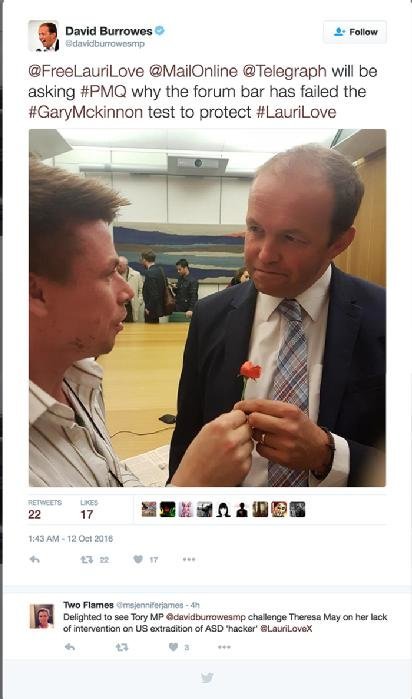 Lauri Love said after the meeting: "If this forum bar is not fit for purpose, there needs to be a new accommodation between Parliament and the judiciary where we can prevent situations where there are vulnerable people caught up in a system."
May told Parlimament that she was right to introduce the forum bar to allow courts to decide whether cases should be heard in the UK.
"It was right, I think, to introduce the forum bar to make sure there was that challenge for cases here in the UK, as to whether they should be held here in the UK, but the legal process is very clear, and the home secretary is part of that legal process," she said.
Read more on IT technical skills