momius - Fotolia
Why leaving EU would be disastrous for UK digital scene
Startups and government minister discuss the risks that leaving the EU would bring to the UK IT industry
If the UK left the EU, it would be disastrous for the digital technology industry because investment would drop and easy access to top talent would end.
Talented people and investors would seek alternative locations if the UK were to leave the EU following the referendum, according to tech startups.
During a meeting with London-based tech startups at Tech City in East London, Ed Vaizey, minister of state for culture and the digital economy, said leaving the EU would make the UK less attractive to investors and create friction for businesses when recruiting staff.
"I have always been, to a certain extent, a Eurosceptic, and looked at regulations and not wanted Europe to do too much. But throughout this campaign, I have become more and more convinced that Brexit would be a complete disaster for our country," said Vaizey.
He addressed three key issues in the Brexit debate: sovereignty, immigration and the economy.
UK has power under the EU
On the claim from Vote Leave campaigners that the EU prevents the UK from making its own decisions, he said: "Sovereignty and the belief that the UK is Gulliver held down by Lilliputians is completely false."
In contrast, he said, ministers from across Europe work together. Although there are sometimes trade-offs, he added, individual countries can push for certain changes, as the UK did to lower mobile phone roaming charges, "which was against the wishes of some other member states".
Vaizey said net neutrality regulations were also driven by the UK: "It's the same in the digital market, with Britain seen as a leader in shaping the regulations that will help businesses and consumers."
Brexit a threat to UK's economic clout
On the economy, he said: "Any serious bit of research says there is going to be a huge impact on the UK economy if we leave the EU."
Vaizey said the UK is probably the leading tech nation in Europe, but France and Germany are keen to attract investment.
"If you are a big investor from the US looking at Europe after the UK has left, you will be looking much harder at places like Berlin and Paris than London, which is probably the default place now. Outside the EU, it will be hard to attract the right kind of companies that scale up."
Tech firms need migrant workers
In terms of immigration, Vaizey said the majority of people coming to the UK were from outside the EU, and there was a lot false information being repeated by Brexit campaigners.
"There is a myth peddled that somehow 500 million Europeans are waiting at the border to come into the UK, but clearly there aren't because we have had free movement for many years," he said. "There is also a myth that the people coming are spongers and criminals, when they are, in fact, people who want to contribute to our economy."
Vaizey said if the UK left Europe, UK citizens could expect a tougher immigration regime that would make it difficult for businesses to bring much-needed talent into the UK to work.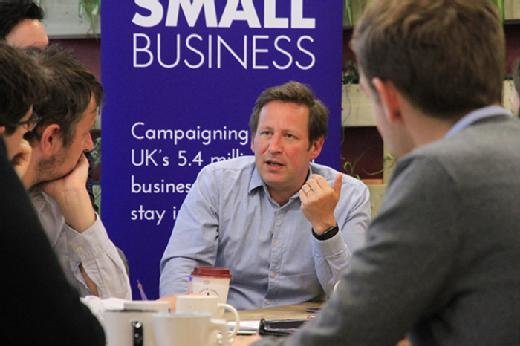 Alex Burton, CTO at London-based startup Sup – which offers an app to help people locate friends and socialise – said the benefit to Sup of being in the EU was access to talent.
"The best talent comes to London. If we leave, I am worried that they will go directly to the US. We already have a brain drain from the UK to the US. I don't want that to happen from Europe," said Burton.
He said the company uses developers from France, Germany and Denmark. If the US doesn't take them, there are other European countries looking for the skills. These include the Netherlands.
For example, Kajsa Ollongren, Amsterdam's deputy mayor, told Computer Weekly in October 2015 that the city was willing and able to attract the talent startups need. "If we don't have it, we will make it easy for the talent you need to come and live and work here," she said.
Investment at risk
Sup CEO Richard Pleeth said investment would harder to come by in the event of a Brexit.
As part of a European accelerator, Sup receives startup funding. "If the UK leaves Europe, the investors will probably invest their money in companies in other countries. The access to capital will drop, which is a real worry," he said.
Tugce Bulut, CEO and founder of global intelligence platform Streetbees, which supplies organisations with data, is Turkish by birth, but chose to set up the company in London.
"I had the choice to go anywhere. I looked at Berlin, Istanbul, New York and Lisbon, but chose London," she said.
Streetbees has grown from two people 18 months ago to 22 today, 14 of whom are from the EU without UK citizenship. It also employs people from elsewhere around the world.
"If the UK leaves the EU it will be hard for us to get the right staff and we will have to relocate. That is not even up for discussion because we cannot lose this talent"

Tugce Bulut, Streetbees
"The reason we are in London is because it gives us access to the best talent. There is no better place in the world if you are running a business where you need multiple languages and cultural diversity."
She said the company has large clients, including Unilever and Vodafone, and although it operates globally, it is a UK company and pays UK tax. "If the UK leaves the EU it will be hard for us to get the right staff and we will have to relocate. That is not even up for discussion because we cannot lose this talent."
It is not just startups and entrepreneurs that would think twice about pouring capital into the UK if it left the EU.
At the opening of a GE digital facility in Paris, Bill Ruh, head of digital at the US giant, said the 250-person site was part of a series of new GE digital centres. He said a UK site was also on the agenda, but that it might delay opening this facility if the UK were to leave Europe, because all businesses, including GE's industrial customers, would be reassessing their short-term and mid-term investment plans.
UK IT industry bodies and their members appear to favour remaining in the EU.
For example, UK technology trade association TechUK is firmly in the "stay" camp. It believes that by leaving the EU, IT companies would miss out on trade agreements that give them advantages in targeting a market of 500 million people.
When TechUK polled 277 UK companies in March 2016, three-quarters of which were small and medium-sized enterprises (SMEs), 70% said they wanted to remain in the EU. The remaining 30% were split evenly between those that wanted the UK to leave and those that didn't know.
Three-quarters (76%) of the IT business leaders who wanted the UK to remain said it was because EU membership made the UK more attractive to international investment. Similar proportions said EU membership made the UK more globally competitive (71%) and gave the nation a better deal in trading relationships with the EU (75%).
Not all IT firms are pro-Europe
But there are voices supporting Brexit in the UK IT sector. Speaking at an all-party parliamentary group (APPG) event in March 2016, which met to discuss how Brexit would affect UK IT firms, Peter Chadha, CEO at technology advisory firm DrPete, said leaving the EU and changing things would benefit the UK.
"I do not think any of these challenges [posed by the stay supporters] are insurmountable, and I think this change would be great for Britain," he said.
Computer weekly contacted Vote Leave with questions about the impact that leaving the EU would have on IT talent and investment, but had not received a response by the time of publication.
Read more about the ICT industry in the Brexit debate
Read more on Managing IT and business issues