rvlsoft - Fotolia
Government launches cyber security research project
The government has launched a programme to get businesses more involved in cyber security research
The government has launched a cyber security research scheme that brings together the expertise and resources of businesses, academia and government departments.
Businesses of all sizes are being encouraged to take part in the project known as CyberInvest, with a financial contribution as little as £10,000 required for small companies to participate.
GCHQ and the Department for Culture, Media and Sport are behind the project, which aims to help businesses benefit from expertise the of GCHQ, the Engineering and Physical Sciences Research Council (EPSRC) and academics.
"While many companies invest in research, some find it difficult to target the right opportunities, and where investment is made, it is not always visible or focused. CyberInvest will provide a forum for the latest in cyber security research, drawing on the expertise of GCHQ, leading academics and industry," said organisers.
The government said existing UK cyber security research funded through the National Cyber Security Programme and EPSRC has helped to develop innovative and ground-breaking products, such as funding nearly 100 PhD research students and contributing to the recent CESG password guidance.
The government said that over the past four years it has invested more than £20m in UK cyber security research.
To join up, there is a minimum investment level of £10,000 for micro companies with fewer than 10 employees and up to £500,000 for companies with more than 250 employees. So far, 18 companies have contributed £6.5m.
One IT security expert in the banking sector said IT security products and service suppliers are the main providers of up-to-date cyber security research.
"£20m over four years is probably a small amount compared with what the security suppliers spend on IT security research," he added. xxxxxxxxxxxxxxxxxxxxxxxxxxxxxxxxx
Read more about cyber security
Content Continues Below

Download this free guide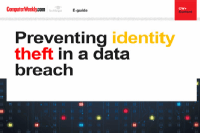 Preventing identity theft in a data breach
In this e-guide, we will explore the links between ransomware attacks, data breaches and identity theft. First, Nicholas Fearn investigates the phenomenon of the double extortion attack, and shares some insider advice on how to stop them, while we'll explore the top five ways data backups can protect against ransomware in the first place.
Read more on Data breach incident management and recovery