olly - Fotolia
Device shipments stagnate as users sweat their assets
Worldwide device shipments are expected to begin to contract this year, says Gartner
A slowdown in combined shipments of devices – PCs, tablets, ultramobiles and mobile phones – is looming as users increasingly opt to hang on to their equipment, according to a market forecast from Gartner.
Global shipments of devices are now expected to contract by around 1% in 2015, compared with 2014, reported the analyst house, which had previously forecast modest growth of around 1.5%.
Accounting for the U-turn, Gartner research director Ranjit Atwal said: "Users are extending the lifetime of their devices, or deciding not to replace their devices at all."
Although the PC market has been declining for years, as successive reports from Gartner and other analysts have made abundantly clear, for the first time all segments are now waning, with the exception of mobile phones, which will see 1.4% growth this year thanks to adoption in emerging Asia-Pacific markets such as India and Indonesia.
Gartner predicted that 291 million PCs, desktop, notebook and premium ultramobile form factors will be shipped in 2015, down from 314 million in 2014 (see table below). Tablets and clamshell devices will fall from 226 million units shipped in 2014 to 199 million in 2015.
It said that a tentative recovery looked likely to begin through 2016 and 2017, however.
"Until the end of 2015, currency devaluation and subsequent price increases will continue to restrain the replacement of ultramobiles, premium and notebooks by businesses in particular," said Atwal.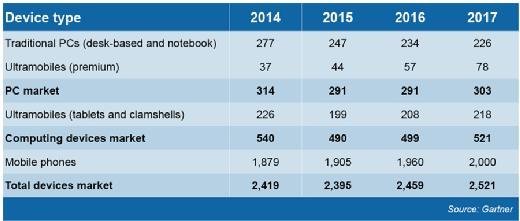 "In 2016, we expect currency impacts will negate and while Windows 10 products on the Intel Skylake platform will increase in volumes throughout the year, Windows 10 adoption among businesses will ramp sharply in 2017, where we expect the PC market to return to a 4% growth."
The contraction in tablet shipments, meanwhile, will be driven by users of tablets with screen sizes of between seven and eight inches, who are increasingly not replacing their devices.
Additionally, a user survey conducted earlier in 2015 showed that 44% of tablet owners were planning to swap out their tablet for a different sort of device. This figure was even higher among laptop users, 54% of whom think it is now time for something completely different.