Tablets replace need for multiple devices in the enterprise
Far from being a companion device, tablet computers are increasingly being deployed as the only device for certain groups of users
Businesses are increasingly turning to tablets as their only computing device, according to analyst firm IDC.
In a recent study, IDC found that tablets were the only business device used by 40% of respondents. Analysts reported that hybrid products designed to replace portable and desktop PCs are driving up tablet adoption in the enterprise.
The study also showed that hybrid devices – in either the detachable format, whereby the removable keypad allows the touchscreen to double as a tablet, or the convertible form factor, in which the notebook's hinge rotates 360 degrees for a similar effect – are usually purchased with larger screen sizes than standard tablets.
While just over 10% of all slates have a screen size larger than 11in, almost 30% of hybrids currently exceed this size – expected to rise to over 50% over the next couple of years – which reinforces the assumption that two-in-ones and convertibles can be a replacement for portable PCs.
For instance, Microsoft's recently introduced Surface 3, powered by the Intel Atom processor, offers a 10in 1920x1024 high-definition screen and 64GB of SSD storage. Given that it runs Windows 8.1, such hybrid devices can be a good fit for businesses since there is no need to find alternatives for existing PC applications.
Marta Fiorentini, senior research analyst at IDC, said: "A large share of tablets is already used by employees as their only work tool, either replacing traditional client devices or for functions previously not supported by any computing device.
"As digitisation transforms business processes and tablets are optimised for business functions from both a hardware and application standpoint, we can only expect an increase in the share of standalone tablets, as confirmed by the purchase intentions of the study respondents."
IDC found that the use of tablets as standalone or companion devices has a strong correlation with the user's job role.
User groups generally associated with activities involving document creation or editing, such as executives, marketing staff, sales staff, engineers or white-collar employees (including analysts, consultants, doctors, those in the legal profession and journalists) tend to use their tablets in addition to desktop or portable PCs.
On the other hand, workers who perform all or the majority of their activities on the road, in the field or with customers are more likely to rely solely on their tablets.
Operation agents and production workers equipped with tablet slates use them as their only work device in, respectively, 55% and 64% of cases. In comparison, only 38% of executives and 44% of white-collar workers use only their tablet slates.
Review of Microsoft Surface 3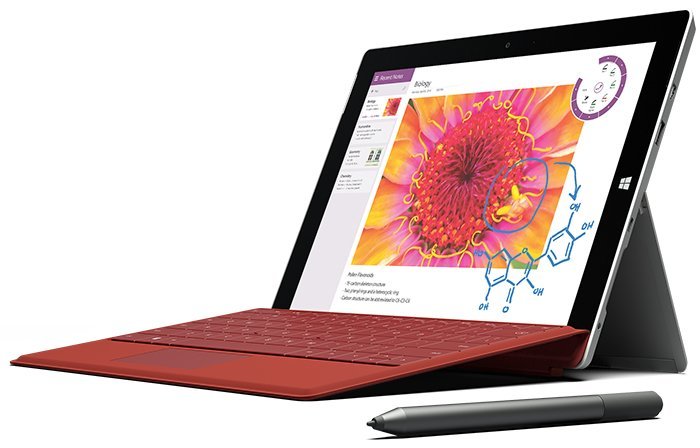 Having a small, lightweight laptop is a must-have for commuters. The Microsoft Surface 3, with 10 hours of battery life and the ability to charge via the USB port, could make a great travelling companion.
The detachable keyboard is the same as the one on the Surface Pro, and typing is comfortable, helped by the Surface 3's stand which allows the keyboard to be raised slightly.
In tablet mode, weighing 798g, the Surface 3 is heavier than an Android tablet or iPad, but then it is a full-blown PC and features a USB 3.0 high-speed connection.
The screen is bright and seems to work well for viewing Netflix and web browsing. The only downside is that it runs Windows 8.1 – once Windows 10 is released, however, the Surface 3 will be an ideal hybrid PC/tablet for use when commuting.