Fewer IT firms going bust in 2015, shows Exaro Insolvency Index
Collapses among information and communications firms decreased in first quarter of 2015, according to Exaro Insolvency Index
Collapses among information and communications companies decreased in the first quarter of 2015, following a tough year for the sector in 2014.
According to the latest data from the Exaro Insolvency Index, 521 businesses in the ICT sector filed one or more insolvency notices between January and March 2015. This was down by 5.3% on the 550 filed in the same period last year.
This was better performance than for the UK economy overall, which saw a year-on-year fall of 2.7%.
Tudor Aw, head of technology at accountancy group KPMG, told Exaro: "If there is such a thing as having a decent recession, then the tech sector probably fits the bill."
He said most of the failures were among small startups, pointing out that "the tech sector has a lot of that sort of activity".
Insolvencies among IT consultancies specifically are still rising year-on-year, but much less sharply than they were. They increased by 3.4% this year, going from 205 in the first quarter of 2014 to 212 in the same period this year.
Software developers also still seem to be struggling, with an increase from 50 insolvencies a year ago to 56 in the first quarter of 2015.
KPMG's Aw said: "Every young kid wants to invent the next Google or Facebook.
"They can work from their bedrooms, coding away, and present their software to the entire world at very little cost. They do not have to build a bricks and mortar factory to get their product out there. So the barriers to entering the market are very low."
But he warned that new ideas can be quickly superseded. "The risk of other innovators who take your market space is very high. This is where we see the insolvencies. It is vital to keep innovating."
The Exaro Insolvency Index, the most comprehensive survey of company failures in the UK, shows that there were falls in the number of information and communication companies for each type of insolvency, except for a marginal rise in appointments of liquidators. The changes are shown in the graph below.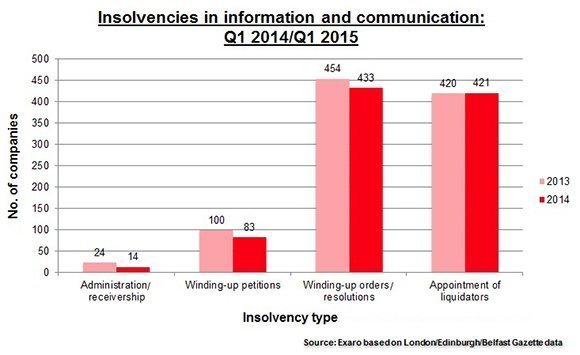 But the sector has just enjoyed a much better quarter than the previous one, with an even more marked fall than the year-on-year decrease. The 521 companies that filed insolvency notices in the first quarter of 2015 was down by 31.9% on the 765 filed in the final three months of 2014.
Clive Lewis, head of enterprise at the Institute of Chartered Accountants in England (ICAEW), said businesses generally were being cautious with their cash.
"ICAEW research on businesses' cash surpluses conducted earlier in 2015 shows that around six in 10 businesses currently hold a cash reserve, highlighting that lessons have been learned," he said.
"Perhaps more remarkable is that a similar proportion is also expecting to have a surplus next year. This suggests that businesses are reluctant to over-commit amid ongoing uncertainties both in the UK and overseas."
But failure is no bad thing in such an innovative sector as IT, according to Aw. "The boys on the west coast in the US see it as a badge of honour to go bust. You have almost got to fail three times before you are taken as a serious player.
"You have to try, and fail. Have a go, learn from it and have a go again. So there is a silver lining in there. If you learn from your experience, that is no bad thing and you can come out of it stronger and more capable."
He said that, after the general election on 7 May, whoever forms the government must invest in the sector, especially in education.
"The government must keep offering tax breaks and incentives," he said. "Also, it is not enough for our educators to be happy with their students knowing their way round a computer and being able to handle Word and Excel. It is vital that coding skills become a core subject – we are way behind the US on this," he said.
---
The Exaro Insolvency Index draws on insolvency notices in the London, Belfast and Edinburgh Gazettes, along with information from Companies House. In the source data, a small proportion of the insolvencies is not ascribed to a specific sector.