CES 2015: Car companies showcase automotive digitisation
Autonomous automotive technology has stolen the limelight from the usual fodder of gadgets at CES in Las Vegas
Eight years ago, Ford used the International Consumer Electronics Show (CES) to showcase in-car innovation.
This year, autonomous automotive technology stole the limelight from the usual fodder of high-resolution home entertainment systems and gadgets.
With the internet generation more interested in connectivity than car ownership and the growing potential for urban gridlock as more people move into cities, the major car makers are starting to re-invent the core values of the automotive industry.
CES 2015 gave visitors a glimpse of how car companies are hoping to digitise the automotive industry, using telematics and in-car communication to create new business models based on the internet of things (IoT).
Companies such as ZipCar have offered pay-per-use car sharing for several years, based on an in-car module that connects to the internet.
Now the major car makers are beginning to develop similar technologies in their new vehicles.
Read more on automotive IT
They are also looking at autonomous cars and technology such as Aviva's telematics black box that charges for car insurance based on whether the driver is considered careful, or not.
"Software development along with affordable sensor and hardware technology will be the key enablers to both full autonomy and semi-automation going forward," said Ford CTO Rajo Nair.
Mercedes built a concept car specifically for CES, while Ford used the show to unveil a number of smartcar initiatives. Both of these illustrate the importance that car companies now put on in-car computers and communications.
Internet-connected cars
Analyst Gartner has estimated that by 2020, there will be a quarter of a billion connected vehicles on the road, enabling new in-vehicle services and automated driving capabilities.
According to Gartner analysts, during the next five years the proportion of new vehicles equipped with in-vehicle wireless connectivity capability will increase dramatically, making connected cars a major element of IoT.
During CES 2015, Ford announced Smart Mobility, a multi-decade roadmap to target the problems associated with greater urbanisation and the global growth of a car-owning middle class. The company's vision is based on mobility, big data, autonomous vehicles and the customer experience.
London will be the site of several Ford pilot projects that will test different ways of alleviating congestion in dense urban areas, including car sharing, parking and shuttle service projects.
We see a world where vehicles talk to each other and communicate with the city infrastructure to relieve congestion, and people share vehicles to commute

Mark Fields, Ford
These projects include a car-sharing pilot, data-driven insurance and a project with a local authority to use a smartphone app service that can assist drivers in finding a suitable parking space based on their profile preferences.
During his keynote presentation at CES, Ford CEO Mark Fields (pictured above) said: "Henry Ford's calling was not simply to build a strong business by introducing compelling products. His real passion was around the opportunity to create a better society. Our roadmap has to include not just smarter cars, but smarter roads and smarter cities. We see a world where vehicles talk to each other and communicate with the city infrastructure to relieve congestion, and people share vehicles to commute."
Fields said the company would be running 25 mobility experiments around the world. These experiments will be built on connectivity and software and sensor technologies. Ford also plans to grow the developer community for its Sync in-car platform.
The company has already provided Sync AppLink voice control software to the open-source community, giving it the "largest community of app writers" and making "the potential for innovation endless", according to Fields. AppLink allows drivers to use voice commands to control apps running on the Sync platform, enabling hands-free use of apps such as Spotify.
Fields also announced an initiative called Big Smart Data, noting that data and analytics will play a crucial role in determining our future. He said Ford's philosophy is that the customer should own their data: "We commit to being trusted stewards of that data, and if we use the data we need to ensure that customers receive services they find useful."
Mercedes CEO Dieter Zetsche also discussed the challenges of global population growth, and the subsequent growth in car ownership, in his CES keynote.
"It is getting crowded in the cities and on the roads. Urbanisation is making time and space in the car more precious," he said.
Robot taxi
Mercedes used CES to unveil its luxury concept car, the F 015 (pictured below), its solution to the problem of overcrowded public transport.
Our goal is to offer an autonomous driving technology, which is superhuman

Dieter Zetsche, Mercedes
"Autonomous driving will give people in the car entirely new opportunities to spend their precious time," said Zetsche. "Cars will turn into mobile homes. This is the redefinition of automotive luxury."
While the company has been developing automation in its cars since the early 1990s, and recently tested an S-class Mercedes on public roads, Zetsche said it is working hard to improve data processing capabilities and sensor quality. "We need to ensure these systems work reliably in heavy rain, severe winter conditions and in darkness. Our goal is to offer an autonomous driving technology, which is superhuman," he said.
To get autonomous cars rolled out, Zetsche said they need to go from "technically feasible" to "commercially viable", adding that he was confident Mercedes will shortly be able to make the business case.
Beyond the commercial viability of autonomous vehicles, Zetsche said the legal and ethical issues need to be debated before they can be sold to the public.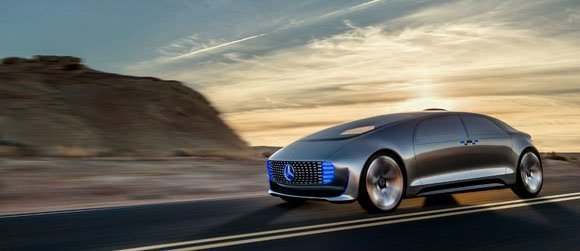 Cars embrace software and sensors
As this year's CES illustrates, there is growing interest among car manufacturers and software and information services companies for in-car connected technology.
Gartner's Predicts 2015: The internet of things report highlighted applications such as electric vehicle charging, ride-sharing and car-sharing services, parking guidance and payment, tolling and use-based insurance services.
"New concepts of mobility and vehicle usage will lead to new business models and expansion of alternatives to car ownership, especially in urban environments," the analyst noted.
And while the evolution of autonomous vehicles is nascent, semi-automation is now a part of in-car technology. Mercedes' Zetsche believes semi-automation, such as brake assistance and self-parking, builds confidence among consumers, paving the way for fully automated cars.
In-car computing is more about engineering than IT, but Gartner fellow Steve Prentice believes there is a golden opportunity for IT. "The technology in a car is operational technology, but all the data collected by the car's sensors can be stored and analysed," he said.
This analysis of data is very much the domain of the CIO.