Interview: 'Government is the best digital startup in London'
Computer Weekly interviews Ministry of Justice chief digital officer Paul Shetler about transforming government public services
Walking through the maze which is the Ministry of Justice (MOJ) building in London's Whitehall, you come across a floor housing 145 techies coding away to deliver online services for citizens who need to interact with the department.
From digitising the way you book a prison visit to simplifying the application for lasting power of attorney, the MOJ has been flying the flag for government transformation and is now one of the largest digital teams, after the Government Digital Service (GDS).
Passing the endless rows of whiteboards, an array of Apple products and brightly coloured Post-it notes stuck on the walls, I meet chief digital officer (CDO) Paul Shetler, a towering man with a deep American accent, who is looking patriotic in jeans, a red and white striped shirt and blue-framed glasses.
Shetler sits in a meeting room with more scribblings on whiteboards and motivational posters citing design principles which say things like "iterate and iterate again" – something he says himself later on in the conversation.
"I think government is the best digital startup in London," he says from behind his glowing Apple MacBook. "We really do have multi-functional teams, and when we talk about agile we really mean it. And we're really serious about user research and understanding what the user needs are."
Shetler has dabbled in startup companies himself, creating two startups in London, the place he now calls home. His career also spans financial services, including working for the Republic National Bank of New York and companies such as Oracle, Microsoft and Swift – the financial transaction messaging company.
HMRC roadmap: 2014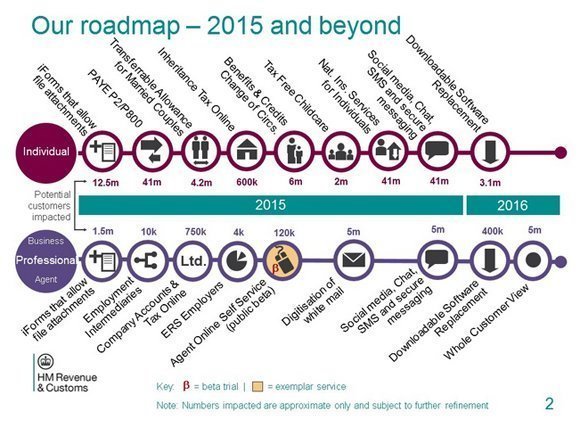 HMRC roadmap: 2015
"I really love this stuff," he says, picking up his smartphone. "I've always loved devices because it's something we can hold, something that's tangible, something that's real. And the digital services the MOJ offers is precisely that. I can say, 'Well, actually, we did this booking system'. That, for me, is really important – to be able to point to something that works.
"Traditional government services are very complicated," he adds. "That is why we're doing digital, and we're improving those, making them easy, clearer, simpler and, in the process of doing so, making them more humane."
The MOJ is not alone in this task to digitise public services. The Driver and Vehicle Licensing Agency (DVLA) is well on its way with a digital team in Swansea, while Her Majesty's Revenue & Customs (HMRC) has former Vodafone CIO, Mark Dearnley, at the helm as chief digital and information officer (CDIO), with a new digital headquarters in Newcastle.
In fact, HMRC is currently working on around 50 different digital projects, with complex roadmaps (see images, above right) to plan their delivery – for 2015 and onwards it plans to provide inheritance tax online, as well as change of circumstances for benefits and credits, tax-free childcare and a social media, chat, SMS and secure messaging service.
Developing exemplars
When Shetler crossed over from the private sector and became the MOJ's CDO in January 2014, his digital team comprised 60 staff. Over the past year the department has powered full force into digital, expanding its team to 145 and launching three of its four exemplars, with the final one due in a matter of weeks.
Following in GDS's footsteps to move 25 of the most used government-wide public services online in 400 days, the MOJ has managed to get prison visit bookings, lasting power of attorney and civil claims live, with the fourth and final exemplar, apply to an employment tribunal, due to go live in December, a good few months before the spring 2015 deadline.
"I have had the pleasure of working with what is probably the best team I've ever worked with – and I am dead serious about that," he says.
The department is recruiting even more digital roles, 15 in fact, from developers and web operations managers to security analysts, data scientists and product managers.
On top of the exemplar services, the MOJ digital team is also delivering a further 16 products, including a civil legal advice system, as well as internal projects.
"Our work didn't start and end with the exemplars. We continue digital transformation throughout the entire MOJ," he says.
Share and iterate
So much so, that the quality of the MOJ's services and products has caught the attention of other government departments and agencies, with requests from them to use the MOJ's home-grown software.
"We've seen a lot of interest in reusing the call centre software, which actually means software delivered by government, shared by government and used by other government agencies. It's a virtuous thing – save money across the board," says Shetler.
When we deliver, we don't just stop with the delivery – we're not traditional IT, digital is different

Paul Shetler, Ministry of Justice
"Right now we're discussing how we can more effectively share software between different agencies and departments," he explains. "We make all of our software available as open source – that's policy."
Shetler says different departments have also expressed interest in using the basic software for the MOJ's prison booking service. "We're looking at turning that into more of a platform service," he says.
Because the MOJ has been at the forefront of developing digital in-house, it is mostly sharing code with other users at the moment. "But as more things come online and other government agencies put things up, of course we'll look at what we can take and use. 'Shamelessly stealing' good ideas is the right way to do it – in fact, it's all open-source government code," he adds.
While Shetler cannot choose his favourite from the four MOJ exemplar services, saying it's like choosing between his children – "they're special, unique snowflakes" – it's the prison visit bookings service which he says has the best human story behind it.
Previously, to book a prison visit you would have to call during a dedicated half-hour time slot, where two people would answer the phone and book the visits. This short timeframe meant people would be on hold as the phone lines would be jammed. Now users can easily go online to book their slot.
"We have a really passionate team behind that, and the quality of the product shines through," he says.
"But when we deliver, we don't just stop with the delivery – we're not traditional IT, digital is different."
Shetler says once live the team doesn't just turn its back and walk away. "We keep on iterating that, listen to user feedback, understand what we have to change. We typically have a roadmap beyond that anyways – we want to deliver a concrete improvement in somebody's life in the shortest time possible."
GDS and skills
The MOJ set about becoming digital a couple of years ago, and it began by relying on help from GDS. Before Shetler's time there was a very small team of 30, with three to four people brought in from GDS for expert help.
MOJ digital has a close working relationship with GDS, but with a team of 145 it no longer has to rely on it as much. "A couple of people still remain, who are valued members of the team, but we don't want to be a drain on GDS. There's a lot to do across government, and it would be selfish for us to pull people in from GDS," he says.
Recruiting people for the job hasn't been as difficult as might be expected. While Computer Weekly has been writing about the ongoing IT skills gap affecting the UK, Shetler believes this shortage of techies doesn't affect government as badly.
"I keep on hearing about this [skills gap] and, to be honest, when I first came in it was sometimes difficult to find people, but I don't think there's a big skills gap for people coming into government," he says.
"The reason for that is we offer things you can't get in the private sector – you can work in an agile and multifunctional team. We don't talk about projects, but products. And they're really important products – we're not talking about selling fizzy water or shaving 2p off a banking transaction cost."
Shetler says people are attracted to government because they want to do a job that means something, rather than receive a hefty pay cheque.
"Our services affect people in real, serious ways. Typically, an interaction with the MOJ is a life-changing event that happens relatively rarely – citizens aren't constantly suing people or applying for lasting power of attorney," he says.
"That is a reason to get out of bed, a reason to work with your friends in changing those things," he says. "We've built an environment and culture, and people want to come. Because of the nature of the work, it's public service, and it's kind of cool to do that."
Private sector inspiration
Shetler takes inspiration from the services he uses on a daily basis. "People's expectations of digital define the context of what we do in government," he says. "We're not really immune from the market in the largest sense of the word. It does set expectations of what the services should be like."
Shetler cites Amazon, Uber, Booking.com and Expedia as examples of digital companies that, each time they iterate or a new one comes along, become immeasurably better than what was available before.
People's expectations of digital define the context of what we do in government

Paul Shetler, Ministry of Justice
Shetler explains that behind these seemingly simple services, there's a lot happening.
"There's a lot of complexity hidden behind them. Just buying a book on Amazon people think is really easy, but there's an incredible logistical supply chain behind the whole thing.
"They don't force you to deal with complexity. They know you don't care about their internal organisation – and why should you? You just want to get this thing.
"Why should government hold ourselves to a lesser standard?"
But there's still a lot to do, and Shetler has to ensure the user – the citizen – is at the forefront of the digital team's mind when creating services. "Not just simpler, clearer and faster, but humane," he says.
"People sometimes make irrational decisions. If someone is really stressed out and doesn't understand what's going on, if a service is not well-designed, then they don't necessarily make the best decisions – that's a real issue.
"We should maintain the high level of quality we have, and maintain the high capacity to do so," he concludes.