Disaster recovery and virtual server backup top 2014 storage projects
As budgets rise and businesses emerge from recession, disaster recovery and virtual server backup are the top storage projects in 2014
Disaster recovery and virtual server backup are the two most pressing storage-related projects for UK IT departments this year, according to the results of the 2014 Computer Weekly/TechTarget IT priorities survey.
In the survey, which questioned 299 UK IT department decision-makers, disaster recovery and business continuity are a key 2014 project for 40% of respondents, while 36% plan virtual server backup in the coming 12 months.
Those numbers are slightly down on the 2013 survey result,s when 44% said disaster recovery and business continuity was the key backup and storage project, and 41.5% cited virtual server backup as a top priority.
Those figures may represent a levelling off of activity in these areas as organisations get to grips with work associated with server virtualisation and its aftermath.
Disaster recovery, business continuity and virtual server backup were third and seventh respectively among overall IT project priorities in a list topped by server virtualisation (51%).
When asked specifically about planned storage deployments for 2014, cloud storage (33%) topped the list for UK respondents. Meanwhile, 30% indicated the cloud would be top priority in backup projects this year.
That seems to reflect a slowly growing confidence in cloud storage. Last year, the survey also asked separate questions about cloud storage and backup and got positive responses of 16% and 18.5% respectively. In the 2012 survey a combined figure of 21% said they planned cloud storage and backup implementations.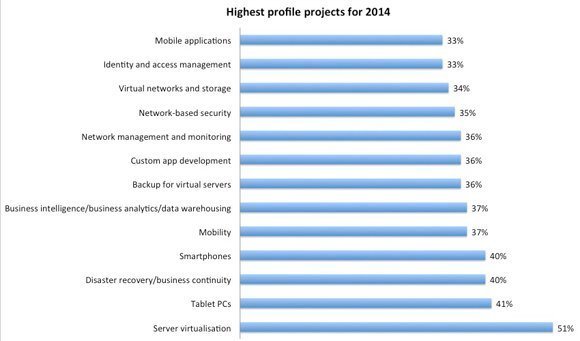 When respondents were asked what their biggest concerns were with cloud storage, compliance topped the list, with protecting company data a close second. Third was SLA enforcement, and reliability was fourth.
So while cloud storage adoption seems to be gathering steam, the key worries about it centre on the fact that data stored in the cloud is potentially out of an organisation's control legally, physically and in terms of service provision.
Storage virtualisation was the second most pressing storage priority for 27% of those questioned this year, down from 36% last year. Many respondents probably mean "storage for virtualisation", and that would be in keeping with a wider IT backdrop in which server virtualisation projects are still a key priority.
Another 4% ticked software-defined storage as a priority, a new option for 2014 that is storage virtualisation by another name.
Data reduction for primary storage (deduplication, compression) was third choice this year (26%), down from 29% in 2013, which was an upward spike from 2012's figure of 17%.
Solid state flash storage deployments appear to have levelled, with 20% saying they plan them in 2014. That's about the same as last year (18%), although that was double 2012's 9%.
More on storage and backup priorities
Storage virtualisation vs software-defined storage
Meanwhile, storage for virtual desktops was indicated as a 2014 deployment by 18% of those questioned. It was 19.5% in 2013, up from 12% in 2012.
Storage for big data analytics was indicated as a deployment likely to occur in 2014 by 17% of respondents. That is against a backdrop of 23% that aim to start or continue big data projects this year.
In some good news for iSCSI SAN deployments, 55% of UK respondents said they had 10Gbps networks in their datacentres, with 16% using 40Gbps. These higher bandwidth networks help put iSCSI SANs on an equal or better footing than Fibre Channel SAN fabrics.
The economic and budgetary backdrop is an improving one. This survey found 59% suffering from (15%) or recovering from (44%) recession. That is a similar overall figure to last year, but still an improvement, with 20% in recession and 37% suffering the after-effects in 2013. And that was an improvement on 2012 when the equivalent percentages were 28% and 40%.
Download your copy of IT Priorities Europe 2014
Despite this economic backdrop, organisations appear to have more to work with, as an average 3.6% increase in IT budget was reported.
Where is this money going? The highest priority projects reported were server virtualisation (51%), tablets (41%), disaster recovery/business continuity (40%), smartphones (40%) and mobility (37%).
When asked specifically about infrastructure projects, the top five were server virtualisation (52%), disaster recover/business continuity (46%), Windows 2012 deployment (38%), datacentre consolidation (30%), and private cloud deployment (27%).