Case Study: Gates Foundation uses Radian6 to monitor social media
The charity set up by the Microsoft founder adopts the Salesforce solution to monitor and react to social media
The Gates Foundation is using Salesforce Radian6 to further its causes through social media.
The charity, set up by Microsoft founder Bill Gates and his wife Melinda, has handed out more than $28bn in grants since it formed in 1994 to causes affecting the US and developing countries. It has worked on projects ranging from growing small farmer's income through to tackling the Malaria crisis across Africa.
However, in recent years, the charity has had to embrace the social media revolution to raise awareness about the issues it is trying to tackle and has quite a job on its hands to be heard above all the noise.
"Social media is like a cocktail party," said Sebastian Majewski, senior communications officer at the Gates Foundation. "There are many groups of people stood around talking about different issues, some discussing politics, others discussing health, others music, and you want to be part of one of these groups."
"To do that though you need to add value and that should be the goal of a non-profit organisation: to listen to the group, understand and then become part of it with a valuable contribution."
To become part of it though, Majewski and his team realised they needed to monitor activity across all the networks, be it Facebook, Twitter, LinkedIn or Instagram, to make its mark.
Read more about social networking
"Social media is also very liquid," he added. "It is short term, characterised with a problem and a quick solution mentality, so you have to be at the right place at the right time to get it right. If you are in the wrong place at the wrong time, no one will interact or respond to you."
The Gates Foundation chose the Radian6 platform from Salesforce, using its analytics tools to track keywords, hashtags, mentions and specific users across multiple events and in turn using the data it received to increase its effectiveness on the various social media channels in the future.
"What is great and also the great challenge of social media data is it has the depth of qualitative research, but the same scale and richness of quantitative data. The problem is the quality of the data. There is a lot of noise but we have learnt it is better not to just look at volume and go after the quality mentions to see your effectiveness."
"I used to look at volume but now I would rather have a smaller set of quality interactions than hit 500,000 mentions."
The solution is able to scan mentions across large scales or hone in on specific regions, languages or even events to give the organisation's social media team the exact feedback they want, be it examining trends it needs to ride the coattails to bring its message to the forefront or showing the impact its own efforts are having online.
"You start with the information or raw data from Radian6 and based on the graphs or analysis you extract, you have insights into what works and what doesn't," said Majewski. "From there you can develop recommendations, go back to the team who can draft their messages from that, and then the circle continues as you track again the impact."
There is a lot of noise but we have learnt it is better not to just look at volume and go after the quality mentions to see your effectiveness

Sebastian Majewski, senior communications officer at the Gates Foundation
"Before, the team didn't know when and what to post and we didn't know what to monitor. Now we have the data and can use it to help the Foundation."
There have been some issues along the way. For example, the sample of people on social media is quite limited to those with connectivity and the desire to post about issues online, meaning that with some of the cases the Gates Foundation handles in developing countries, it isn't always representative.
There are also issues over storing too much data on individuals, as although it may all be publicly available, people in certain regions dislike company's holding so much data on one person.
However, Majewski claimed they have overcome these hurdles and the system is working positively at the foundation.
"The more and more people are getting connected, the more the first problem is being solved," he said. It never will be completely representative but it is getting better. We also ensure we don't store personal data and each record is either number one, two, three etc, rather than holding the personal details."
"But social media has so much potential to inform what we do, whether on our campaigns or our work on the ground. We want to connect the Radian6 platform and use the insight it gives us to tackle social issues."
Content Continues Below

Download this free guide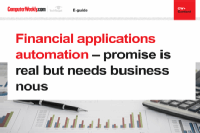 Financial applications automation – promise is real but needs business nous
The automation of the financial software that lies at the heart of any business & accountancy, budget management, general ledger, payroll, and so on & is a prize many organisations are eyeing up, with machine learning and robotic process automation close to mind. Find out everything you need to know by downloading this PDF E-Guide.
Read more on Data quality management and governance