Swiss train drivers equipped with iPads to save millions in energy costs
Switzerland's rail network is equipping train drivers with iPads that will advise them on the optimum speed to save millions in energy costs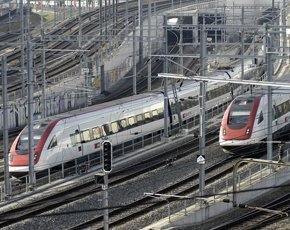 Switzerland's rail network is equipping train drivers with iPads that will advise them on the optimum speed to travel, in an innovative project that aims to save over 10 million Swiss Francs a year in energy costs.
The Swiss Federal Railway (SBB) is using the iPads to adjust the speed of trains to ensure they do not have to brake suddenly or stop when the network is congested.
The project, the first of its type, is already attracting interest from railways in Sweden, Germany and the rest of Europe, which are expected to introduce similar systems.
Switzerland has issued 4,000 drivers with the iPads, which are equipped with apps linked into the country's train control network.
"We simulate and forecast all the traffic in the network. We have a control centre, which controls the whole network. These guys monitor screens and make decisions on conflicts. It's like having a centralised flight control system," said Marcus Voelcker, programme manager for rail control systems, and former CIO, at SBB.
When controllers see a potential collision ahead, they send a message to the iPad, advising the train to change to the optimum speed to avoid having to suddenly slow or stop for the other train.
More from Tibco's user conference: Tucon 2013
The problem is computationally very difficult, said Voelcker, who likens it to using a crossbow to shoot an apple on top of someone's head, when the apple is constantly moving.
"That is a super big problem for us. It is easy when everything is static," he said in an interview with Computer Weekly.
SSB uses messaging software supplied by Tibco to monitor sensors on the network which record the positions and speeds of the trains, along with analytics software to make predictions about the future state of the network.
The system processes 1.5TB of data a day. It constantly adjusts the speed recommendations to drivers, based on network conditions and the driver's actual speed.
Balancing energy savings, efficiency and control
Implementing the system has meant some cultural changes. It has taken train drivers some time to get used to having decisions made for them about their speed.
There is also a trade-off between saving energy, using the network to its fullest capacity, and taking too much control away from drivers, which has to be carefully balanced, said Voelcker.
The project is expected to reduce energy consumption on the Swiss railway by 2-3% a year – a huge potential saving.
Voelcker plans to expand the system to give it the capability to adjust speed levels to maximise capacity on the rail network, giving the business a choice over whether to prioritise energy savings or the number of trains in service.
Another project aims to use the iPad to provide more accurate data on how long each train stays in a station. The iPads will alert the central controls when the train is about to leave more quickly than in-track sensors, said Voelcker.
---
Image courtesy of SBB CFF FFS
Read more on IT for transport and travel industry