Computer Weekly European User Awards for Networking: Winners
The winners are in for the Computer Weekly European User Awards for Networking. See who made the top spots.
Five innovative IT projects have been chosen as the winners of the Computer Weekly European User Awards for Networking.
The networking awards are designed to recognise innovation in network design, implementation and use of application to improve user business.
A panel of independent judges viewed entries across five categories: Public Sector Project, Best Technology Innovation, Supplier of the Year, Private Sector Project and Cloud Innovation.
And the winners are:
Public Sector: Telestroke (Entered by Virgin Media Business)
Public Sector Honorable mention: London Olympics 2012 Project (Entered by BT)
Best Technology Innovation: DANTE (Entered by Infinera)
Supplier of the Year: Azzurri (Case studies mentioned: Cornwall Council, NHS Foundation Trust UCLH, Hastings Direct, Seven Trent Water)
Private Sector: CSR (Entered by Silver Peak)
Cloud Innovation: Svenska Tågkompaniet AB (TKAB) (Entered by AppearNetworks)
Public Sector Winner: Telestroke (Entered by Virgin Media Business)
Cumbria and Lancashire Telestroke Network - Virgin Media Business – delivers a remote 24-hour stroke diagnosis service, designed to boost frontline healthcare and save lives.
Work by the Cardiac and Stroke Network and the North West Shared Infrastructure service (NWSIS) utilised the IP Virtual Private Network (VPN) from Virgin Media Business, so patients in Lancashire and Cumbria can get the treatment they need from specialist stroke physicians via video conferencing and webcam.
The technology allows doctors to prescribe specialist medication earlier, thus reducing disability and saving lives. Due to this project more people are surviving strokes and more patients are becoming more independent. This has led to an overall cost-saving for the NHS and social care of approximately £1.8m per year.

Judges felt this project showed how some innovative thinking can reap great benefits at a cost and an outcome basis.
Judge Clive Longbottom, founder of Quocirca, said the project has definable and has obvious benefits and uses a different approach to a problem: "By using a shared video/data network, stroke consultants can apply their skills directly to a patient without having to travel long distances in order to actually see the patient. If replicated across the country, the number of stroke patients being dealt with at the crucial early stage would be much higher than it is now – and would not require patients to be taken to specialised hospitals where the consultants are.
"Indeed, if replicated across other medical areas, this could make smaller, local hospitals capable of dealing with many of the 'lesser' medical issues (i.e. ones not requiring surgical skills) – the return of the community hospital?"
Several of the entries in this category were very strong, so the judges decided to give an honourable mention to a team which they felt deserved a mention for the sheer scale of the project.
Public Sector Honourable Mention: London Olympics 2012 Project (Entered by BT)
Judge Spencer Izard, IDC research manager, said providing a network infrastructure to cope with the communication demands of the 30,000 media present at the Olympic Games in 2012 has been recognised publicly as a major achievement without any service issues of significance.
He added: "By performing four years of planning it is evident from the result that BT demonstrated best practice and measurable business benefit by enabling content generators, the media, and content consumers, the global public, to have a seamless digital experience throughout the London 2012 Games.
"BT demonstrated clear network innovations through the deployment of a single unified IP platform, providing a platform to handle the proliferation of smartphones (both corporate and personal), and network security solutions for intrusion prevention."
During the games 121.6 billion web requests were processed – 10 times more than the 2010 Winter Olympics and 223,281 requests per second at the peak. The number of detected malicious site visit attempts rose from around two million a day, at the beginning of the games, to a peak of nine million a day by the end.
The London 2012 network was designed to handle up to 60Gbps of traffic, the maximum measured throughput was nearly 7Gbps, of which a quarter was internet traffic.
The networking team clocked up one million hours delivering the communications infrastructure, installing more than 5,500 kilometres of optical fibre in 94 venues. There were 11,500 fixed telephones originating and answering 500,000 calls between them. The number of BT Wi-fi hotspots reached 500,000 in the London area including in the Olympic Park. A total of 1.451 terabytes of information was carried over the network, while the London2012.com website recorded almost 40 billion page views.
Best Technology Innovation Winner: DANTE (Entered by Infinera)
Dante (Delivery of Advanced Network Technology to Europe) plans, builds and operates advanced networks for research and education, and needed a solution that would enable it to continue to support the ever-growing data needs of experiments and applications that are crucial to academic research.

The GÉANT network, built and operated by DANTE on behalf of Europe's National Research and Education Networks (NRENs), is currently relied upon by some of the world's largest scientific institutions.
Together with Europe's NRENs, GÉANT connects 40 million researchers and millions of students in over 8,000 institutions across 40 countries, so it's crucial that the network has the bandwidth to support the growing data needs of these users.
After a rigorous bidding process, the operator selected the new Infinera DTN-X platform. Many of its experiments require large amounts of bandwidth very quickly, and a key factor in DANTE's selection of the DTN-X was bandwidth virtualisation for integrated optical transport network (OTN) switching and Generalised Multi-Protocol Label Switching (GMPLS). This enables the company to rapidly deploy large amounts of optical bandwidth. The roll-out will be fully complete by May 2013.
Judges said the company has a very demanding environment, where failure is not something that will be accepted by users: "Being able to deal with the vast volumes of data involved in real (or near real) time requires solid technology and different approaches. This project does a great job of dealing with tomorrow's problems."
Supplier of the Year Winner: Azzurri (Case studies mentioned: Cornwall Council, NHS Foundation Trust UCLH, Hastings Direct, Seven Trent Water)
According to the judges, Azzurri demonstrated a breadth and depth of supplier offerings that delivered solutions explaining the benefits achieved from migrating from inefficient legacy networking to newer IP technologies. In addition it showed how the company engages with its customers to provide networking solutions focused on business demands.
"A focus on ensuring all its engineers are accredited across a broad range of technologies while maintaining independence as a supplier places Azzurri as strong supplier for consideration in this market by an end-user organisation," said Izard.
Included in Azzurri's entry were several case studies. One centred on unified communications at the newly created unitary authority Cornwall Council (composed of seven previously independent local authorities). Azzurri said it was presented with "probably the most complex network consolidation project in local government" due to the fact that it involved 110 sites.
To control the situation it replaced isolated PABX environments and legacy analogue hardware (70% of the estate) with a single Mitel-based IP-telephony solution managed by an in-house Mitel trained engineer, provided free of charge. Meanwhile the council's hundreds of bills and contracts were re-tendered and replaced with one bill.

According to Azzurri the changes immediately simplified the council's IT management by improving the system's resilience and problems could be resolved in minutes (rather than hours or days). The single bill enabled management to negotiate a more competitive rate thus reducing fraud and premium rate phone use - saving the council £450,000 per annum.
Private Sector Winner: CSR (Entered by Silver Peak)
Silver Peak was selected by CSR, a global provider of innovative silicon and software platforms for consumer electronics applications, to help improve the performance of interactive applications between the company's network of global offices.
With its corporate headquarters in Cambridge, CSR relies heavily on centrally hosted services that require fast, reliable access at anytime from anywhere in the world.
By deploying Silver Peak's software-based acceleration at all 26 of its sites, (2,100 employees across 10 countries) CSR reduced network costs substantially and reduced network traffic significantly, ensuring a consistent application experience for all employees.
Since deploying Silver Peak's software CSR has saved administrative overhead by eliminating the need for dedicated proxy servers for video streaming.
The judges felt the project indicated a keen understanding of a challenge that affects many companies that have central repositories of data while operating across multiple countries.
According to the judges more and more organisations are impacted by a need to access large volumes of data without a delay or lag across remote operating offices while being challenged with other network traffic demands. This has brought the performance management market to the forefront of many user organisations' attention.
"Silver Peak demonstrated the implementation of a technology in an innovative fashion for an organisation clearly affected by network challenges in relation to their business demands," said judges.
Cloud Innovation Winner: Svenska Tågkompaniet AB (TKAB) (Entered by AppearNetworks)
Svenska Tågkompaniet AB (TKAB), the rail operator of Tåg i Bergslagen, X-trafik and Värmlandstrafik in Sweden, is in the process of upgrading its mobile system to take full advantage of smartphones accessing data from the cloud to increase efficiency and reduce costs.
A new mobile solution, based on the Appear IQ platform, allows Tågkompaniet to efficiently dispatch information to its personnel, based on the context of the user, in order to increase punctuality, improve customer service and reduce operational costs.
With Appear IQ, all staff can receive real-time traffic disruption updates and report incidents from their smartphones. In addition, maintenance engineers can be notified, in real-time, of urgent tasks and document safety checks electronically on their smartphones/tablets.
According to Svenska Tågkompaniet, IT infrastructure costs have been reduced by 38% based on the use of a cloud-hosted solution, savings over €100,000 per annum based on reduced administrative work have been achieved and additional cost benefits of over €800,000 per annum have been achieved from optimised resource allocation.
Judges felt that AppearNetworks demonstrated the ability to enable organisations to leverage mobile in innovative ways. This extended to the utilisation of a cloud platform for hosting and content delivery where on-premise is not suitable.
Judges said: "This approach combines two of the four pillars of innovation in relation to cloud and mobile in a manner that provided practical and tangible business benefits. Real-time data updates relating to a wide array of business processes for employees, and where suitable consumers, is real challenge for many organisations.
"The submission by AppearNetworks presents compelling evidence of how their solution has enabled better communication across business functions within an organisation to respond to challenges in real-time through the utilisation of data from multiple sources."
The Winners
All winners will soon be profiled in full case studies on Computer Weekly and will be offered the opportunity to attend the end of year awards ceremony, when the overall winners of each category will be honoured.
Trophies are on their way to all of the projects mentioned above.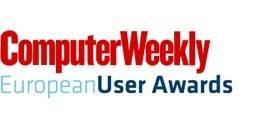 Didn't have a networking entry? The Computer Weekly European User Awards is also looking for innovative projects in security, business software, data centre and storage.
Full details and deadlines for each awards series can be found on our website.