3desc - Fotolia
EMC buys Syncplicity
Storage giant EMC confirms the deal for cloud file management firm Syncplicity but keeps the figures behind closed doors
EMC has revealed its acquisition of cloud file management firm Syncplicity.
The news was quietly rolled out to journalists during EMC World in Las Vegas with little fanfare. No financial details were disclosed.
California-based Syncplicity provides a cloud storage system similar to Dropbox, but with a focus on enterprise customers.
Users can upload, synchronise and share files through the cloud application, as well as back up data to Syncplicity's service.
However, the service has more stringent security and regulatory features ensure business users don't stray from company policy and put their data at risk.

Download this free guide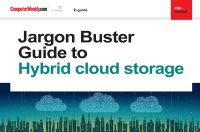 Jargon Buster: Hybrid Cloud
In this Jargon Buster guide we bring you definitions for the key concepts in hybrid cloud storage plus in-depth articles on hybrid cloud file and object storage, how to use the cloud as a storage tier and the key decision points when it comes to private cloud vs hybrid cloud.
Syncplicity will become part of the information intelligence group at EMC, taking advantage of the substantial distribution model and sales opportunities the storage giant provides.
"As cloud, social and mobile dominate the way work gets done, our customers require more than simple containers for managing and sharing content," said Rick Devenuti, president of the cloud firm's new home.
"With Syncplicity, we will deliver best-in-class solutions for true extended enterprise collaboration."
Despite cloud storage, and especially sync and share services, growing in popularity in enterprise environments, much of the focus at the EMC World Conference remained on another recent acquisition, XtremIO.
The Israeli Flash company was bought by EMC last month for $430m, despite its technology never having been released past a pre-beta stage.
Yesterday, CEO of EMC Joe Tucci gave more details on the company's merger and acquisition strategy.
"We are blessed to have about 16 or 17,000 terrific talented engineers and we fund them very well with 11% of our revenues for R&D," he said.
"But, we also fundamentally believe that we can't believe those engineers are going to have all the ideas.
"We always decided to invest into innovative companies. We have a policy of never commenting on what areas of IT, but I will say we are going to stick with our strategy and do multiple mergers and acquisitions.
"ExtremeIO will not be the last acquisition this year."
Read more on Cloud computing software