Case Study: Eat deploys BI to take on Olympic challenge
Rene Batsford, Eat's head of IT, talks about how business intelligence software will help manage staff and supplies during the Olympics.
Eat is a familiar sight on the streets of London. But there is more to sandwich making than bread and butter. Sophisticated back-end IT and front-of-store systems are feeding the company's growth strategy.
An IT team of just 11 people is responsible for the day to day running of Eat. This includes collecting data throughout the day from its 90+ stores, batch processing data where necessary, covering a typical spectrum of data types such as transactions and back-office processes.
All businesses in London will be affected by the 2012 Olympic Games and one of the challenges facing retailers, such as Eat, is that it will need to ensure it has staff in place to meet the demand of customers. Rene Batsford, Eat's head of information & communication technology, believes that the key to Eat's preparation lies in the flexibility of its IT solutions and services.
The impact of consumer technology trends on retail
Consumers expect Wi-Fi. Batsford believes free Wi-Fi is the way to go for retail: "We looked at what McDonald's is doing and people now expect free Wi-Fi so the majority of our stores already have it." He revealed that Eat is committing to rolling out free Wi-Fi to all the stores within the next two to three months, in time for the Olympics.
Other in-store changes include a makeover of the firm's musical selection. Eat uses customer surveys, together with insight and feedback from social media platforms such as Twitter, to determine music preferences. Batsford said that Eat is planning to change the music at different times during the day to see if this improves sales.
Other future projects include the introduction of a smart customer interface. Once logged into the free Wi-Fi, the system would recognise the user's account, providing real-time data on calorie counting based on Eat's produce. Batsford added that is all about "enhancing the customer experience."
Batsford said that, for home workers Qlikview, a business intelligence (BI) tool Eat recently deployed, "will help enormously in terms of collaboration between users who are either in the office or at home."
Real-time analytics
Qlikview enables Eat's staff to make real-time business decisions by exploring and improving their understanding of product, store and staff performance and consumer purchasing behaviour. Batsford explained that "labour optimisation will be utilised during the Olympics to deal with higher demand in some areas and possibly the introduction of kiosks."
Area managers are to be equipped with Windows tablets that can then be synchronised with other devices across the business, even the tills at the point of sale. The area managers are responsible for managing a number of shops and their subsequent performance. They are tasked with ensuring Eat provides the best customer experience while also ensuring optimum business performance.
Batsford said, "Windows tablets were chosen for their superior security despite most people presuming iPads are safe. Tablets are a good mobile solution particularly for those employees who work in the field. Qlikview has been optimised for mobile so both these devices are a perfect fit and allow area managers greater access and flexibility to a more powerful BI solution."
Eat will supply staff with one device. It is keen to work with either tablets that come with additional keyboards or, as an alternative, laptops.
The company is currently developing a common reporting system, underpinning everything through from warehousing to the point of sale. Qlikview will provide a common database infrastructure that ties all areas of the business together.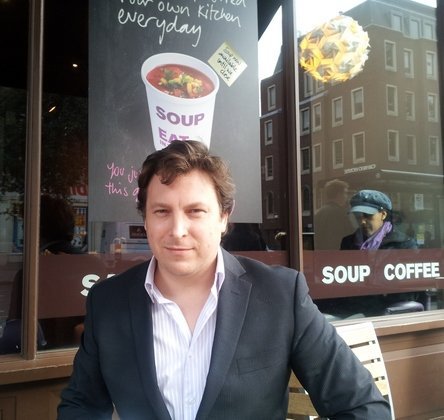 Collaboration
According to Batsford (pictured, above), the reporting system adds a new dimension to looking at data within social business. Qlikview has enabled Eat to interact via its new improved mobile experience. He said the product allows staff to initiate a meeting through Qlikview whether people are in the office or the field and instantly interact with the dashboard and its data, recording notations: "[We can] streamline the experience of accessing information, engage staff and empower them so they can enhance their decision making while improving their insight."
Collaboration goes further. For instance, Eat is using Google Docs and Maps for processes such as placement of new stores. Data from other stores is used to plot a catchment area. Additionally, Eat can factor in the catchment area and popularity of competitors in certain areas.
Read more on Business intelligence software