VMworld 2011: VMware CEO Paul Maritz defends management tools and licence fees
For VMware, virtualisation is defining the next age of computing. Cliff Saran reports on how the company's products and strategy embrace the private cloud.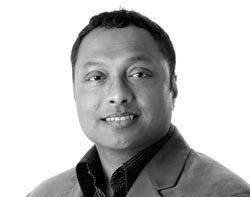 Cliff Saran is the managing editor (technology) on Computer Weekly magazine responsible for commissioning, writing and overseeing the magazine strategy concerning all matters relating to technology from up-and-coming research and development to systems management challenges and legacy support and maintenance.
Cliff has been writing about these subjects since the early 1990s. In his current role, he writes a regular blog called Cliff Saran's IT FUD blog which aims to unravel the hype, weed out the fear uncertainty and doubt spun by the massive marketing machinery in the IT industry.
You can contact Cliff by emailing [email protected].
View all articles by Cliff Saran >>
How to find Cliff Saran online
Linked-In profile for Cliff Saran
Cliff's photography website and Flickr photostream.
[email protected] 020 8652 8460
For VMware, virtualisation is defining the next age of computing. Cliff Saran reports on how the company's products and strategy embrace the private cloud.
Paul Maritz, chief executive officer at VMware, has been in computing since the late 1970s, from the age of mainframe computing, through client server, and now the era of cloud computing. "One of the ways to categorise computing is the type of application. In the cloud, we are seeing the emergence of a new type of applications, which cannot be done on a traditional RDBMS," he said in his keynote presentation at VMworld in Copenhagen.
Maritz describes the new type of application architecture as a computing fabric. The management of virtual machines (VMs) will be key to realising this vision, as virtualisation is the only way organisations can manage the complex infrastructure that needs to scale up and down to support context-aware applications running on this computing fabric, said Maritz.
The company has spent the last few years developing and acquiring products to flesh out a portfolio of IT management tools designed to manage increasingly complex virtualised environments. "Customers have been asking VMware for management tools for years," said Tony Lock, a programme director at analyst house Freeform Dynamics. "It needs to integrate its own management tools with existing products, such as BMC Patrol, CA Unicenter and Tivoli."
Rivals to VMware claim its management tools are all over the place, with no single interface to manage complex virtualisation environments. Maritz admits the company still has a lot of work to do. "It is a dilemma doing a few things very well and reacting to the rest of the world," he said. "We are trying to pivot towards a more integrated approach to pull management into a full suite. This a high priority, and we want to take off the rough edges so our customers don't have to individually test components."
During the Copenhagen event, the company launched VMware vCenter Operations Management 5.0 and vFabric Application Management and VMware IT Business Management suites.
In terms of IT operations, VMware has introduced the vFabric Application Suite 1.0, which it says helps IT make applications ready for the cloud, together with vCenter Operations Management 5.0, which combines information from different IT management sources. VMware is targeting the CIO with the VMware IT Business Management Suite, a tool that provides a high level dashboard on service level agreements (SLAs).
Horizon is the company's platform for enabling users to self-provision Windows applications, based on credentials that can be taken from the Windows Active Directory. VMware is also working with LG and Samsung, along with operators Verizon in the US and Telefonica to support virtualisation on Android devices from the two phone makers. This allows their smartphones to have two personalities - one for personal use, with its own apps and phone number, and a corporate mode, that can access enterprise applications and may have its own company phone number.
Licensing
After the debacle in August over changes to its software charges, VMware's licensing is again under the spotlight. This time rival Microsoft has published data that shows Hyper-V, the Microsoft hypervisor, is significantly cheaper than an equivalent VMware set-up.
Microsoft said its ECI Datacenter suite costs €3,354 per processor, with no additional cost for VMs, while it claimed VMware's cloud infrastructure suite costs €4,440 per processor and €1,493 per virtual machine.
"VMware is charging per VM and per management tool, which changes the economies of doing virtualisation. Its licensing does not scale linearly," said Edwin Yuen, director of cloud and virtualisation strategy at Microsoft.
He pointed out that as users add more VMs, the cost escalates. "If you have six VMs per processor, Microsoft will charge €282,000, while VMware would cost €1.4m." Users also have to pay £1,500 per virtual machine for vCenter Operations, according to Yuen, making it "incredibly expensive".
Responding to the licensing allegations, Maritz said that users today can run x86-based hardware that is more powerful that a zSeries mainframe. "There are truly monster devices in the x86 space, which go beyond a zSeries mainframe [in terms of performance]. Today customers are putting 40, 50 or even 100 VMs on a single server. Moore's Law is benefiting our customers. Customers can put more VMs on a machine."
He recognises that VMware does not have all the answers, but said it was up to the industry as a whole to change licensing, working towards a consumption model, where users pay for what they use.
Case study: University joint venture deploys VMware vShield Edge security
The Yorkshire Humberside metropolitan area network (YHMAN), a joint venture company of universities in the region, provides joint academic network (Janet) connection for more than 60 higher education institutions (HEIs), further education colleges (FECs) and others in the Yorkshire and Humber region.
It is developing a shared service, built on a multi-tenancy virtualised architecture, to support 190,000 student and 25,000 staff across several universities, including Huddersfield, Hull, Leeds, Bradford and York.
"Shared provisioning can potentially save 20% on our capital expenditure," said Hugh Lavern, director of information media technical services at Leeds Metropolitan University. "Instead of needing 50 support staff, we only need six. Staff savings are £450,000 per year and support costs can be reduced by 60%."
YHMAN began using VMware two years ago to connect Leeds and Sheffield Hallam universities via an 80km link. When tested, he said latency was four milliseconds - failover from Leeds to the Sheffield site took less than a minute, he said.
Having proved that virtualisation was cost effective and could work across large distance, Lavern said security was the major challenge the group faced.
"Universities ran their own intrusion detection/prevention systems, virtual private networks and firewalls. We needed to make these available as shared services. The cost of security would have worked out more expensive than storage if the universities ran their own physical firewalls," he said.
Instead, YHMAN has deployed VMware vShield Edge security, which provides virtual security appliances for the universities.
---
Read more from VMworld 2011: