Ecotricity uses agile project management in SAP roll-out
Green electricity company Ecotricity has used agile project management to speed up decision-making
Green electricity company Ecotricity has used agile project management to speed up decision-making as it rolled out the latest version of SAP's Industry Solutions Utilities (ISU) software.

Download this free guide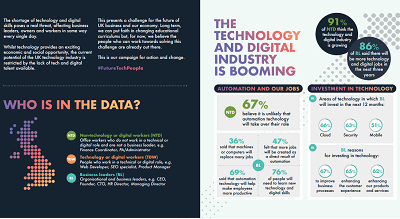 Infographic: How to future-proof UK technology
There is no doubt that the technology industry is booming right now, bringing with it exciting social and economic opportunities. However, there is a real fear that the UK industry may be stunted due to the lack of talent available. This e-guide helps to break down the future fears and expectations of dozens of business leaders and tech workers.
The company, which provides wind-farm energy for 35,000 domestic users and 3,000 businesses, worked with IBM to implement SAP ISU in seven months to support customer registration, billing, customer relationship management and data handling.
Trevor Saunders, head of infrastructure at Ecotricity, said, "We had a very aggressive project timescale. Every critical decision needed to be made within 24 hours."
Saunders selected customer-facing staff, finance and IT people to work full time on the project. "These were not the most senior people in the company, but they were given the responsibility to make project decisions."
Senior managers, including Saunders and the chief executive, were on call to support escalation of the decision-making process.
Using agile practices, Saunders' team worked with IBM to produce prototype applications for 10 business scenarios to show the business how SAP would work within Ecotricity.
He kept the implementation on track by checking the quality of the software at each project milestone.
Ecotricity decided not to customise the SAP system, reducing the risk of the project.
"We insisted to the business that we implemented standard SAP. If the SAP did not match their process, they had to change what they were doing," Saunders said.
The company bought software, hardware and services from IBM, which had previously implemented 30 SAP ISU systems worldwide. IBM used staff from its centre of SAP ISU expertise in Spain, a team based in India and on-site staff at Ecotricity's Stroud office, who configured the software.
In the three months since the SAP ISU system has been running, Ecotricity has cut the percentage of incorrect customer bills by 70%. As a result, there are 15% fewer calls into the call centre.
Read more on IT project management