Firms see benefits of IT skills matrix
A growing number of companies are achieving efficiencies by using the Skills Framework for the Information Age to better manage their IT workforce
The past 12 months have seen an acceleration in interest from companies in an industry-wide framework for assessing and managing the skills of IT staff.
The Skills Framework for the Information Age (SFIA) is designed to help organisations match the skills of the workforce to the needs of the business.
Many companies that have deployed the framework claim to have dramatically improved the efficiency of their IT departments. Among them is Norwich Union Life, which recently revealed how it has used the framework to transform the way it manages 850 IT staff.
The insurance firm said it had improved the effectiveness of its it IT department by abolishing line managers in favour of a matrix structure.
For Norwich Union Life and other firms, SFIA offers a range of potential benefits, including:
● Being able to cut down the number of freelance staff by making better use of in-house skills
● The ability to closely match the skills of an employee to the needs of each project
● The ability to better develop staff to meet the long-term needs of the business.
The framework was created five years ago by the British Computer Society, sector skills council E-Skills UK and the Institute of Electrical Engineers. Until now, take-up has been slow and steady, but research to be released later this month by the SFIA Foundation shows that interest is accelerating.
The research identified 107 organisations that have rolled out SFIA over the past 12 months, pushing the total number of UK companies known to have deployed it to more than 240. The actual total is likely to be higher, as there is no compulsion for firms to report that they have adopted the methodology.
Ricard Peynot, a senior analyst at Forrester, said, "The SFIA is a really good initiative. Skills management will be increasingly critical in the years ahead. I expect that within five or 10 years firms will be successful only if they have managed the competency evolution of their IT staff."
Ron McLaren, operations manager at the SFIA Foundation, which develops and supports the framework, said the growth in interest was driven by several factors, including a programme update for the framework.
Version 3, which came out last year, is now compatible with the IT Infrastructure Library, a methodology widely used by organisations for IT service management. Further IT skills have also been added to the framework to take into account the latest trends in IT security.
In addition, SFIA is being championed as best practice by government. This has led to a growth in deployment by local authorities and central government departments.
All these factors mean there has been a sea-change in the way organisations view managing the skills of their workforce, said McLaren. "Ten years ago, people were not sure why we needed to do this, but now organisations are assignment-based."
SFIA allows firms to manage this approach much more effectively. Rather than focusing on job descriptions, the framework allows firms to identify and manage and deploy the skills of their employees more effectively.
The SFIA methodology is available free of charge to companies. But McLaren warned that firms need to be prepared to invest time and energy into the framework if they are to benefit from it. In practice, he said that meant that larger firms were most likely to take it up.
"In a smallish organisation, you might take the view that you have not got time to do it. It tends to be the larger, more mature organisations that see the need to manage staff in a consistent way," said McLaren.
Implementing SFIA can take two years from start to finish. The most difficult part of the process is often mapping out the job roles within the organisation and defining its structure.
"It is largely an exercise in talking to people," said McLaren. "When you are doing the overall thinking, that is the slow phase. Should we use matrix management or stick to traditional line management? But once you have decided on the roles you want, you can move quite rapidly to the details."
When SFIA began, companies used paper-based systems to manage the skills of their workforce. But now electronic tools have been developed that allow firms to automatically manage their skills.
Norwich Union Life has deployed a software tool called Infobasis Enterprise Skills Manager to underpin the reorganisation of its IT department from a traditional line management arrangement to a matrix structure.
The new model has allowed the company to offer staff better career planning, provide clearer objectives, and to deploy staff more effectively, said Paul Briggs, head of practices and skills at Norwich Union Life.
"Virtually everyone has a set of smart objectives that are used to track their performance. We are now differentiating between high and low performance. In the past, we have managed in the middle. We have not dealt with people doing well and have skated over people with development needs," he said.
How does SFIA work?
The Skills Framework for the Information Age is tracked on a grid, with the columns representing the relevant skills for each job function arranged under categories ranging from development and implementation to sales and marketing.
Personal skills could include factors such as the ability of a person to work without supervision or their ability to communicate.
Business skills vary from role to role, but a systems developer, for instance, might be expected to have skills in business analysis, data analysis, systems design, database design and software development.
The rows represent levels of competence, ranging from the ability to follow instructions at the bottom to the ability to set strategy, inspire and mobilise at the top.
Managers can use the framework to assess the skills of their staff through interviews and discussions and to work out what further training or project work they need to progress to the next level.
http://www.bcs.org/server.php?show=nav.7849
Comment on this article: [email protected]
Content Continues Below

Download this free guide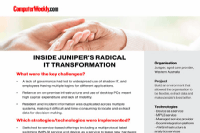 Project Brief: Inside Juniper's radical IT transformation
Western Australian aged care provider Juniper embarked on an aggressive strategy to completely transform its IT operations in just two years. This 1-page brief summarises how this overhaul has helped free up the resources needed to provide better quality of care for residents.