Low-cost project management software hits the midmarket
Traditional licensed project portfolio management software offers too much iron for the midmarket. Emerging vendors offer a middle ground for companies with fewer requirements.
Midmarket firms often find the feature-rich products in the project portfolio management (PPM) market have too much horsepower and too much complexity for their information technology projects.

Download this free guide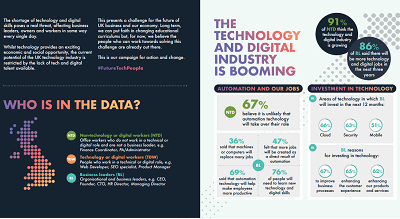 Infographic: How to future-proof UK technology
There is no doubt that the technology industry is booming right now, bringing with it exciting social and economic opportunities. However, there is a real fear that the UK industry may be stunted due to the lack of talent available. This e-guide helps to break down the future fears and expectations of dozens of business leaders and tech workers.
Add that to the big price tag and you lock small to midsized businesses (SMB) out of the market.
Now there's a growing number of PPM vendors offering scaled-down, less expensive tools using the on-demand model targeted specifically for SMBs. EProject and Innotas in are just two of the vendors trying to tap this market.
On-demand PPM tools are web-based applications available by subscription. A typical fee for a midmarket product might run around $65 per user.
I think it's important to buy the right-sized product.
Jeffrey Falk
director of product developmentThe Members Group
PPM software allows an IT organisation to view a company's project portfolio individually, as well as collectively. Everyone from project team members to CIOs and other executives will use the software. Project team members use PPM software to collaborate, enter information on their progress and log time spent on projects. CIOs and other executives can get a dashboard view of the project portfolio. On any given project, an executive will have enough visibility into the project to determine not only its status, but also how well it's being run - and the project manager can take action accordingly.

There are a number of PPM tools available - but most are for the enterprise.

"There is a whole segment of the market that is not being supplied by larger project portfolio management vendors out there," said Margo Visitacion, a vice president at Forrester Research who studies the PPM market.

"The way I see it falling out, [on-demand PPM is] a great alternative for the midsized organisation that needs to manage projects and groups of projects," she said.

The target market, Visitacion said, includes companies with 25 to 150 users, many of which are currently using manual approaches to managing their IT project portfolios.

Jeffrey Falk, director of product development at The Members Group, provider of transaction processing technology and services for credit unions, recently adopted Innotas' product.

Falk said he can look at his database team from a capacity standpoint. His 150-employee organisation might have 250 man-hours allocated for a database project team. His PPM solution might tell him that the team is on pace to use only 150 man-hours in a given month. "I see that there are 100 hours available for that month. It allows us to go from a high-level organisational view all the way down to an individual team member view, and determine how I can optimise or manage resources in the most efficient way."

Falk said The Members Group had no formal approach to project management when he joined the company four years ago.

"Where we did have some form of a process, it wasn't administered or followed in a consistent manner," Falk said. "We had all these instances of project data, of projects in various stages of completion, recorded in Excel spreadsheets and Word documents."

Project management software was the logical solution. And although Falk knew traditional PPM tools were generally more expensive and too complex for a company the size of The Members Group, he wasn't comfortable with on-demand tools.

"But I felt it wasn't mature at that point," Falk said. So he adopted a traditional, licensed PPM software product but eventually decided to explore the on-demand space again.

"The driving force behind that centered … around being able to get relevant data out of the tool." Falk said. "The on-premise solution had a lot of overhead and the user interface really wasn't intuitive. You couldn't really just sit down and pick it up."

"Innotas is right-sized for our size organisation and the complexity of our project management process," Falk said. "It's not too heavy and it's not too much horsepower, but it's not too light for us either. I think it's important to buy the right-sized product. Don't overbuy. Don't pay for anything that you're not going to use."

Experts have debated just how much money companies will save in the long run with on-demand versus licensed, in-house software. However, Falk expects to save $20,000 a year initially with his switch to on-demand. He said savings could grow to $60,000 annually as requirements for infrastructure support and other resources decline.

Visitacion said she doesn't think the new iterations that on-demand solutions put out every month or so are a real advantage over in-house solutions.

"If you're going to have a lot of churn because of customer request and requirement changes, I can see value in [iterative releases], but when you look at their competitors, the in-house enterprise implementations, most of them have been around for a very long time and are very mature. Customer request changes can be managed in a more controlled way."

Visitacion said the low cost and the speed of implementation for on-demand PPM tools are appealing to the midmarket.

"There's a low risk of entry," Visitacion said. "You can get started quickly. And there's not a lot of overhead. You're not making significant investments in software and hardware. You're just paying for it as you need it."

Visitacion said there are some concerns that CIOs should explore before they go for on-demand PPM. They should review their requirements with the vendors. If the company is going to start small, will the vendor be able to support more users as demands for project management increase?

"Are they going to outgrow their vendor?" Visitacion said. "Also, a lot of these vendors are very, very small and have gone through different incarnations, so you have to look at that risk."

Let us know what you think about the story; email: Shamus McGillicuddy, News Writer
Read more on IT project management