Make sense of a UC deployment strategy
Before implementing unified communications, determine the business problem you are trying to solve.
Based on the UCStrategies.com definition of UC, "Communications integrated to optimize business processes," UC includes both the user or personal productivity elements of UC (UC-User or UC-U), as well as the business process integration element, or UC-Business (UC-B) -- that is, integrating or embedding communication capabilities such as presence and call control with applications such as CRM or ERP, or vertical applications such as claims processing or loan processing.
A UC solution is destined to fail if it doesn't overcome a business challenge. Customers need to figure out – before purchasing and implementing the solution – the business problem they're trying to solve, and how UC can help. If a company does not have a good understanding of its business processes and goals, no amount of technology will do the job. UC has to be implemented in such a way that it serves a specific purpose. IVR, for example, has changed the way in which companies do business by allowing customers to get the information they need and letting them conduct their transactions at any time. This has expanded the concept of customer service and transformed the customer experience.
UC can have the same transformational impact. But, in order that it should do so, enterprises need to figure out how it can be used to optimize their business processes. Buying and implementing technology for technology's sake is never a good idea. UC will best succeed in those cases where there is real business value and a clear goal of what the enterprise is trying to achieve.
UC will be successful when implemented to provide tangible benefits for the enterprise. Whether it's reducing travel costs based on conferencing and collaboration capabilities, increasing workgroup productivity and shortening development cycles thanks to improved communications, or making it possible for doctors and nurses to provide improved patient care, most UC implementations have shown significant ROI. By focusing on how UC affects the enterprise as a whole -- in terms of reduced costs, increased revenues, and enhanced customer satisfaction -- UC can be easier to justify.
UC Adoption – The UC Continuum Curve
UC provides and integrates communication capabilities (collaboration, messaging, call control, click-to-call, instant messaging, mobility, etc.) with presence and a unified user interface to provide User Productivity capabilities and benefits. These communication capabilities can also be integrated to applications (CRM, ERP and vertical applications) to provide Business Process capabilities and benefits.
There is no single or "right" way to implement UC. There are various paths toward a UC solution; they depend upon the company's infrastructure, philosophy and goals.
The following "UC Continuum" is based on four models, or ways, to implement a UC solution:
Telephony Model, which starts with the telephony switch.
Desktop Application Model, which starts with the presence/IM server (generally Microsoft or IBM).
Business Application Model, which starts with an application such as Oracle/Siebel, SAP, Salesforce.com, or a vertical application.
Voice Messaging Model, which starts with voicemail or UM and adds more UC capabilities.
Companies can start with the basic switch, desktop application, business application, or voicemail system and move along the continuum to Unified Communications by adding capabilities such as presence, mobility, collaboration and so on. These resources generally provide basic UC capabilities and personal or user productivity benefits (UC-U) to employees. As shown in Figure 1, the top of the curve or continuum is the communication-enablement of business processes or applications (UC-B). Some enterprise customers will get significant value from UC capabilities providing personal productivity benefits, while the goal for other companies will be to get to the top of the curve to UC-Business. It's important to recognize that not every company will need to get to the top of the curve and that UC-User meets the business goals of some companies. As stated previously, the greatest ROI lies in the UC-Business area, but it is not essential to reach that phase to reap significant benefits from UC.
Figure 1 (UC Continuum -- Telephony Model) presents one of the four models. With the Telephony Model, companies start with their existing switch infrastructure or PBX, generally an IP PBX. As companies move along the continuum to enhanced IP, they add functionality, such as SIP, UM and integration with mobile devices. Continuing along the UC continuum, capabilities such as integration with IM and presence, click-to-call, advanced mobility, conferencing and collaboration are added and integrated in. The top of the UC continuum, UC-Business, adds business process and horizontal or vertical application integration, providing Communications-Enabled Business Processes. Business processes will include links to customer databases (to route the calls) as well as to users' calendars, contacts and tasks.
Figure 1: UC Continuum -- Telephony Model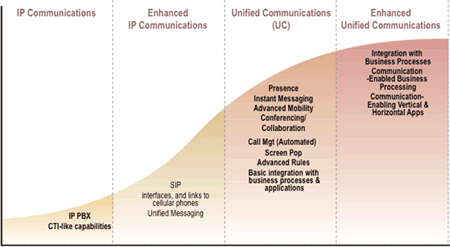 Source: COMMfusion LLC
There's no one right way to do UC. UC isn't a single product; it's made up of various products and capabilities that constitute the "UC continuum." Companies can implement some or all of the different components and still achieve benefits, without having to totally revamp their networks and applications. Since there are so many different aspects to UC, companies can pick and choose what makes sense for them, whether it's a conferencing and collaboration solution, presence-enabled communications, or mobile extensions to the enterprise network for remote workers. There's no "one size fits all," and companies can start with the UC capabilities they need today and add more as required, putting UC within reach of more companies.
Click to learn more about this in depth and highly informative report: Unified Communications Market 2007-2012.
About the Author:
Blair Pleasant is president and principal analyst of COMMfusion LLC, and a co-founder of UCStrategies.com, an industry resource on the growing UC arena. Blair can be reached at [email protected]
This story first appeared at searchunifiedcommunications.com