Smart meters multiply data loads
Energy companies should brace themselves for a massive increase in data volumes when they implement smart metering, delegates at an energy conference heard...
Energy companies should brace themselves for a massive increase in data volumes when they implement smart metering, delegates at an energy conference heard today.

Download this free guide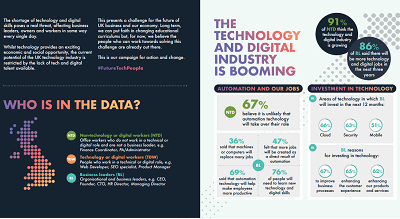 Infographic: Future-proofing UK technology
The current potential of the UK technology industry is restricted by the lack of tech and digital talent available. Read through this challenge for the future of UK business and our economy.
By submitting your personal information, you agree that TechTarget and its partners may contact you regarding relevant content, products and special offers.
You also agree that your personal information may be transferred and processed in the United States, and that you have read and agree to the Terms of Use and the Privacy Policy.
Speaking at a smart metering conference in London, Eugene Park, senior director of application service at Pacific Gas and Electric (PGE), said that when the utility company decided to go ahead with its smart metering project, it was unprepared for the increase in data volumes, which rose by 300 times.
At the time, PGR had been almost wiped out by Enron's fraudulent manipulation of energy prices. Since then it has become a poster child for smart meters and smart grid applications.
Smart data collection
Park said it had taken a long time to build the business case for smart meters at PGE. The breakthrough had come when it stopped considering only meter retirement as the key factor, and included factors such as outage information and the ability to manage demand more tightly.
"Customer care became our focus after that," he said.
Previously, the firm collected information that allowed it to bill consumers once a month. The smart meter system now collects it every hour, and stores it in an Oracle meter data management system before it goes to various SAP applications for further processing.
Data collection has had a massive impact on data processing loads, as well data storage requirements, as regulations require PGE to keep its billing data for seven years, Park said.
PGE now has about one million smart meters installed, and is adding 10,000 a day to cover the rest of its six million customers.
Park noted that PGE had also underestimated the impact of meter installation rates on the supply chain. This caused problems at the start, but the system is now running smoothly.
Greater potential
PGE uses a "pervasive" radio-based communications network to send and receive data at the meters. Each has two radio transceivers - one for the local cellular network, the other for a mesh radio system, Park said.
He said that once people saw that the network had spare bandwidth, they started exploring what else it could be used for. New applications include controlling sub-stations and sending and receiving consumer information using "Do-nuts", line conditioning devices for home networks.
Park said the original network was based on powerline communications technology that gave it a bandwidth of 30 baud, or four bytes per second. The new radio network offers a huge boost in bandwidth, making new applications feasible.
One is to charge customers five times the normal rate for using power between 2pm and 6pm in an effort to raise their awareness of the need to conserve energy and to change their consumption habits.
Park said PGE hopes to have a pilot smart grid working by 2012, which would offer energy pricing in real-time and allow consumers to sell back energy from their own solar and wind generators.
Read more on IT efficiency and sustainability