Data errors lead to new concerns over health records database
The chairwoman of an association for parents, midwives and other healthcare professionals says she is opting out of a national database of health records...
The chairwoman of an association for parents, midwives and other healthcare professionals says she is opting out of a national database of health records because it may prove impossible to correct data mistakes.

Download this free guide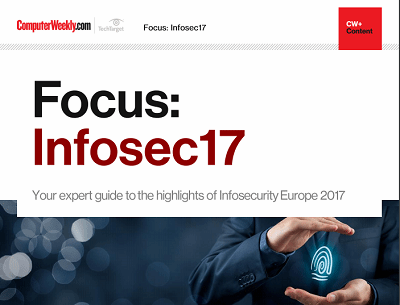 From forensic cyber to encryption: InfoSec17
Security technologist Bruce Schneier's insights and warnings around the regulation of IoT security and forensic cyber psychologist Mary Aiken's comments around the tensions between encryption and state security were the top highlights of the keynote presentations at Infosecurity Europe 2017 in London.
By submitting your personal information, you agree that TechTarget and its partners may contact you regarding relevant content, products and special offers.
You also agree that your personal information may be transferred and processed in the United States, and that you have read and agree to the Terms of Use and the Privacy Policy.
Beverley Beech, who is chairwoman of the Association for Improvements in Maternity Services, says she is particularly concerned about plans for more data sharing by government agencies and departments.
She was speaking to Computer Weekly after the publication this week of Database State, a report commissioned by the Joseph Rowntree Reform Trust from the Foundation for Information Policy Research.
The report lists 46 big government databases and gives each one a red, amber or green light according to concerns about privacy and the Human Rights Act.
Beech said she knows of at least two instances where mothers have discovered mistakes in their social services records, which they have been unable to correct. She says that mothers are now too fearful to tell midwives they have post-natal depression in case this information ends up on a social services database, which is shared with the local council, with the result that action is taken to remove their babies and put them into care.
Beech has written to her GP to ensure her own health files are not uploaded to the Summary Care Record, a national database of records being run by BT and NHS Connecting for Health under the NHS's £12.7bn National Programme for IT (NPfIT).
The main objective of the NPfIT is one day to have 50 million patient files on the Summary Care Record service. But some GPs have opted out of having their own medical details put on the database. If many patients opt out too, doctors may not use it to look up any patient histories of allergies, adverse drug reactions, or medications.
On the day the Database State was published, Beech told ITV News, "There was a mother who was put on the case notes as having had postnatal depression. She did not in fact have it. It ended up [with] her going to court, to fight to get her baby back, because it was taken." The woman won the case, had her baby returned and the court papers, said Beech, show the judge had accepted that the woman had not had postnatal depression.
Seven years later, said Beech, the woman became pregnant again. "Up pops on the database a little flag saying 'this woman has had her baby removed for child protection reasons'."
Social Services, said Beech, wanted to remove the woman's child at birth. But she was able to prove, using the court papers, that the database was wrong. Beech told Computer Weekly that the woman has since been unable to have the information corrected.
"It is impossible to have information like that corrected," said Beech. "I am very concerned about plans to share more data. It is seen not just by social services and councils, but police and schools."
Read more on IT risk management