Data loss victims expected to more than double in 2009
The number of people affected by data losses worldwide could more than double in 2009, according to consultancy firm KPMG.
The number of people affected by data losses worldwide could more than double in 2009, according to consultancy firm KPMG.
The firm predicts as many as 190 million people may be affected by data breaches this year compared with 92 million in 2008.
The prediction is based on KPMG's Data Loss Barometer, which measures and analyses publicly disclosed incidents of data loss.
The research found that 47.8 million people were affected by data losses in the three months to November 2008, which was more than in the preceding eight months combined.

Download this free guide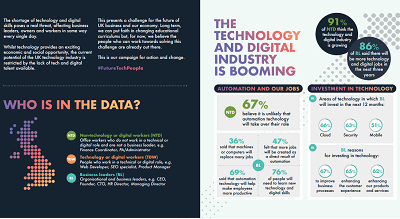 Infographic: How to future-proof UK technology
There is no doubt that the technology industry is booming right now, bringing with it exciting social and economic opportunities. However, there is a real fear that the UK industry may be stunted due to the lack of talent available. This e-guide helps to break down the future fears and expectations of dozens of business leaders and tech workers.
This also represented a 38% increase in the number of people affected between September and November 2007.
KPMG partner Malcolm Marshall said data loss trends are set to increase through 2009 with increasing economic pressures creating budget constraints.
With budgets already squeezed, organisations will continue to be vulnerable to data loss as criminal seek to exploit security weaknesses, the KPMG report said.
Hackers are expected to target organisations that share data with external providers and other third-parties such as telecommunications and utility companies.
Organisations need to be as vigilant about their third-party data controls as they are about their own, the report said.
Financial institutions are expected to be less vulnerable to malicious data thefts because they are better prepared to handle the threat, said Marshall.
The UK and the US are the countries reporting the highest number of data loss incidents.
High-profile data losses in the UK, US, Germany, South Korea and Chile accounted for 91% of the people affected worldwide by data breaches in 2008.
KPMG's first Data Loss Barometer published in November 2008 showed that 280 million people worldwide had lost personal details since 2005.
Almost a fifth (19%) of those data loss incidents were linked to government organisations and 46% of the data had no form of protection.
Read more on IT governance