FireControl delayed
FireControl ,...
FireControl, the government's ambitious £380m project to replace 46 stand alone emergency response centres with nine fully redundant regional centres, will be five months late, the government said yesterday.

Download this free guide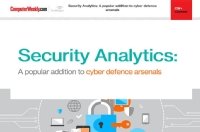 How to improve your cyber security with security analytics
Download this e-guide to read how many firms are looking to security analytics to keep abreast of the ever-evolving world of cyber threats. With traditional approaches to cyber security proving less effective against increasingly sophisticated and automated cyber-attacks, security analytics may well be your knight in shining armour.
However, any budget overruns were expected to be minimal, the primary contractor, EADS Defence & Security Systems (EADS DS), told Computer Weekly.
Fire minister Sadiq Khan told parliament that a thorough review of all aspects of the project had revealed "a number of difficulties with the ICT and other dimensions of the project."
This meant the first three regional control centres would start up nine months late in summer 2010, but the overall project would be only five months late. The expected completion date is now autumn 2012.
The entire system, budgeted at £1bn, is set to enhance the UK's ability to cope with natural and man-made emergencies. It has three main parts: the FireControl regional control centres, the FireLink digital radio communications network that links the FireControl centres with each other and with their vehicles and teams, and New Dimension, which covers new vehicles and training.
EADS DS is responsible for integrating off-the-shelf processing systems, applications and communications from about a dozen main suppliers to create FireControl. It is also responsible for ensuring data from existing autonomous fire and rescue authorities as well as external suppliers such as BT and Cable & Wireless are transferred accurately to the new centralised database.
Philippe Meleard, the EADS DS vice-presidentresponsible for FireControl, admitted delays in delivering some parts of the project, notably the mobile data terminals that will link emergency response vehicles to the central database. These delays were due mainly to differing expectations of its functionality between the government's project owner, the department of communities & local government (CLG), the Fire & Rescue Service and EADS DS. These were resolved last summer and a new phased delivery strategy agreed with all stakeholders, Meleard said. "Since August we have met every single deadline," he said.
Meleard said EADS DS was still waiting for FireLink. This is an upgraded version, specified by EADS DS, of the controversial Airwave digital radio system used by the police and ambulance services. Without FireLink there is no integrated communication between the centres and the teams in the field.
Meleard said he was "comfortable" with the budget as it stood and did not anticipate asking the government for more money. He said the delays meant temporary workers who now staffed the local response centres would have to be kept on for the extra five months. However, the local authorities were responsible for paying them. This was the only extra expense he anticipated under the existing contract.
Meleard said eight of the nine regional centres were already built. EADS DS was installing and testing sub-systems such as fault-tolerant computers from Hewlett-Packard, fire station "end boxes" (essentially local communications servers), large plasma display screens for the control rooms, and the vehicles' mobile data terminals, among others.
"We are testing each sub-system as it is finished and again when we integrate it with the existing sub-systems. It is like assembling Russian dolls," he said.
However, the firm was still some time away from testing the fully integrated system, which depends on a single-image Oracle database replicated at each centre. This allows an operator in any centre to take emergency calls, verify them and dispatch appropriate teams. This level of redundancy is crucial to providing the fault-tolerant resilience required by the government, Meleard said.
Read more on IT risk management