UK tops European identity theft table, says PayPal
Identity theft among UK web users is three times more likely when compared to other Europeans, says online...
Identity theft among UK web users is three times more likely when compared to other Europeans, says online payment firm PayPal.
In the UK, 14% of online shoppers have fallen victim to identity theft, compared to 3% in Germany, 5% in Spain, and 6% in France. The UK figure was also above the rate for users in the US and Canada.

Download this free guide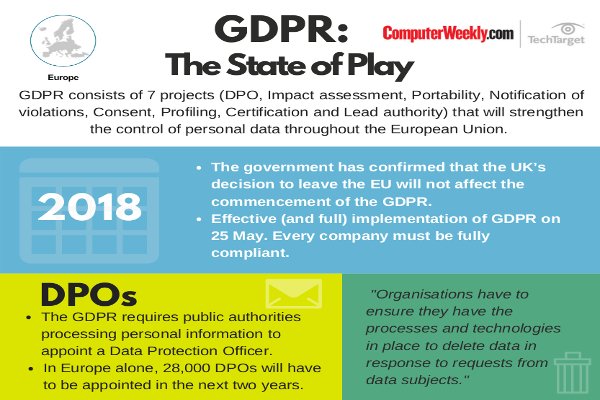 Infographic: GDPR - The State of Play
Get the latest information on how GDPR is going to affect your business and how to avoid any unwanted fines with this simple infographic.
By submitting your personal information, you agree that TechTarget and its partners may contact you regarding relevant content, products and special offers.
You also agree that your personal information may be transferred and processed in the United States, and that you have read and agree to the Terms of Use and the Privacy Policy.
The findings come from PayPal's Global Trust and Safety Report, which surveyed 6,000 people from the US, Canada, France, Germany, Spain and the UK.
The report examined online security fears and habits and found that 49% of online users in the UK are "very concerned" about identity theft. When people are victims of this crime they often have no idea how it occurred, said PayPal.
Although fears of identity theft may be widespread, online users are underestimating their own role in preventing it happening, with many choosing weak or obvious passwords for accounts, PayPal said.
Across all six countries, 53% of users admit to using important personal dates or names. However, the report found that attitudes to password security vary between different cultures.
In the UK, 42% of people use an important date or name for their password, compared to only 35% of Spaniards. The French came out as taking the most risks with their password, with 63% choosing a password that could be easily guessed.
Michael Barrett, chief information security officer at PayPal, said, "This survey shows that whilst concerns about ID theft form a universal language, more identity theft tends to occur in countries where a higher percentage of e-commerce is concentrated.
"But e-commerce is growing in prominence around the world, and fraudsters will likely follow the money."
However, choosing stronger passwords may not help in some situations, as the report found online consumers are willing to divulge their password information to others.
Of online shoppers in the UK, 35% have shared their password information with a family member, compared to 25% in Germany.
Read more on Identity and access management products