MPs demand explanation from Home Secretary over prisoner data loss
The Home Affairs Select Committee has asked the Home Secretary to write to them explaining what happened when a contractor lost the details of 130,000 prisoners
The Home Affairs Select Committee has asked the Home Secretary to write to them explaining what happened when a contractor lost the details of 130,000 prisoners on an unencrypted memory stick.

Download this free guide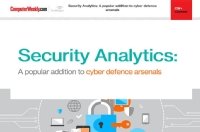 How to improve your cyber security with security analytics
Download this e-guide to read how many firms are looking to security analytics to keep abreast of the ever-evolving world of cyber threats. With traditional approaches to cyber security proving less effective against increasingly sophisticated and automated cyber-attacks, security analytics may well be your knight in shining armour.
The committee may also quiz Jacqui Smith on the issue in October, when she is scheduled to give evidence on any issues the MPs wish to raise.
Committee clerk Elizabeth Flood said no formal enquiry is planned, but chair Keith Vaz has written to the Home Secretary to ask for details and an explanation of what happened. He has also asked about what is being done to prevent a similar data breach happening again.
Jacqui Smith is due to see the committee in October as part of an annual evidence session with the Home Secretary. MPs can raise any issue they see as important, including this latest data breach.
The Home Affairs committee has already published a report on the increasing amount of data held by government, and the related security risks.
Elizabeth Flood said, "A new enquiry into this data breach cannot be ruled out, but the committee not long ago completed an enquiry into government protection of data, so it has said what it wanted to say. It depends what comes out as a result of this letter."
Read more on IT risk management