Financial Services Authority fines outsourcing supplier Liberata
The Financial Services Authority has fined a business process outsourcing supplier more than £500,000 for inadequacies in its systems and processes.
The Financial Services Authority has fined a business process outsourcing supplier more than £500,000 for inadequacies in its systems and processes.

Download this free guide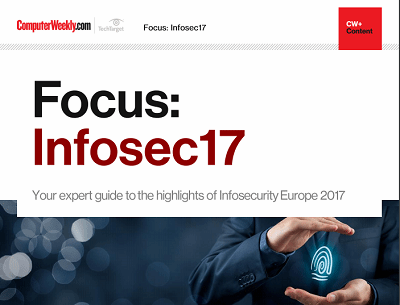 From forensic cyber to encryption: InfoSec17
Security technologist Bruce Schneier's insights and warnings around the regulation of IoT security and forensic cyber psychologist Mary Aiken's comments around the tensions between encryption and state security were the top highlights of the keynote presentations at Infosecurity Europe 2017 in London.
By submitting your personal information, you agree that TechTarget and its partners may contact you regarding relevant content, products and special offers.
You also agree that your personal information may be transferred and processed in the United States, and that you have read and agree to the Terms of Use and the Privacy Policy.
The incident arose when staff at financial services firm Liberata - which carries out policy administration for several life and pensions companies - failed to cope with the volume of messages generated by its computer system. This led to life and pension policyholders losing money on their investments.
The Financial Services Authority fined Liberata £525,000 - more than 10% of the company's profit in the last financial year - after failures in its systems and controls meant policyholders did not receive documentation on their investments.
The fine - the first levied against an outsourcer for failing to issue documents - sets a precedent which could lead to other outsourcers being held accountable for technical failures.
It came as the Financial Services Authority (FSA) published research warning that financial service companies were failing to check the IT security of firms to which they outsourced operations.
"As far as the FSA is concerned, outsourcers are in effect the IT department for the financial service company [they] provide services to," said Chris Skinner, chief executive at financial services think tank Balatro.
Phil Hogan, executive director at Liberata, said the firm's computer system sends error messages when, for example, one holder of a dual life policy dies, so staff can make manual corrections. The process failed when the computer system sent out more messages than staff could deal with.
"As we put more and more business in the system these errors became more significant and the manual process failed to deal with them," he said.
The company has now redesigned the process to keep pace with the system, he said. "We have automated the manual process because there is enough [messages] in the system to warrant this."
According to the FSA, Liberata should have sent out letters to 30,000 policy holders advising them of information that would help them manage policies.
It calculated that 161 customers suffered a financial loss totalling £17,584 as a result of not receiving the information. "This is the first time we have fined an outsourcer for failures related to issuing documents," said a spokesman.
The FSA told Computer Weekly that outsourcing companies must ensure they have adequate system controls for their IT systems.
"It is important that firms such as outsourcers have very good system controls that goes beyond the actual technology being used but also management information systems and reporting systems to pick up problems," said an FSA spokesman.
The FSA fined outsourcer Capita Financial Administrators Limited 300,000 in March 2006 because it "had not maintained effective systems and controls to mitigate the risk of fraud."
FSA fines private bank BNP Paribas>>
Read more on IT risk management