Businesses plan for upgrades as Windows server software release nears
Businesses need to begin planning their datacentre and server upgrades as the release of a new suite of Windows server software is just three weeks away.
Businesses need to begin planning their datacentre and server upgrades as the release of a new suite of Windows server software is just three weeks away.

Download this free guide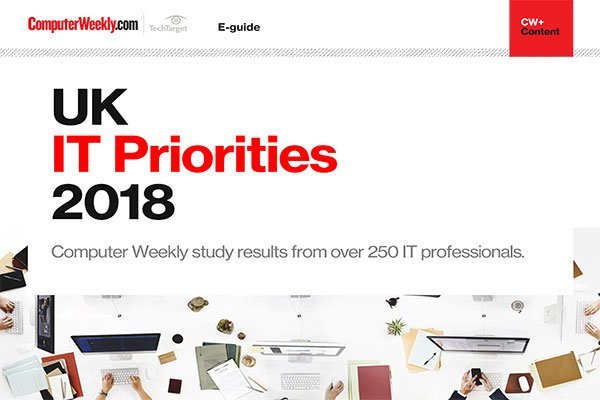 UK IT Priorities 2018 survey results
Download this e-guide to discover the results of our 2018 UK IT Priorities survey, where IT leaders shared with us what they are going to be investing in over the coming 12 months.
By submitting your personal information, you agree that TechTarget and its partners may contact you regarding relevant content, products and special offers.
You also agree that your personal information may be transferred and processed in the United States, and that you have read and agree to the Terms of Use and the Privacy Policy.
Microsoft plans to release the Windows Server 2008 operating system, software development suite Visual Studio 2008 and database server SQL Server 2008 on 28 February.
Chris Ingle, from research firm IDC, said he did not expect a massive initial uptake among users. Many users will wait for Microsoft to issue service packs before committing to the software, he said.
Users will need to balance the advantages of upgrading, including the need to keep critical servers on supported versions of Windows, against the currently limited number of certified products for the new Microsoft server software.
Computer Weekly has found that many enterprise applications have not yet been certified to run on Windows Server 2008.
Certification could take some time said Carl Greiner, a senior vice-president at analyst Ovum. "Testing applications is a slow process. First, enterprise applications will have to be certified to run on Windows Server 2008, and then users will have to evaluate their own IT environment."
Nevertheless, businesses will be be keen to evaluate the new features in Windows 2008, which include better security and virtualisation. "It will be very interesting to see how the virtual machine technology performs, as good performance will be critical for many people," said Ingle.
The virtualisation technology, codenamed Viridian, is designed to go head to head with VMware's ESX server, the leading virtualisation platform, according to Forrester Research. Although Microsoft considers Viridian to be part of Windows Server 2008, it only plans to supply the beta of Windows Server virtualisation with Windows Server 2008. The finished product will follow within six months of Windows Server 2008 shipping.
Windows Server 2008 has addressed one of the growing security concerns for users in companies with branch offices. Within a branch office, the Active Directory database, which is used to control log-in and systems that users can access, contains sensitive information about the company's network - including passwords. However, in remote branch offices that lack the physical security of a corporate datacentre, a malicious user could make a copy of the sensitive data in the Active Directory database.
The BitLocker Drive Encryption in Windows Server 2008 solves this problem by ensuring that information on a server's disc drive is encrypted, according to Forrester Research.
Arguably, the main driver to upgrade is Microsoft's plan to end support of legacy operating systems. John Enck, research director at Gartner, said that users with the earliest versions of Windows server operating systems would now have no choice but to upgrade.
"Organisations on Windows Server NT 4.0 should continue to migrate off NT because it is no longer supported by Microsoft. Windows Server 2008 is the logical destination."
Users running the later Windows Server 2000 have more time, Enck said. "In this case, end of life does not occur until 2010. Organisations with Windows Server 2000 should begin to migrate to Windows Server 2008 as soon as possible - there is no need to move to Windows Server 2003 to get to Windows Server 2008."
Although it would be ideal to stop using Windows Server 2000 by the end of 2010, Enck said he did not expect many organisations to migrate that quickly. "We suggest that organisations will prioritise their servers and migrate the more important ones prior to 2010."
Users running Windows Server 2003 or Windows Server 2003 r2 have no immediate upgrade concerns. "They have the luxury to decide when to migrate," he said.
New in Windows Server 2008
Built to work with Microsoft's Viridium virtualisation technology
Bitlocker Disc Encryption can protect sensitive Active Directory data
Server core allows server administrators to run a more secure Windows server
Network Access Protection can set security policies to prevent devices from accessing the company network
Read more on Operating systems software