Talk turns to future for data storage at Tech Forum
From primary storage data deduplication to 8 Gbps FC, analysts and HP reps have their eyes on what's coming down the road at this year's HP conference.
In the halls of this year's HP Technology Forum conference, as well as in conference sessions, technical discussions were focused on what's coming up for HP, as well as for the storage industry as a whole.
During a conference session entitled "Storage Market Trends and Futures for the 24 x 7 Datacentre," HP chief technologist Hal Woods gave some hints about what's coming on HP's roadmap, including primary storage data deduplication and the future for various networking protocols and disk drive formats.

Download this free guide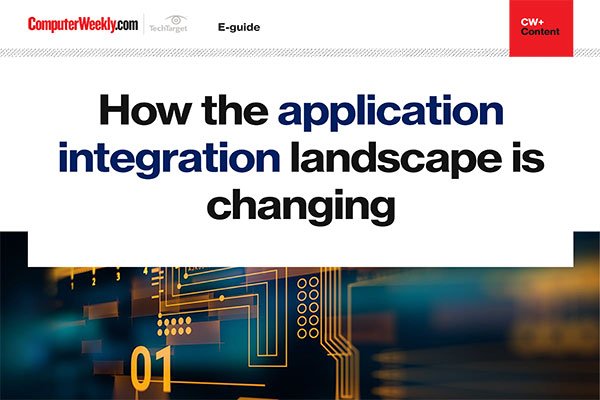 8 ways in which the application integration lanscape is evolving
We take a look at how technologies like Distributed Computing and the Common Object Model have been refined into web services, service-oriented architecture and composable applications and microservices.

By submitting your personal information, you agree that TechTarget and its partners may contact you regarding relevant content, products and special offers.

You also agree that your personal information may be transferred and processed in the United States, and that you have read and agree to the Terms of Use and the Privacy Policy.

Woods said HP is currently working in its research and development labs on block level single instancing of data on storage arrays, and predicted moreover that this kind of data reduction will be common throughout the storage industry by the 2009-2010 time frame. He said one of the challenges will be the potential conflict between single instancing and encryption, which he also predicted would become a feature of the storage controller in the same time frame.

"If done in the incorrect order, encryption and deduplication can be mutually exclusive processes," he said. However, "more people are using arrays for things like backup, and we should see deduplication applied to all the tiers of storage."

Another direction for HP is the integration of applications with storage. For example, porting application search engines to the underlying storage for faster processing.

Potentially, this could lead to a new kind of data warehouse, according to John Webster, principal analyst at Illuminata. Data warehouses pull data from its primary storage, transfer it to a separate application, cleanse the data and put it in a new format for presentation. "It's a multistep process. If the data mover could also carry the search engine, you wouldn't need that separate repository," Webster said.

Disks and wires: The future for the nuts and bolts, according to HP.

Woods was also bullish about solid-state disk. He predicted that eventually, solid-state disks could hold metadata, while primary data resides on spinning disk to speed performance when searching for data, and cut power and cooling. "The challenge right now is to find a system you could put in front of it that wouldn't become a bottleneck," he said.

Historically, Woods said, the introduction of a new disk drive form factor renders the previous one obsolete within 24-to-36 months, but he predicted disks will buck this trend with the advent of 2.5-inch form factor, with 3.5 inch remaining the preferred low-end form factor. "A lot of high-end apps are spindle bound, like databases, and 100 spindles on the 2.5-inch form factor consume much less power, which is a concern for the enterprise," he said. "But why would you care about that on, say, a TiVo? [A] 3.5 inch is still small enough to fit on top of your TV set."

Over the next year, Woods predicted, 8 Gbps Fibre Channel, 10 Gigabit Ethernet (GigE) and the iSER protocol, which provides direct memory access via Ethernet, as well as the Fibre Channel over Ethernet (FCoE) protocol, will all come to a head.

According to Woods, iSER shows promise for boosting 10 GigE. "Ten Gigabit Ethernet isn't enough on its own to push iSCSI to the forefront of the networking market. It'll take iSER, as well, to avoid having to do TCP/IP offload."

FCoE also has potential pitfalls, he said. "The spec so far talks about converging the two networks in a way that could create ugly corner cases," he said. For example, Fibre Channel and Ethernet have different ways of dealing with highly congested networks. The spec must find a middle ground that doesn't cause increased complexity in the network.
Read more on Integration software and middleware