Weekly compilation of storage news: cheap alternative to disc
Rather than adding disk to its existing EMC Celerra NAS, a legal service provider uses Reldata's multiprotocol gateway and cheap Infortrend disk.
Legal firm finds cheap alternative to EMC disk
Reldata announced today that legal-hosted service provider doeLegal has put Reldata's 9240 multiprotocol storage gateway appliance in front of EMC Celerra NAS boxes and less expensive Infortrend RAID-6 arrays to extend its storage. "The Reldata solution could handle petabytes of storage, not just 16 terabytes (TB), like the EMC system, and it could do both active-active and active-passive failover," said Chalkley Matlack, senior network engineer for doeLegal, in a press release.

Download this free guide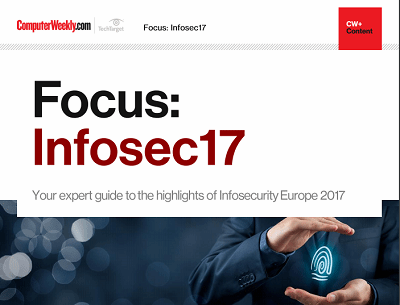 From forensic cyber to encryption: InfoSec17
Security technologist Bruce Schneier's insights and warnings around the regulation of IoT security and forensic cyber psychologist Mary Aiken's comments around the tensions between encryption and state security were the top highlights of the keynote presentations at Infosecurity Europe 2017 in London.

By submitting your personal information, you agree that TechTarget and its partners may contact you regarding relevant content, products and special offers.

You also agree that your personal information may be transferred and processed in the United States, and that you have read and agree to the Terms of Use and the Privacy Policy.

US Army deploys Data Domain DDX
Data Domain announced that the U.S. Army has deployed Data Domain's DDX Arrays to protect a major military communications portal that serves 1.8 million globally dispersed users. The implementation includes both backup and disaster recovery with network-based replication via satellite network from a Data Domain DDX Array located in Southwest Asia to a DDX Array located in the U.S. (The U.S. Army isn't available for interviews, but the Data Domain press release, while somewhat cryptic, does make

mention of "Southwest Asia," "the sandy environmental conditions of the desert" and "deployed troops" -- not hard to read between the lines there.)

CommVault, Bull sign OEM agreement
CommVault and the Paris-based Bull announced the signing of a multiyear agreement that will allow Bull to market and sell Bull-branded versions of CommVault's data replication, data protection, archive, data classification and content-indexing software through its channels worldwide. The products will be sold by Bull under the name Calypso primarily in Europe, the Middle East and Africa beginning this summer.

Clearinghouse replaces disk with RAM SAN
Texas Memory Systems announced that IC Source, a clearinghouse for electronic components, has accelerated its SQL Server database with a RamSan solid-state disk to give over 3,000 customers access to 40 million inventory records. The company found that conventional disk drives couldn't handle the large numbers of simultaneous read and write access requests required by IC Source -- for example, 70,000 inventory line items might need to be written to the database while users need read access to search and view available inventories at the same time.

TV station picks ATTO for digital streaming
ATTO announced that its FastStream SC 5300 RAID Storage Controller appliance has been installed at Thirteen/WNET NY, a public television station in New York City, for use in an Avid post-production environment. Previously, the storage at WNET could only record approximately four hours of material, or material from just two clients at the same time.

Fujitsu announces four new enterprise drives
Fujitsu announced two new SAS and SATA hard disk product lines and a total of four new individual disk drives within them. One new portfolio consists of three new enterprise class SAS drives, a 10,000 rpm drive with up to 147 GB capacity; a 2.5-inch 15,000 rpm SAS drive with up to 73 GB capacity; and a 15,000 rpm drive with up 300 GB capacity. Finally, Fujitsu has announced that a new 2.5-inch SATA drive with up to 120 GB capacity will begin shipping in the third quarter of 2007.

Verio launches PC backup service
Verio announced the availability of its PC Data Backup service, which will be sold through channel partners to the small and midsized business (SMB) market. Verio is partnering with Iron Mountain to offer the service. Users backing up word processing documents, simple spreadsheets or financial information can choose from plans offering 1 GB, 2 GB or 10 GB of backup, while businesses that need to backup larger media files, digital photographs or higher volumes of data can get a plan offering 30 GB of backup storage. Verio is offering the first month of service free to resellers.

Carestream Health ports app to HDS archive
Hitachi Data Systems (HDS) announced that Carestream Health has ported its Versatile Intelligent Patient Archive (VIParchive) to the newly updated Hitachi Content Archive Platform, also announced this week.

Openet and ETI partner on data retention
Openet, a vendor of Transactional Intelligence products for service providers, and ETI Connect, which makes Lawful Intercept compliance systems for service providers worldwide, announced a joint product for obtaining, storing and reporting transactional information to meet data retention requirements, as well as forwarding requirements to law enforcement. The product, like Hewlett-Packard's recently announced DRAGON bundle, is aimed at telecoms facing new legislation in the European Union requiring they keep customer data online for law enforcement agencies.

Renew Data adds e-discovery services
RenewData, a provider of e-discovery services for law firms and corporations, announced the addition of new electronic evidence service capabilities, including performing onsite collections using its StoredIQ appliance, foreign language culling capabilities and deduplication, culling and output of Lotus Notes and Domino native NSF files.
Read more on IT risk management