The Revenue announces new era of openness
HM Revenue and Customs has announced a new era of being "open and honest" about its IT and other problems, after a Computer Weekly campaign to improve the tax system by promoting transparency and accountability.
HM Revenue and Customs has announced a new era of being "open and honest" about its IT and other problems, after a Computer Weekly campaign to improve the tax system by promoting transparency and accountability.

Download this free guide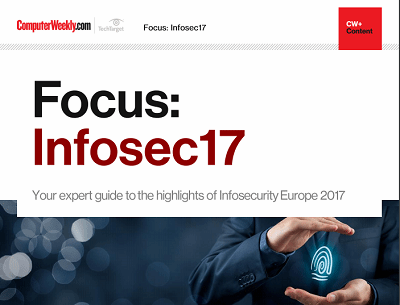 From forensic cyber to encryption: InfoSec17
Security technologist Bruce Schneier's insights and warnings around the regulation of IoT security and forensic cyber psychologist Mary Aiken's comments around the tensions between encryption and state security were the top highlights of the keynote presentations at Infosecurity Europe 2017 in London.
By submitting your personal information, you agree that TechTarget and its partners may contact you regarding relevant content, products and special offers.
You also agree that your personal information may be transferred and processed in the United States, and that you have read and agree to the Terms of Use and the Privacy Policy.
Computer Weekly has argued that HMRC is unlikely to succeed in tackling its problems, such as poor quality data including millions of wrong addresses for taxpayers, while it is denying it has serious difficulties.
Now OneHMRC, the internal newspaper for the department's 100,000 staff, has revealed the department's intentions under the headline "Being open about our problems." The newspaper referred to the unacceptably high level of fraud over tax credits and overpayments, and the need to improve parts of the PAYE and national insurance systems.
The newspaper said, "Being open and honest about these issues (problems with the tax credits system, self-assessment and national insurance) is very much a part of the new culture we are creating for the department."
It listed as an example a rare briefing to the media by Revenue chairman David Varney on the challenges facing the merged department, in which he accepted that HMRC was "organisationally challenged".
But HMRC has some way to go in becoming more open. It has, for example, refused to publish a report by Deloitte and Touche into the lessons from the problematic introduction of the tax credits system. Software problems together with the design of the scheme led to incorrect payments to nearly two million people.
The Deloitte report may help the wider public sector with its IT project delivery. Former chairman of the Inland Revenue Nick Montagu said the report "turned up plenty of lessons for future projects". But a spokesman for HMRC said, "It is not publicly available as it was produced for internal consumption only."
Computer Weekly's campaign began after Steve Lamey, HMRC's chief information officer, revealed that the department had many out-of-date IT systems, substantial amounts of poor-quality data and was processing less than half of all self-assessment tax returns correctly first time. It was also sending millions of letters to the wrong addresses, has inconsistent business processes, and needed "killer KPIs" (key performance indicators).
Since the campaign was launched, there have been improvements. Varney said more than one million addresses have been corrected, and the Child Benefit Office in Washington, Tyne and Wear, is planning the introduction of a new computer system to replace one that is 30 years old. This includes migrating data on seven million people.
The department has embarked on programmes dubbed "Lean" and "Pacesetter" to standardise processes, pay out and collect the right amounts of money, and get processes right first time. HMRC is also trying to ensure that data held on taxpayers is complete and accurate, in part by comparing tax records with other databases such as those held by the Post Office and payroll databases.
HMRC is also helping to bring together the systems of Customs and Excise and the Inland Revenue by introducing Windows XP software on 100,000 laptops and desktops by the end of 2006 under its "strategic integrated desktop environment" programme, which is described by the department as a "massive change".
It will shift business applications such as self-assessment to the new system. Pilots on installing XP and business applications remotely were due to start this month, with roll-out beginning in March.
HMRC is drawing up key performance indicators for the department.
Lamey said in the internal newspaper, "One thing I tell people over and over again is that it takes time to get things in place, as it is important to get the basics right first. Bear with us."
Read more on IT risk management