Dell defends Rollins, vows turnaround
In an attempt to stave off criticism that Dell failed to keep up with the competition, company execs pledge change -- with CEO Kevin Rollins still at the helm.
Responding to criticism that Dell's technology has fallen short in recent years, Chairman Michael Dell said the company has begun a metamorphosis, moving away from aggressive pricing tactics to building better customer relationships, services and product design.

The changes do not include replacing CEO Kevin Rollins.

At a press conference on 12 September, Dell admitted his company's performance in recent years has been less than stellar.

"We weren't living up to expectations, so we're changing things," he said.
If you want to blame someone, you can blame me, too.
Michael Dell
ChairmanDell Inc.
Dell denied rumors that there was pressure to replace his CEO and expressed confidence in Rollins' ability to move the company forward.

"Any speculation is politically useless, but feel free to speculate," he said. And added, "if you want to blame someone, you can blame me, too."

The company has been battered in recent months with disappointing earnings and the recall of 4.1 million potentially flammable notebook batteries. The company has also been hammered by critics who say it failed to keep pace with a number of technology advancements, including blade servers and the use of AMD processors.

Download this free guide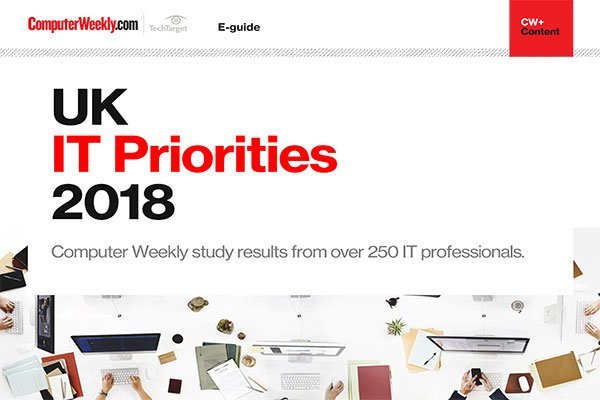 UK IT Priorities 2018 survey results
Download this e-guide to discover the results of our 2018 UK IT Priorities survey, where IT leaders shared with us what they are going to be investing in over the coming 12 months.

By submitting your personal information, you agree that TechTarget and its partners may contact you regarding relevant content, products and special offers.

You also agree that your personal information may be transferred and processed in the United States, and that you have read and agree to the Terms of Use and the Privacy Policy.

Dell has also been plagued by a Securities and Exchange Commission investigation into the filing of possibly inaccurate reports, which forced the company to delay filing its second-quarter financial results.

Now the 20 year-old company built on an innovative (at the time) pricing, manufacturing and sales strategy is trying to regain ground.

But some observers said Tuesday's message fell flat.

"They're launching initiatives to address these issues they're having, but the question not being asked is why do they keep missing their revenue," said Roger Cox, an analyst at Gartner. "What have they done to change that? Right now it's all words. It'll have to come out in the execution."

The "new" Dell model, dubbed Dell 2.0 (as in Web 2.0), builds on better customer relationships through services.

Rollins admitted that Dell fell short when it came to customer expectations. But he pointed to Dell's $150 million investment "just to improve customer relationships" adding that customer experience is the company's No. 1 priority.

"It's where we're investing now and in the long term," he said. "We're committed to doing everything at Dell better in order to enhance the customer experience. We believe our customers expect and are willing to pay for better service."

Dell is also opening manufacturing facilities in emerging markets, such as Brazil, India and central Europe, in order to get closer to the customer and reduce cycle time, Rollins said.

Although still committed to its direct sales model, Dell said online sales will increasingly be part of its sales strategy.

Processors from Advanced Micro Devices (AMD) could also likely play a pivotal role in Dell's new strategy. The company will start shipping this week the first PCs using AMD processors. The Dimension E521 and C521 systems are available with AMD Sempron, Athlon 64 or AMD Athlon 64 X2 dual-core processor options. The company also introduced Tuesday the E520 and XPS 210, which ships with Intel Pentium D or Core 2 Duo processors, and the OptiPlex 745, which ships with a Core 2 Duo processor.

At the end of the day, some observers expressed confidence in Dell's ability to revitalise its business but insist the company didn't falter as much as some critics claim.

"I don't think they were in trouble," said Joseph Zhou, analyst, Ideas International Inc., Rye Brook, N.Y. "They sustained market share. They warded off the competition. But they didn't make as much. They could do better. There are ways to increase revenue and they're not necessarily doing that. They should focus on other areas besides hardware."

City University of New York CIO Brian Cohen said he's never been swayed by industry rumblings about Dell.

"They have, over the years, been an amazing partner," Cohen said. "They've enabled us to move forward in ways that we wouldn't have been able to afford. They've never given us any reason to look elsewhere. We continue to have confidence in Dell."

Let us know what you think about the story; email: Kate Evans-Correia, News Director
Read more on Data centre hardware