VoIP applications fuel the next wave of VoIP innovation
The first phase of VoIP is nearing the end and corporations: has VoIP improved the day-to-day for end users?
The first phase of VoIP is nearing the end and corporations will soon find a variety of third-party desktop applications that run on VoIP. IT managers need to work with their business unit counterparts to help develop the requirements for these applications that will drive more bang for the VoIP buck.

You've gone through the laborious process of deploying VoIP. You've lived through the network upgrades, the migration plans and have had to change the way you do many of the operational tasks associated with running the network. Along the way, you've probably noticed the following:

Download this free guide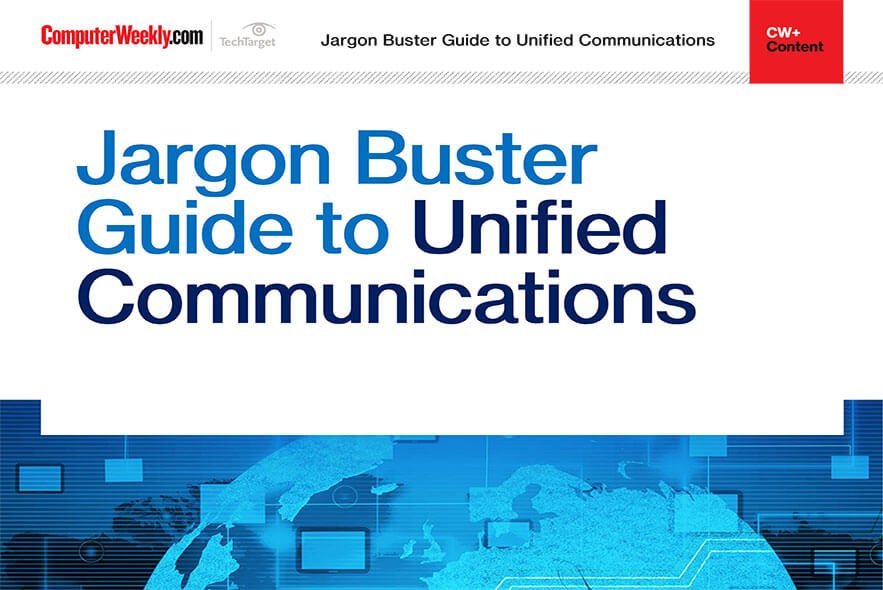 Definition guide: Unified Communications
In this e-guide, we break down what unified communications actually is through a series of definitions. Also, discover how UC is still relevant to mobile, why the mobile UC market is struggling and how blockchain can help to make you a happier person.
Although there are cost savings, it's not quite what you had anticipated.

The deployment took longer than you first expected. Most of you are still probably in the midst of deploying.

There were many hidden costs along the way that you didn't account for initially. Much of this falls into the areas of power, cooling, management tools and operational support.

Running a converged network is more complex than running separate voice and data networks causing you to do more firefighting than you did before.
So for all your hard work, what's changed for the end user? Most of the users I speak with treat an IP phone like any other phone. They make calls, they check voice mails and only the most technically advanced users have ventured into things like unified messaging.
Only the most technically advanced [end]users have ventured into things like unified messaging.
Zeus Kerravala
Yankee Group
Unfortunately, this scenario is far too common. The problem with this type of situation is that the few users that use the advanced features can't create a very large ROI. This places the majority of the VoIP value proposition on whether the IT department can squeeze enough cost savings out of the implementation to offset the cost of deployment and that can often be hard for many companies to quantify.

To maximise the business benefits, much of the vendor community and many early adopter enterprises have turned to voice and presence-enabled applications to drive more value. This transition from VoIP for cheaper calls to VoIP for enhanced business applications will be similar to the mainframe to PC migration of the early 80s. When Windows-based PCs were first put in front of users, mainframe emulators were installed to make PCs look and act like mainframe terminals. Users complained that the Windows-based PCs weren't as reliable as their old "green screens" (and still aren't) and that it added no value to work functions. Similarly, much of the historical focus on VoIP was to make IP phones look and act like traditional TDM phones. Users today are complaining that the IP phones aren't as reliable and that they add no incremental value. Sound familiar?
One of the keys to driving the VoIP application industry forward is the creation and on going support of developer communities by the VoIP vendors.
,
The real value in the PC industry came when vertical independent software vendors (ISVs), developed applications that integrated into Windows. These are the things like the Internet browser, mouse-driven word processors and spreadsheets, accounting packages and many of the vertical software applications that deliver the majority of business value today. In short, the advent of developing applications integrated into the Windows desktop allowed users to accomplish many things they could not do on a mainframe terminal achieving new heights in productivity. Correspondingly, over the next few years, the VoIP industry will focus on delivering business applications integrated into the VoIP environment delivering enhanced applications that will allow users to do things they could not do in the old TDM world ultimately driving user productivity up.

I want to be clear that we are at the very start of this phase and, for the most part, these voice-enabled applications are still a few of years away. There are a few early adopter-type enterprises that I've spoken to that developed their own applications, but there's very little in the way of ISV-developed applications, but there is great interest. I recently spoke at the VoIP developer conference (http://www.tmcnet.com/voipdeveloper) and although this conference isn't as large as some of the traditional voice conferences, the focus was on what else one could do with VoIP rather than how it compares to traditional voice.

One of the keys to driving the VoIP application industry forward is the creation and on going support of developer communities by the VoIP vendors. Again, taking a lesson from the PC industry, one of the reasons the ISV industry flourished was that Microsoft's developer network (MSDN) and Intel's developer forum (IDF) are among the best developer communities ever created. This allowed Microsoft Windows running on Intel hardware to become the de facto standard for the industry. That's one of the main reasons there's more desktop software available for this combination than any other.

Currently developer support from the VoIP vendors is spotty. Avaya's DevConnect, Cisco's technology developer program (CTDP) and NEC's Fusion program are among the few developer communities available from the VoIP vendors. These currently lag traditional software companies such as Microsoft and Oracle, but are an increasingly large area of focus.

What's the best way for you to proceed? For IT professionals responsible for VoIP, I recommend the following:
Finish the deployment and make sure you have a good handle on the operational aspects of running VoIP. The added applications and features won't help the users if the system is unreliable.
Find the departments that would benefit the greatest from the advent of presence or voice-enabled applications. Finding an application that provides value across the organisation is much more difficult than searching for departmental value.
Push your VoIP vendor into providing consistent application support. Many of the vendors "talk the talk" but the application support they give is limited or inconsistent from version to version of software.
Work with your top vertical ISV partners on how to improve their application through VoIP integration. Although larger industry support is still a few years away, it's not too early to start thinking about it.
Zeus Kerravala manages Yankee Group's infrastructure research and consulting. His areas of expertise involve working with customers to solve their business issues through the deployment of infrastructure technology solutions, including switching, routing, network management, voice solutions and VPNs.
Before joining Yankee Group, Kerravala was a senior engineer and technical project manager for Greenwich Technology Partners, a leading network infrastructure and engineering consulting firm. Prior to that, he was a vice president of IT for Ferris, Baker Watts, a mid-Atlantic based brokerage firm, acting as both a lead engineer and project manager deploying corporate-wide technical solutions to support the firm's business units. Kerravala's first task at FBW was to roll out a new frame relay infrastructure with connections to branch offices, service providers, vendors and the stock exchange. Kerravala was also an engineer and technical project manager for Alex. Brown & Sons, responsible for the technology related to the equity trading desks.
Kerravala obtained a B.S. degree in physics and mathematics from the University of Victoria (Canada). He is also certified by Citrix and NetScout.
Read more on Voice networking and VoIP